On Time Delivery for Dutchmen RV Transport
Moving your Dutchmen RV from one location to another may not be as simple as simply driving it across the country. There are many reasons to have a professional heavy hauling company ship your Dutchmen RV. You may have found the motorhome of your dreams, and need it delivered. Or, if you're relocating, it may not be feasible to drive the RV yourself. Heavy Haulers is a shipping company that has focused on the oversized machinery transportation niche, delivering everything from a Dutchmen RV to an airplane wing on time, and on your schedule.
Although your RV is designed to travel along the highways of North America, there are many reasons that RV owners choose a shipping company to move their items. With over 10 years specializing in larger loads that many companies just can't handle, Heavy Haulers is the dependable, reliable shipping service with the knowledge and equipment to safely conduct RV moves. Call now for a free shipping estimate. (800) 908-6206
Contact Our Expert Shipping Specialist's
(800) 908-6206
Whether you need your RV delivered to a vacation site, or you're an RV dealer than needs several items shipped to your showroom or lot, Heavy Haulers can get the job done. Many people choose not to have the mileage and wear and tear put on their RVs from a long-distance move.
About Dutchmen Motorhomes and RVs
Dutchmen RVs are some of the most popular models for vacations and for those who choose to have a mobile lifestyle. Each RV is constructed to be comfortable yet durable, and this award-winning company delivers consistently high-quality machines. These innovative recreational vehicles are customizable, and easily some of the most recognizable on the road and in the campground. They're designed to accommodate up to 8 people, with flexible living space and comfortable, lovely interiors.
While these fifth-wheel trailers can be transported with a larger pick-up truck or a toy hauler, there are many instances when shipping your Dutchmen RV is going to be better suited for your needs. Driving these can be tricky, and many owners don't wish to haul their oversized RVs long distances, so if you're relocating or moving across country, shipping your Dutchmen RV may be the better choice. The team at Heavy Haulers is composed of talented drivers that can navigate bust highways and tight city streets so you don't have to.
Common Dutchmen Heavy Haulers Transports
Dutchmen industries manufacturers many different types of travel trailers, under some of the best-known, highest quality brands on the market.
● Aerolite
● Astoria
● Aspen Trail
● Atlas
● Coleman
● Endurance
● Guide
● Kodiak
● Rubicon
● Voltage
See what you need?
Call us for a FREE Shipping Estimate at (800) 908-6206
Common RV Manufacturers We Transports
Trust Heavy Haulers to transport any brand of equipment you own. Most of our drivers are experienced heavy-machinery operators who can safely maneuver your loads aboard our trailers. Some of the brands we have shipped include:
Looking For Transport
With a Specific Trailer?

Max Weight: 150,000+ lbs. | Main Deck Length 29 ft.
| Well Width 8.5 ft. | Legal Height Limit 11.6 ft.

Max Weight: 48,000 lbs. | Max Length 53 ft.
| Max Width 8.5 ft. | Max Height 8.5 ft.
Max Weight: 48,000 lbs. Max Length 53 ft. |
Max Width 8.5 ft. | Max Height 11 ft.
Max Weight: 45,000 lbs. | Max Length 29 ft.
| Max Width 8.5 ft. | Max Height 11.5 ft.
Heavy Haulers Ships Across All 50 States
Alabama - Alaska - Arizona - Arkansas - California - Colorado - Connecticut - Delaware - Florida - Georgia - Hawaii - Idaho - Illinois - Indiana - Iowa - Kansas - Kentucky - Louisiana - Maine - Maryland - Massachusetts - Michigan - Minnesota - Mississippi - Missouri - Montana - Nebraska - Nevada - New Hampshire - New Jersey - New Mexico - New York - North Carolina - North Dakota - Ohio - Oklahoma - Oregon - Pennsylvania - Rhode Island - South Carolina - South Dakota - Tennessee - Texas - Utah - Vermont - Virginia - Washington - West Virginia - Wisconsin - Wyoming
Heavy Haulers Pilot Car Services
Are you looking for a reliable pilot car
for your transport?
Get Started
HEAVYHAULERS.COM
START YOUR SHIPMENT TODAY!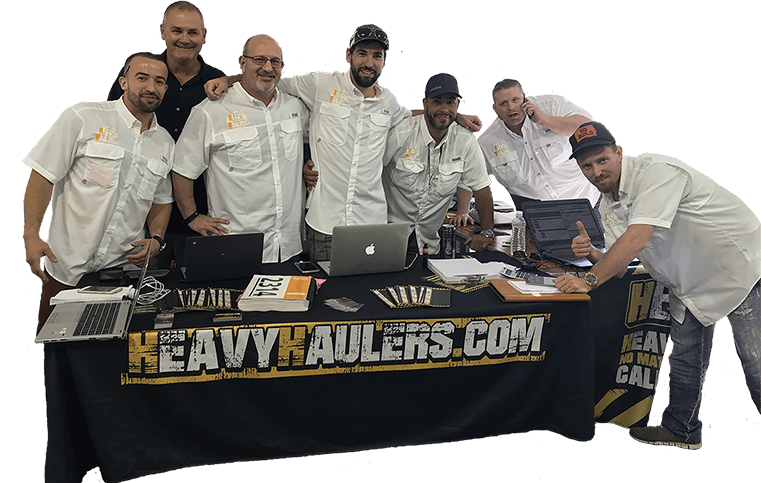 We Are Ready To Help You Haul Your Equipment!
See what you need?
Call us for a FREE Shipping Estimate at (800) 908-6206