The Best Monaco Coach RV Transport
Monaco RVs are comfortable, well-made, and a fun alternative to hotels for those that like to travel. Selecting the right Monaco shipment service can make the difference in getting your vehicle shipped when you need it, where you need it, across North America. Heavy Haulers is an elite transport service, focusing on the kind of large machinery moves that other transportation companies just can't handle – including moving your Monaco Coach RV.
Our company partners with skilled drivers and the right sized trailers to move your Monaco motorhome. We keep your schedule and budget in mind while choosing only licensed, bonded, and double-insured drivers to move your motorhome. Whether you need your personal, newly purchased Monaco transported, or you're a dealer than needs a shipment of several trailers on your show lot, you can count on the team at Heavy Haulers to deliver on time, every time.
Contact Our Expert Shipping Specialist's
(877) 202-3708
About Monaco Coach RV and Motorhomes
Monaco Coach manufactures luxurious, commanding Class A motorhomes. A rich history and refined artistry drive each Monaco Luxury Motor Coach. The company prides itself on the utmost luxury, custom handcrafted luxury features built upon a top-of-the-line chassis. Rich history, elite craftsmanship, and premier brands intertwine to embody Monaco Coach. The company manufactures large, bus-sized touring vehicles, which may need specialized shipping services to transport across North America.
There are many reasons to have a professional shipping company ship your Monaco Coach RV Some travelers but not wish to put the wear and tear on it – or drive it long-distance yourself. Or, you may have found your dream camper, and just need to have it shipped to you. Heavy Haulers also works with professional motorhome sellers to move vehicles from one location to the next, partnering with the best drivers and most dependable route planners in the business.
Common Monaco Coach Motorhomes Heavy Haulers Transports
Monaco is the pinnacle of luxury motorhome craftsmanship. Common models that Heavy Haulers ships are:
How to Ship a Monaco Coach RV
Moving your Monaco RV beings with a call to Heavy Haulers expert logisticians, who will collect the details of your shipment, from size to destination. We then match you with the right driver and an appropriately sized trailer to safely transport your Monaco recreational vehicle. Even if you need a fleet of RVs shipped, we can form a caravan.
Heavy Haulers can transport your Monaco either across town or across North America. Our company handles all paperwork necessary, from weigh station forms to permits and customs forms. We only use licensed, insured, and bonded drivers. Once your RV transport begins, you'll even receive an online code to help you follow your shipment.
See what you need?
Call us for a FREE Shipping Estimate at (800) 908-6206
Common RV Manufacturers We Transports
Trust Heavy Haulers to transport any brand of equipment you own. Most of our drivers are experienced heavy-machinery operators who can safely maneuver your loads aboard our trailers. Some of the brands we have shipped include:
Looking For Transport
With a Specific Trailer?

Max Weight: 150,000+ lbs. | Main Deck Length 29 ft.
| Well Width 8.5 ft. | Legal Height Limit 11.6 ft.

Max Weight: 48,000 lbs. | Max Length 53 ft.
| Max Width 8.5 ft. | Max Height 8.5 ft.
Max Weight: 48,000 lbs. Max Length 53 ft. |
Max Width 8.5 ft. | Max Height 11 ft.
Max Weight: 45,000 lbs. | Max Length 29 ft.
| Max Width 8.5 ft. | Max Height 11.5 ft.
We Can Ship Your Equipment Anywhere in the
US, Canada, and Mexico
Heavy Haulers Pilot Car Services
Are you looking for a reliable pilot car
for your transport?
Get Started
HEAVYHAULERS.COM
START YOUR SHIPMENT TODAY!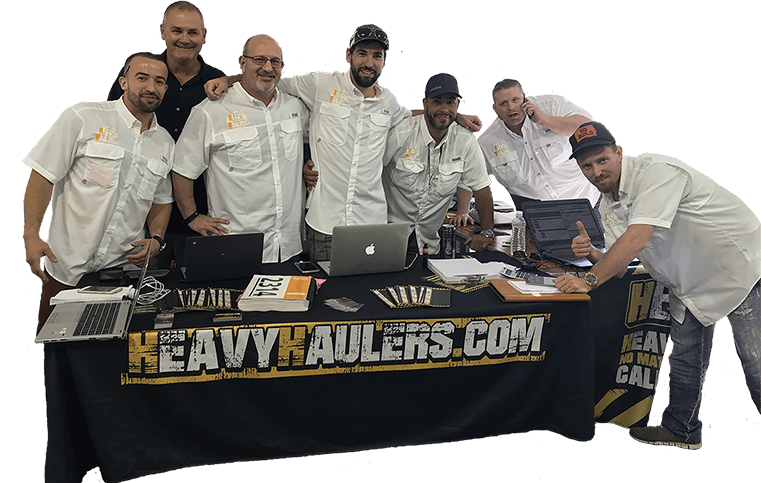 We Are Ready To Help You Haul Your Equipment!
See what you need?
Call us for a FREE Shipping Estimate at (800) 908-6206