Shipping a Gulf Stream Coach RV at Affordable Prices
The right Gulf Stream Coach RV shipping company can save you both time and money. Heavy Haulers, a transport company specializing in oversized equipment transfer across North America. Our company has made our reputation shipping items such as buses, construction equipment, and Gulf Stream RVs. We work with clients just like you to conduct reliable travel trailer RV transport at approachable prices.
Heavy Haulers only contracts with reliable heavy haul contractors that work efficiently, in order to keep your delivery on time and within your budget. Depending on the size of the RV you need to be shipped, or even if you need several items transported from one lot to another, Heavy Haulers can deliver. Professional route planners research the most cost-effective way for your RV shipment to get from the origination to the destination, which can reduce fuel costs that drive up the price of RV shipping.
Contact Our Expert Shipping Specialist's
(800) 908-6206
About Gulf Stream Coach RV and Motorhomes
Gulf Stream Coaches are one of the preferred vacation and motor homes for many people. The company began in 1971 and started the manufacture of the Gulf Stream Coach, an iconic RV, in 1983. The family-owned company focuses on craftsmanship and planning each last detail of their fleet. Gulf Stream RVs include toy trailers and lightweight towables, as well as larger trailers that can be driven. Each recreational vehicle is constructed to be comfortable yet durable, and this award-winning company delivers consistently high-quality machines.
Transporting RVs is a snap with Heavy Haulers. There are many reasons that people choose to have their Gulf Stream motorhome transported by a professional company. Some RV dealers may have one or more trailers that they ship in order to reduce wear and tear on the vehicle, or to move more than one RV. Individual owners may have found the ideal vacation home, and simply need to transport them from the seller. However, driving these can be tricky, and many owners don't wish to haul their oversized RVs long distances. The team at Heavy Haulers is composed of talented drivers that can navigate bust highways and tight city streets.
Common Gulf Stream Coach Motorhomes Heavy Haulers Transports
Gulf Stream RVs cover a wide range of sizes and styles to suit any preferred usage. The common Gulf Stream RVs that Heavy Haulers ships are:
● BT Cruiser
● Conquest Class C
● Gold Edition
● Innsbruck
● Kingsport
● Trailmaster
● Vintage Cruiser
● Envision
● Lodge Series
● Sedona
How to Ship a Gulf Stream Coach RV
Shipping a Gulf Stream RV with Heavy Haulers starts with a phone call to one of our professional logistics representatives. We'll gather the dimensions of your trailer, including the origination and destination. We then match you with a professional driver and the right rig to move either one trailer or a fleet. We handle all the paperwork necessary for shipping a Gulf Stream RV, including weigh stations, permits, and customs if you're shipping from Canada or Mexico. You'll receive an online code to track your RV, and we can work with your schedule for delivery.
See what you need?
Call us for a FREE Shipping Estimate at (800) 908-6206
Common RV Manufacturers We Transports
Trust Heavy Haulers to transport any brand of equipment you own. Most of our drivers are experienced heavy-machinery operators who can safely maneuver your loads aboard our trailers. Some of the brands we have shipped include:
Looking For Transport
With a Specific Trailer?

Max Weight: 150,000+ lbs. | Main Deck Length 29 ft.
| Well Width 8.5 ft. | Legal Height Limit 11.6 ft.

Max Weight: 48,000 lbs. | Max Length 53 ft.
| Max Width 8.5 ft. | Max Height 8.5 ft.
Max Weight: 48,000 lbs. Max Length 53 ft. |
Max Width 8.5 ft. | Max Height 11 ft.
Max Weight: 45,000 lbs. | Max Length 29 ft.
| Max Width 8.5 ft. | Max Height 11.5 ft.
Heavy Haulers Ships Across All 50 States
Alabama - Alaska - Arizona - Arkansas - California - Colorado - Connecticut - Delaware - Florida - Georgia - Hawaii - Idaho - Illinois - Indiana - Iowa - Kansas - Kentucky - Louisiana - Maine - Maryland - Massachusetts - Michigan - Minnesota - Mississippi - Missouri - Montana - Nebraska - Nevada - New Hampshire - New Jersey - New Mexico - New York - North Carolina - North Dakota - Ohio - Oklahoma - Oregon - Pennsylvania - Rhode Island - South Carolina - South Dakota - Tennessee - Texas - Utah - Vermont - Virginia - Washington - West Virginia - Wisconsin - Wyoming
Heavy Haulers Pilot Car Services
Are you looking for a reliable pilot car
for your transport?
Get Started
HEAVYHAULERS.COM
START YOUR SHIPMENT TODAY!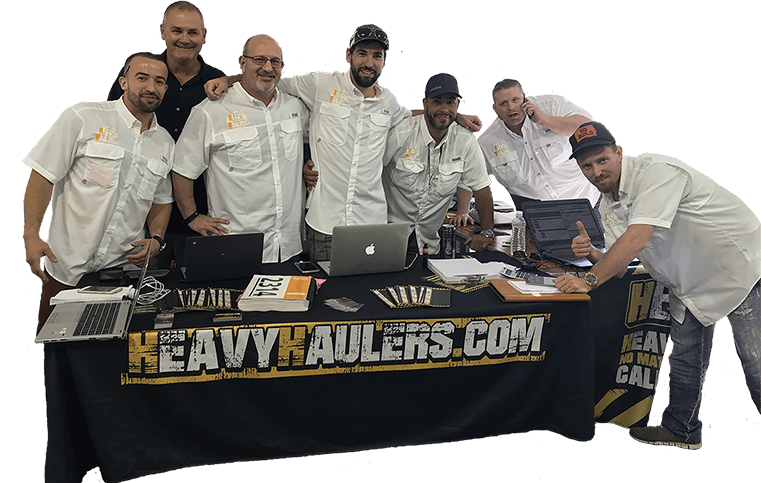 We Are Ready To Help You Haul Your Equipment!
See what you need?
Call us for a FREE Shipping Estimate at (800) 908-6206