Top Notch Pacific Coachworks RV Transport at Heavy Haulers
Heavy Haulers has extensive experience in providing Pacific Coachworks shipping services for manufacturers, consumers, and businesses in the USA, Canada, and Mexico. As a Coachworks shipping company, we have transported Pacific Coachworks RVs for over a decade, thus you can rely on Heavy Haulers for a flawless, reliable, and convenient experience when shipping your Pacific Coachworks RV in any part of the aforementioned states.
The reputation of any RV transport company is built on the swift and efficient shipment of RVs and motorhomes to and from various destination points using qualified drivers, logistics specialists, and company-owned fleets. Heavy Haulers is an industry-leading RV shipping company with a fleet of modern trucks that can be used in transporting a Pacific Coachworks RV, and we have a proven track record of providing top-notch services; therefore, you can rely on us for both small or large shipments. Need Pacific Coachworks transport services? Call us for a seamless RV shipping experience. (800) 908-6206
Contact Our Expert Shipping Specialist's
(800) 908-6206
About Pacific Coachworks Motorhomes and RVs
Pacific Coachworks Motorhomes and RVs are quality recreational vehicles manufactured by the Pacific Coachworks (PCW), which is a Southern California premiere RV manufacturer. PCW's luxury recreational vehicles are built in different towable sizes designed to meet customer's needs. Heavy Haulers can transport your Pacific Coachwork motorhome with ease. We have a diverse fleet capable of handling any make, model, and size Coachwork RV. When you call one of our logistics agents they will walk you through the process with ease. Call us now and let's get started. (800) 908-6206
Common Pacific Coachworks Heavy Haulers Transports
● Pacific XL
● Mighty line
● Panther Mini
● Tango Mini
● Surfside Mini
● Sea breeze Mini
● Tango Xhahalite
● Blasen
● Tango
● Ragen
● Sea breeze
● Sandefort
● Surfside
● Powerlite
Your Pacific Coachworks RV will be towed or hauled using our ultra-modern trailers safely to their destination. We treasure our customers and long to make you our next potential partner in your shipping adventure. So, don't hesitate to give us a buzz. (800) 908-6206
See what you need?
Call us for a FREE Shipping Estimate at (800) 908-6206
Common RV Manufacturers We Transports
Trust Heavy Haulers to transport any brand of equipment you own. Most of our drivers are experienced heavy-machinery operators who can safely maneuver your loads aboard our trailers. Some of the brands we have shipped include:
Looking For Transport
With a Specific Trailer?

Max Weight: 150,000+ lbs. | Main Deck Length 29 ft.
| Well Width 8.5 ft. | Legal Height Limit 11.6 ft.

Max Weight: 48,000 lbs. | Max Length 53 ft.
| Max Width 8.5 ft. | Max Height 8.5 ft.
Max Weight: 48,000 lbs. Max Length 53 ft. |
Max Width 8.5 ft. | Max Height 11 ft.
Max Weight: 45,000 lbs. | Max Length 29 ft.
| Max Width 8.5 ft. | Max Height 11.5 ft.
Heavy Haulers Ships Across All 50 States
Alabama - Alaska - Arizona - Arkansas - California - Colorado - Connecticut - Delaware - Florida - Georgia - Hawaii - Idaho - Illinois - Indiana - Iowa - Kansas - Kentucky - Louisiana - Maine - Maryland - Massachusetts - Michigan - Minnesota - Mississippi - Missouri - Montana - Nebraska - Nevada - New Hampshire - New Jersey - New Mexico - New York - North Carolina - North Dakota - Ohio - Oklahoma - Oregon - Pennsylvania - Rhode Island - South Carolina - South Dakota - Tennessee - Texas - Utah - Vermont - Virginia - Washington - West Virginia - Wisconsin - Wyoming
Heavy Haulers Pilot Car Services
Are you looking for a reliable pilot car
for your transport?
Get Started
HEAVYHAULERS.COM
START YOUR SHIPMENT TODAY!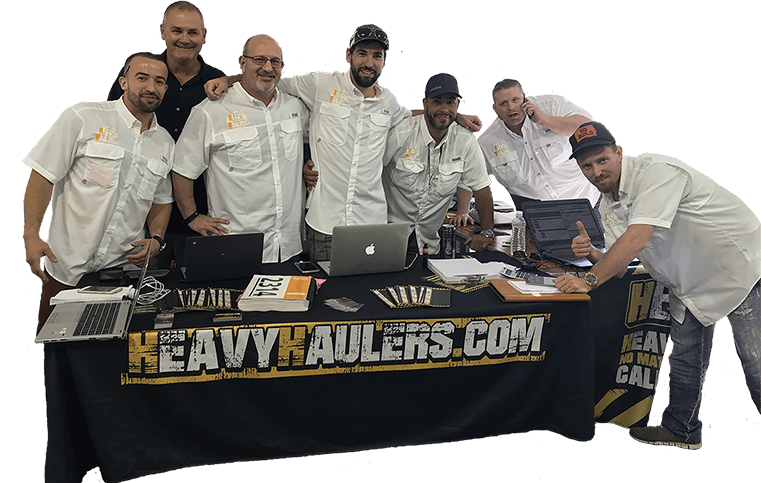 We Are Ready To Help You Haul Your Equipment!
See what you need?
Call us for a FREE Shipping Estimate at (800) 908-6206