On Time Delivery for Forest River RV Transport
Forest River recreational vehicles are a versatile, comfortable alternative to staying in a hotel. Choosing the right RV shipment service can make the difference in getting your RV delivered where you need it when you need it. Heavy Haulers is a professional shipping service, focusing on the kind of shipments that other transportation companies just can't handle – including moving your Forest River RV either across town or across North America.
Heavy Haulers partners with skilled drivers and the right sized rigs to move your recreational vehicle. We keep your schedule and budget in mind while choosing only the most professional, reputable drivers to move your load. Whether you need your RV transported, or you're a dealer than needs a shipment of several Forest River RVs on your show lot, you can count on the team at Heavy Haulers to deliver on time, every time.
Contact Our Expert Shipping Specialist's
(800) 908-6206
About Forest River Motorhomes and RVs
Forest River motorhomes are some of the largest motorhomes on the market. There are many different types of vehicles in the Forest Hills family, from toy haulers to fifth-wheel trailers and even camping trailers. Forest River was founded in 1996 and since then has grown to one of the largest manufacturers of Class A and Class C motorhomes. This diverse company makes many different types of vehicles to help you enjoy the great outdoors, including recreational vehicles, pontoons, park models, buses, cargo trailers, and commercial trucks.
There are many reasons to have a professional transportation company ship your Forest River RV. You may wish to enjoy your RV at a location across the country but not wish to put the wear and tear on it. Or, you may have found your dream camper, and just need to have it shipped to you. Heavy Haulers also works with RV dealers to move stock from one location to the next, partnering with the best drivers and most dependable rigs in the business.
There are various types of Forest River RV's and some of these include:
● Alpha Wolf Transport
● Arctic Shipping
● Berkshire Transport
● Cardinal Shipping
● Cedar Creek Transport
● Evo Shipping
● Flagstaff Transport
● Forester Shipping
● Rockwood Transport
● Georgetown Shipping
● Hampshire Transport
● Ozark Shipping
● Riverstone Transport
● Sierra Shipping
● Sonoma Transport
● Wildcat Shipping
● Alpha Wol Transport
● Arctic Wolf Shipping
● Aurora Transport
● Cherokee Shipping
● Salem Cruise Lite Transport
● Salem Hemisphere Shipping
● Wildwood Heritage Transport
Heavy Haulers can transport your RV either across town or across North America. We handle all paperwork necessary, from escorts to permits and customs forms. We only use licensed, insured, and bonded drivers. Once your shipment begins, you'll even receive an online code to help you follow your shipment. Call now for a free shipping quote! (800) 908-6206
See what you need?
Call us for a FREE Shipping Estimate at (800) 908-6206
Common RV Manufacturers We Transports
Trust Heavy Haulers to transport any brand of equipment you own. Most of our drivers are experienced heavy-machinery operators who can safely maneuver your loads aboard our trailers. Some of the brands we have shipped include:
Looking For Transport
With a Specific Trailer?

Max Weight: 150,000+ lbs. | Main Deck Length 29 ft.
| Well Width 8.5 ft. | Legal Height Limit 11.6 ft.

Max Weight: 48,000 lbs. | Max Length 53 ft.
| Max Width 8.5 ft. | Max Height 8.5 ft.
Max Weight: 48,000 lbs. Max Length 53 ft. |
Max Width 8.5 ft. | Max Height 11 ft.
Max Weight: 45,000 lbs. | Max Length 29 ft.
| Max Width 8.5 ft. | Max Height 11.5 ft.
Heavy Haulers Ships Across All 50 States
Alabama - Alaska - Arizona - Arkansas - California - Colorado - Connecticut - Delaware - Florida - Georgia - Hawaii - Idaho - Illinois - Indiana - Iowa - Kansas - Kentucky - Louisiana - Maine - Maryland - Massachusetts - Michigan - Minnesota - Mississippi - Missouri - Montana - Nebraska - Nevada - New Hampshire - New Jersey - New Mexico - New York - North Carolina - North Dakota - Ohio - Oklahoma - Oregon - Pennsylvania - Rhode Island - South Carolina - South Dakota - Tennessee - Texas - Utah - Vermont - Virginia - Washington - West Virginia - Wisconsin - Wyoming
Heavy Haulers Pilot Car Services
Are you looking for a reliable pilot car
for your transport?
Get Started
HEAVYHAULERS.COM
START YOUR SHIPMENT TODAY!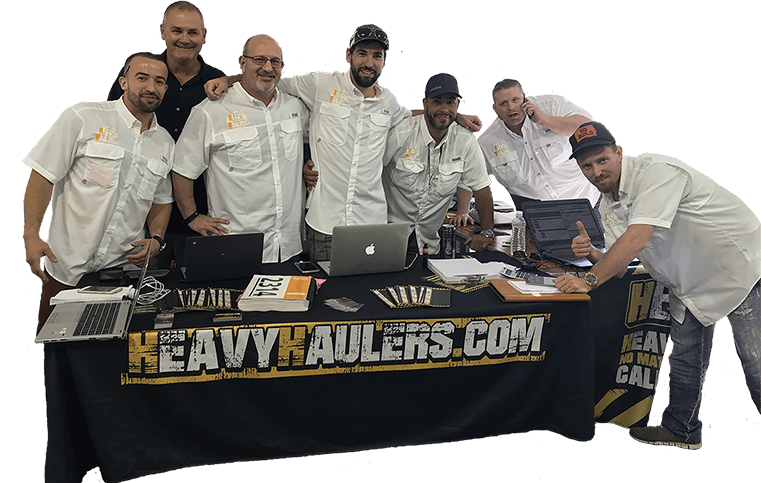 We Are Ready To Help You Haul Your Equipment!
See what you need?
Call us for a FREE Shipping Estimate at (800) 908-6206