Most Experienced Outdoors RV Shipping Company
With more than a decade of experience in the business of super-load transport, Heavy Haulers has the expertise as well as the tools to haul your Outdoors RV anywhere in the Continental U.S. and Canada. We will utilize a open-air flatbed or hitch to transport your trailer where you want it to go, and offer door-to-door service so that you don't have to leave home to pick it up from a third party when it has reached its destination.
One advantage of using Heavy Haulers as your Outdoors RV shipping company is our dedication to providing comprehensive yet timely service to ensure that your motorhome reaches your location quickly and without causing you any stress. Our drivers are licensed, bonded and insured and also trained in logistics, so every moment of your vehicle's trip is planned out to avoid construction and weather problems.
Contact Our Expert Shipping Specialist's
(800) 908-6206
About Outdoors Motorhomes and RVs
Outdoors Motorhomes and RVs is not in the RV business to make a profit from selling luxury recreational vehicles. Established in 2009, the company instead focuses on providing campers who desire the authentic camping experiences with a modicum of comfort in their outdoor pursuits. They manufacture both 5th-Wheels and travel trailers in four specific vehicle styles based on the interests of its customers: Backcountry, Trail, Mountain and Titanium (which provides a premium mix of features).
Some of the standard features included in Outdoors Motorhomes are climate-controlled, four-season windows, I-Beam construction and "outdoors tough" flooring that won't crack in the cold. Nomatter what style, size, or features, Heavy Haulers will find the proper tractor-trailer to haul our Outdoors RV safely.
Common Outdoors Heavy Haulers Transports
Outdoors RV has a huge selection of 5th-wheels and travel trailers for you to choose from that include standard strength and design features, including I-beam construction and all-weather windows. Some of the most popular trailers that Outdoors RV offers include:
● Creekside
● Timber Ridge
● Black Stone
● Glacier Peak
● Back Country 25 RLS
● Back Country 27 DBS
● Anniversary Series
See what you need?
Call us for a FREE Shipping Estimate at (800) 908-6206
Common RV Manufacturers We Transports
Trust Heavy Haulers to transport any brand of equipment you own. Most of our drivers are experienced heavy-machinery operators who can safely maneuver your loads aboard our trailers. Some of the brands we have shipped include:
Looking For Transport
With a Specific Trailer?

Max Weight: 150,000+ lbs. | Main Deck Length 29 ft.
| Well Width 8.5 ft. | Legal Height Limit 11.6 ft.

Max Weight: 48,000 lbs. | Max Length 53 ft.
| Max Width 8.5 ft. | Max Height 8.5 ft.
Max Weight: 48,000 lbs. Max Length 53 ft. |
Max Width 8.5 ft. | Max Height 11 ft.
Max Weight: 45,000 lbs. | Max Length 29 ft.
| Max Width 8.5 ft. | Max Height 11.5 ft.
Heavy Haulers Ships Across All 50 States
Alabama - Alaska - Arizona - Arkansas - California - Colorado - Connecticut - Delaware - Florida - Georgia - Hawaii - Idaho - Illinois - Indiana - Iowa - Kansas - Kentucky - Louisiana - Maine - Maryland - Massachusetts - Michigan - Minnesota - Mississippi - Missouri - Montana - Nebraska - Nevada - New Hampshire - New Jersey - New Mexico - New York - North Carolina - North Dakota - Ohio - Oklahoma - Oregon - Pennsylvania - Rhode Island - South Carolina - South Dakota - Tennessee - Texas - Utah - Vermont - Virginia - Washington - West Virginia - Wisconsin - Wyoming
Heavy Haulers Pilot Car Services
Are you looking for a reliable pilot car
for your transport?
Get Started
HEAVYHAULERS.COM
START YOUR SHIPMENT TODAY!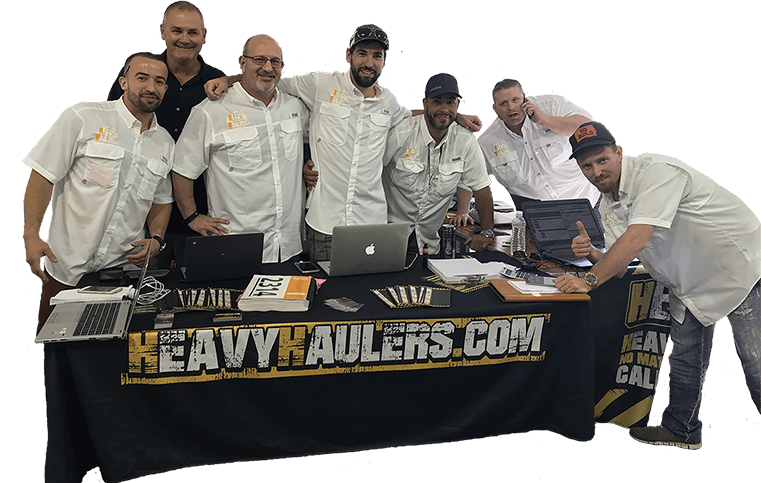 We Are Ready To Help You Haul Your Equipment!
See what you need?
Call us for a FREE Shipping Estimate at (800) 908-6206