Excellent Amphibious Excavator Transport Services
Many shallow-water excavation projects require the use of amphibious excavators. The machinery has a stand-alone and complicated construction with many critical components that must be functioning correctly. Therefore, it is essential that you carefully think about who you hire to transport it to your specific delivery area. Heavy Haulers offers superior amphibious excavator shipping services. We can move the piece of machinery with high-attention to detail and safety. We value your equipment as much as you do. Therefore, we tacitly mandate ourselves to take care of every individual need you have regarding the cargo.
At Heavy Haulers, we are blessed to have a team of professional logistics agents and ground technicians who can take the lead on the entire hauling process, from pre-shipping storage and loading to planning the travel and soliciting for transportation documents. Call now for a free shipping estimate. (800) 908-6206
Contact Our Expert Shipping Specialist's
(800) 908-6206
Hauling Amphibious Excavators Across the US and Internationally
Heavy Haulers strives to make its leading heavy-cargo transportation solutions available in every corner of the country. With offices in over 50 states, you can easily reach on to us within your state of residence or operation. Each of our branches has industry-seasoned logistics representatives and trucking drivers who can withstand long-distance amphibious excavator transportation or even an across-town delivery. Our drivers have traveled on northern roads for years. They understand how to maneuver through any weather or terrain to make sure the haulage runs successfully.
An amphibious excavator is a sort of excavator designed to perform dredging projects on shallow waters. They provide the best machinery for silt removal, soil erosion control, deepening of waterways, and land reclamation works. We maintain an extensive inventory of trailers of all kinds (flatbeds, lowboys, and step decks) that have the full capacity to handle on-water dredging machines from the point of collection to your remotely-located operation site. Our specialists are ready to ship your amphibious excavator locally or internationally. Give us a call and let's get started! (800) 908-6206
Common Types of Amphibious Excavators Heavy Haulers Ship
● Wilco 330-, 320-, And 3200-Series Excavators
● EIK AM80-, AM100, AM200, AM300, And AM400-Series Excavators
● Caterpillar Marsh Excavators
● Normrock Amphibex Models 400, 600, 650, And 800
● Powerplus PP300A, PP600A, PP900A, And PP1200A-Series Excavators
● Wetland Amphibious Excavators
● Sinoway Marsh Excavators
How to Move an Amphibious Excavator with Heavy Haulers
Hauling a marsh dredger machine is not as easy as moving a compact generator. It has a unique design that features a pair of undercarriage pontoons, bucket teeth, hydraulic arm, a cab, and other moving components. Our knowledgeable ground technicians will adjust the pontoons to narrow it, so it fits on a capable lowboy. We'll then secure it on the trailer, and couple it with a powerful truck. An experienced driver will then take over the wheel and deliver the cargo safely to your destination.
Common Trailer Types Available from Heavy Haulers
Heavy Haulers specializes in hauling heavy loads such as construction equipment, oil field rigging and Super Loads. We are wideload experts! We offer an extensive range of trailer choices, including:
Max Weight: 48,000 lbs. | Max Length 53 ft. | Max Width 8.5 ft. | Max Height 11 ft.




Max Weight: 45,000 lbs. | Max Length 29 ft. | Max Width 8.5 ft. | Max Height 11.5 ft.
Max Weight: 150,000+ lbs. | Main Deck Length 29 ft. | Well Width 8.5 ft. | Legal Height Limit 11.6 ft.




Max Weight: 48,000 lbs. | Max Length 53 ft. | Max Width 8.5 ft. | Max Height 8.5 ft.
HEAVYHAULERS.COM
START YOUR SHIPMENT TODAY!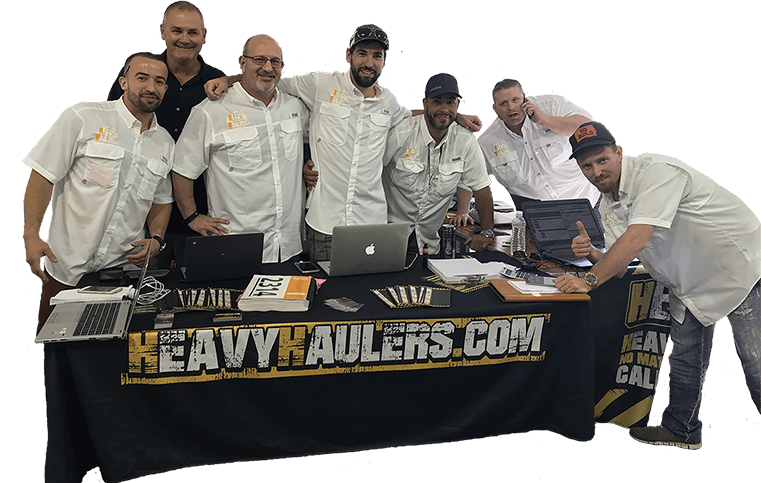 We Are Ready To Help You Haul Your Equipment!