Safe and Secure Conveyor Bridge Transport
Conveyor bridges make strip mining activities manageable. Such industrial operations take place in remote locations, and transporting a conveyor bridge to the site is a challenge. However, Heavy Haulers is here to alleviate your transportation worries and burden. Unlike other disreputable shippers, we have the resources, equipment, and labor to handle the shipment from the pick-up location to any receiving destination, no matter the distance. Heavy Haulers has, for years, transported heavy-equipment on Northern routes, and we understand what requirements need to be met, to haul the conveyor bridge safely.
Our extensive fleet consists of technologically-updated trucks. We back that up with a professional team of industry-seasoned drivers who are not only trained to operate the piece of equipment but also know what to do when driving under different weather conditions to avoid damage to the load. Call now for a conveyor bridge transport quote! (800) 908-6206
Contact Our Expert Shipping Specialist's
(800) 908-6206
Consumer-Centered Conveyor Bridge Shipping Services
A conveyor bridge is a piece of machinery used in open-air/strip mining. It is used for the removal of overload soil or ground cover and transports it to a landfill site. They operate together with bucket excavators, which load the overload to the bridge. We understand how tricky and challenging moving a conveyor bridge can be. That's the reason we strive to offer shipment services that satisfy your specific needs when shipping a conveyor bridge. Our logistics agents will address you professionally and enquire every detail about the shipment, including any special requirements you have. We will then tailor the services to make sure towing is done to your expectations.
Heavy Haulers is also dedicated to helping clients achieve savings when hauling a conveyor bridge. Our company representatives have the knack of finding the best route for efficient transportation. We also go out of our way to look for motorways with low toll fees to make sure you retain some bucks off in your account. We strive to provide the most affordable conveyor bridge shipping services.
Common Types of Conveyor Bridges We Ship
Depending on the nature of surface overload and the distance of conveyance, miners use different types of conveyor bridges. They include the following.
● Pipe Conveyors
● Vacuum Conveyors
● Tear-Drop Conveyors
How to Ship a Conveyor Bridge with Heavy Haulers
A conveyor has several parts, including mobile bridge cars, and bridge segments, and a rigid haulage system. Sometimes, loading such a long piece of machinery requires disassembly to allow for easy hoisting and positioning. We have all the tools and cranes to dismantle the load and carry each part to a suitable and sturdy trailer. Each truck is fitted with state-of-the-art radio transmission, which allows us to offer you load tracking services. You can speak to our agents for updates on the in-transit shipment anytime between 7 am and 10 pm, every day, and we will be glad to reply to you. You can take advantage of our extensive roaster of transportation services by calling now! (800) 908-6206.
Common Trailer Types Available from Heavy Haulers
Heavy Haulers specializes in hauling heavy loads such as construction equipment, oil field rigging and Super Loads. We are wideload experts! We offer an extensive range of trailer choices, including:
Max Weight: 48,000 lbs. | Max Length 53 ft. | Max Width 8.5 ft. | Max Height 11 ft.




Max Weight: 45,000 lbs. | Max Length 29 ft. | Max Width 8.5 ft. | Max Height 11.5 ft.
Max Weight: 150,000+ lbs. | Main Deck Length 29 ft. | Well Width 8.5 ft. | Legal Height Limit 11.6 ft.




Max Weight: 48,000 lbs. | Max Length 53 ft. | Max Width 8.5 ft. | Max Height 8.5 ft.
HEAVYHAULERS.COM
START YOUR SHIPMENT TODAY!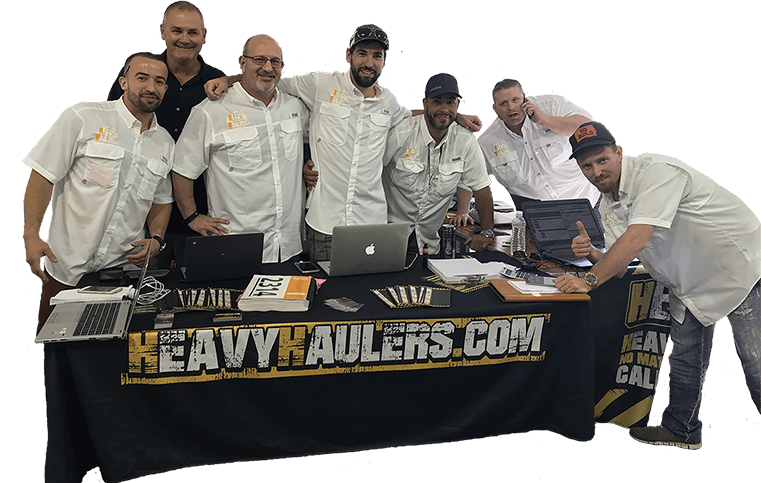 We Are Ready To Help You Haul Your Equipment!