Get Exceptional Prestressed Concrete Transportation
Some civil engineering projects and construction works require the use of prestressed concrete. But what if the concrete is fabricated at a distant location from the operation location? You need a shipping company that can safely haul prestressed concrete. Heavy Haulers is prepared to undertake the transportation, and we pledge to deliver it in one piece, just as we pick it. We are a trusted and reliable heavy-equipment transportation with an industrial experience that spans over a decade. Over the years, we have transported a wide range of heavy equipment. We have the necessary equipment, tools, and transportation to move the heavy pieces of compressed concrete.
The safety and security of the load is as much a priority as it is to you. We will use cargo-handling equipment to load and organize the pieces of concrete on the trailers. We can arrange for unloading and loading cranes both at the pick-up and delivery points to ensure safety is upheld. Call now and let's move your prestressed concrete! (800) 698-6206
Contact Our Expert Shipping Specialist's
(800) 908-6206
Transport Prestressed Concrete Internationally
Prestressed concrete is a type of concrete used in building and construction works. The internal part is compressed (prestressed) during the fabrication phase, before the external load is applied. That allows it to withstand tension forces during its years of service. Prestressed concrete is used to build roads, bridges, and railway lines, etc. That makes it imperative to find a professional shipper who can transport the load without shifting to avoid cracks and other blemishes.
Heavy Haulers can help you haul the cargo to whatever location you want within the US. We have representatives in over 50 states, who can talk to you regarding the shipment and clarify any issues you may have. Additionally, we also expend our top-tier shipping services to clients in Canada, Mexico, and other international locations, thanks to our strong partnership with globally-recognized reputable freight agents.
Common Types of Prestressed Concrete We Ship
Depending on the construction method, project managers can use three main types of prestressed concrete.
● Pre-Tensioned Concrete
● Bonded Post-Tensioned Concrete
● Unbonded Post-Tension Concrete
How to Move Prestressed Concrete with Heavy Haulers
The approach we use to transport pre-case concrete depends on the dimensions, shape, and size of the load. Some prestressed concrete feature beams, columns, and flat-surfaced slabs. At Heavy Haulers, we take care of not only the cargo but also the persons handling the cargo during loading, transportation, and unloading. We have the appropriate equipment and project-specific apparatuses to load the cargo cautiously and arrange them on the trailer. Because we are an insured shipping company, you can be sure we will deliver the shipment. We back that up with a secondary contingent cargo insurance. So, we will cover any issues in case something happens while transporting the pre-cast concrete. Call now! (800) 908-6206
Common Trailer Types Available from Heavy Haulers
Heavy Haulers specializes in hauling heavy loads such as construction equipment, oil field rigging and Super Loads. We are wideload experts! We offer an extensive range of trailer choices, including:
Max Weight: 48,000 lbs. | Max Length 53 ft. | Max Width 8.5 ft. | Max Height 11 ft.




Max Weight: 45,000 lbs. | Max Length 29 ft. | Max Width 8.5 ft. | Max Height 11.5 ft.
Max Weight: 150,000+ lbs. | Main Deck Length 29 ft. | Well Width 8.5 ft. | Legal Height Limit 11.6 ft.




Max Weight: 48,000 lbs. | Max Length 53 ft. | Max Width 8.5 ft. | Max Height 8.5 ft.
HEAVYHAULERS.COM
START YOUR SHIPMENT TODAY!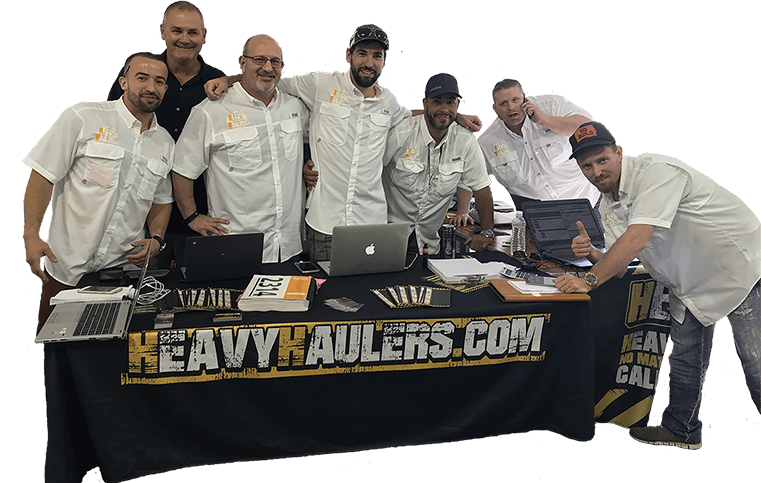 We Are Ready To Help You Haul Your Equipment!