Construction Crane Transport Services
Trust Heavy Haulers to ship your valuable crane anywhere in the US, Canada or Mexico. Ship your truck cranes, rough terrain cranes, aerial cranes, tower cranes - no crane is too large. Call the transportation experts at Heavy Haulers today to ship your crane, (800) 908-6206.
Construction Cranes Transported by Heavy Haulers
Shipping Grove RT630 Truck Crane
Heavy Haulers recently shipped this 2006 Grove RT630 Truck Crane from Ladd Illinois, to Bourg, Louisiana. The trip was nearly 940 miles long. Weight: 60,000 pounds. Length: 38 feet. Width: 9 feet 8 inches. Height: 12 feet 1 inch. To ship your truck cranes anywhere in the US, Canada or Mexico, call Mike directly at Heavy Haulers at (954) 603-2324.
Hauling Grove 620 Crane
This Grove 620 crane was recently transported by Hal at Heavy Haulers. This Grove crane was picked up in Owosso, MI and delivered to its destination in Momence, IL. It was 36 feet long, 8 feet 2 inches wide, 9 feet 11 inches high and weighed approximately 49,000 pounds. If you are looking to have a crane transported call Hal at Heavy Haulers to schedule your next crane pick up! (561) 229-0689
Transporting Liebherr LTM 1150 Crane
Heavy Haulers recently transported this Liebherr LTM 1150 from Dundalk, MD to its destination 1,550 miles away in Edna, TX. This Liebherr was 49 feet long, 9 feet 8 inches wide, 12 feet 9 inches high and weighed 125,000 pounds! This transport did require permits for weight, heigh and width but did not require any escorts. If you have a Liebherr you need transported give Jacob at Heavy Haulers a call to schedule your shipment! (561) 208-8418
Shipping Tadano Mantis 6010 Crane
This is a Tadano Mantis 6010 crane that Jason at Heavy Haulers had the pleasure of transporting for a client. This Tadano Mantis crane was picked up in Wink, TX and delivered to is destination in Mc Camey, TX. This Crane was 39 feet 9 inches long, 10 feet 8 inches wide, 8 feet high and weighed in at 63,000 pounds! This particular machine did require permits for transport and our agent Jason was able to handle all of the proper paper work! Call Heavy Haulers and speak to Jason today to book your next crane shipment. (954) 603-2322.
Hauling Tadano TR300E Crane
Heavy Haulers recently transported this 1991 Tadano TR300E 1,200 miles! We picked up the Tadano TR300E in Gillette, WY and delivered it to its destination in Compton, CA. It was 29 fee in length, 9 feet in width, 11 feet in height and 59,000 pounds. This shipment did require permits which Heavy Haulers was able to arrange. This 1991 Tadano TR300E Crane was picked up and delivered within 4 days! Schedule your next crane shipment with Jason Foltz today! (954) 603-2322.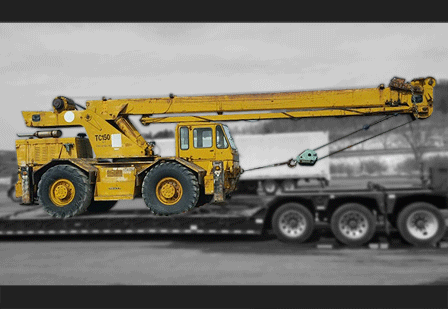 How To Ship a Construction Crane
Let Heavy Haulers eliminate the headaches of transporting your construction crane to it's new job site location. We have the expertise to handle the logistic concerns when dealing with equipment this large. Whether your equipment needs a double deck, RGN or a extended trailer, we have the team to handle the permitting and routing of the move. Heavy Haulers can help ship your crane locally, regionally or from coast to coast.
We care about your equipment as if it was our own and will help you find the most efficient (and cheapest) route available. If you crane is too large for transport on one trailer, our millwrights can break it down and we can ensure that that all pieces arrive at the new destination at the same time.
Common Trailer Types Available from Heavy Haulers.
Heavy Haulers specializes in hauling heavy loads such as construction equipment, oil field rigging and Super Loads. We are wideload experts! We offer an extensive range of trailer choices, including:
Step Deck/Drop Deck Trailer

Max Weight: 48,000 pounds | Max Length 53 ft. | Max Width 8.5 ft. | Max Height 11 ft.




Lowboy Trailers

Max Weight: 100,000+ lbs. | Max Length 30 ft. | Max Width 8.5 ft. | Max Height 14 ft.
Removable Gooseneck Trailer (RGN)

Max Weight: 150,000+ lbs. | Main Deck Length 29 ft. | Well Width 8.5 ft. | Legal Height Limit 11.6 ft.




Flatbed Trailer

Max Weight: 48,000 pounds | Max Length 53 ft. | Max Width 8.5 ft. | Max Height 8.5 ft.
Types of Equipment Heavy Haulers has Experience Transporting
Trust Heavy Haulers to transport any brand of equipment you own. Most of our drivers are experienced heavy-machinery operators who can safely maneuver your loads aboard our trailers. Some of the brands we have shipped include:
Oshkosh

Allis Chalmers

Toro

JLG

Roadtec

Genie

Telsmith

Gradall

Atlas Copco

Huskvarna
Heavy Haulers Ships Construction Cranes
Heavy Haulers ships construction cranes. Speak with one of our logistics professionals to arrange efficient and affordable transportation for your construction crane. Your representative shops for the best rates for you, dispatches your load when you're ready, and shepherds your transport to a successful conclusion. Let's begin our relationship today.
Heavy Haulers offers:
Door-to-door transport
24/7 Customer Service
Free Cancellations
Contingency Insurance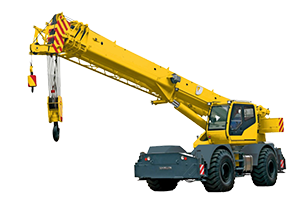 Construction Crane Transportation Services
A vital part of major construction projects, cranes help keep the job moving forward. Whether your crane is on treads or tires, Heavy Haulers can handle the logistics concerns and if you need extra clearance we have double deck trailers to ensure safe delivery.
Heavy Haulers can handle moving all types of construction cranes including loader cranes, boom cranes, telescopic cranes, tower cranes, railroad cranes, harbor cranes stacking cranes and almost any type of crane from a short haul to a long haul. Heavy Haulers can handle your transport in a professional and efficent manner.