All-Inclusive Scissor Lift Shipping with Heavy Haulers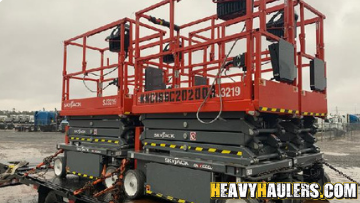 Contact Our Scissor Lift Transport
Specialist Now!


(800) 908-6206
Heavy Haulers is the industry-leading scissor lift transport company. With over a decade of experience, our clients rely on us to ship their scissor lift and all construction lifts safely to the next job site. At Heavy Haulers, we offer top quality and all-inclusive hauling services. This includes finding the best driver, truck, and trailer to transport your scissor lift. When necessary, we also provide load assistance, pilot cars, and more.
Trust Heavy Haulers about shipping your construction lifts anywhere in the US, Canada, or Mexico. Ship your scissor lift as a partial load and save money! You can combine your shipment with another – or with the rest of your construction gear. Talk to one of our experienced transportation professionals to learn more about partial load transport option for your sicssor lift. Call Heavy Haulers today for a custom shipping estimate at (800) 908-6206.
Scissor Lift Transprt Across the U.S. and Overseas
Heavy Haulers is the North American heavy equipment shipper people know they can rely on. We're dedicated to providing better transport solutions at the best prices. We transport scissor lifts all across the United States, including Alaska and Hawaii. Whether you're in a dense city or the country with wide open spaces, Heavy Haulers has the reach to get your scissor lift hauled. We also have a dedicated international team that's ready to ship your scissor lift overseas. We handle all paperwork, permits, and customs for port-to-port transport services.
Like boom lifts and other aerial work platforms, scissor lifts are another way for professionals among multiple industries to gain access to hard to reach areas where they must work. These lifts are used by electricians and construction workers. They're also used for many different warehouse jobs. Wherever you're shipping your scissor lift, Heavy Haulers is ready to get it transported safely and delivered on time. Call now! (800) 908-6206
Get Your Scissor Lift Transport Estimate Now!(800) 908-6206
Recent Scissor Lifts Transported by Heavy Haulers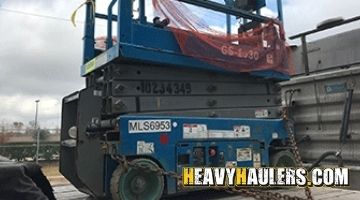 Genie GS-1930 Scissor Lift Hauled On a Flatbed Trailer to Colorado
This Genie GS-1930 scissor lift was shipped to Milliken, Colorado from Saugus, California by Sam Duncan; a Heavy Hauler's equipment transport specialist. The scissors lift weighed 2,700 pounds and had a width of 2.5 ft. which was sufficiently handled by a flatbed trailer. Sam and his load handlers tied down the Genie GS-1930 Slab Scissor Lift with chains all along its 5 ft. length and tied flags to its 6 ft. high sides.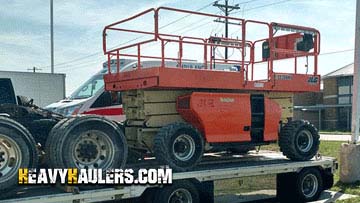 Shipping a 2014 JLG 3394RT Construction Lift to Nebraska
This 2014 JLG 3394RT Scissor Lift was loaded in Buda, TX and delivered nearly 1,000 miles away in Bloomfield, NE. This JLG rough terrain scissor lift measured 13 feet in length is 8 feet wide and is 7 feet tall and approximately 12,000 pounds. Call Mike Phillips at Heavy Haulers to receive your next quote and to schedule your next shipment: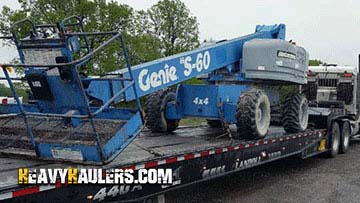 Transporting a Genie S60 Telescopic Boom Lift on a Hotshot Trailer
Heavy Haulers recently hauled this 2006 Genie S60 Telescopic Boom Lift from Harrisonville, New Jersey, to Nixa, Missouri. The trip was more than 1,130 miles long. Weight: 20,000 pounds. Length: 28 feet. Width: 8 feet 2 inches. Height: 8 feet 9 inches. To haul your telescopic boom lift anywhere in the country, talk to Mike at Heavy Haulers directly at:
Get Your Scissor Lift Transport Estimate Now!(800) 908-6206
Oversize Scissor Lift and Construction Lift Transport
Heavy Haulers specializes in oversize construction lift transport. We adhere to the highest safety standards when shipping scissor lifts. When it comes to your heavy equipment, our goal is to ship it better and deliver it on time. Your scissor lift is part of your livelihood, which means it's important to you. That means it's important to us. Heavy Haulers is here to ship all oversize scissor lifts with industry-leading standards.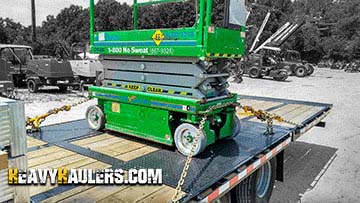 How To Ship a Scissor Lift
The best way to ship your construction lift is by calling Heavy Haulers. Our logistics professionals can help you handle moving any type of construction equipment. Scissor lifts usually require step deck or flatbed trailers as they offer more clearance for travel on an American freeway. Scissor lifts, due to their weight and size, must be transported by a heavy hauling company. Heavy Haulers can get you the best price – and a trusted driver to ship your scissor lift across town – or across the country.
Choose Heavy Haulers to get your scissor lift from one location to the next intact, and without fault. Our contracted drivers are vetted and trained, and our shipping equipment maintained to ensure safety on the roads.
HEAVYHAULERS.COM
START YOUR SHIPMENT TODAY!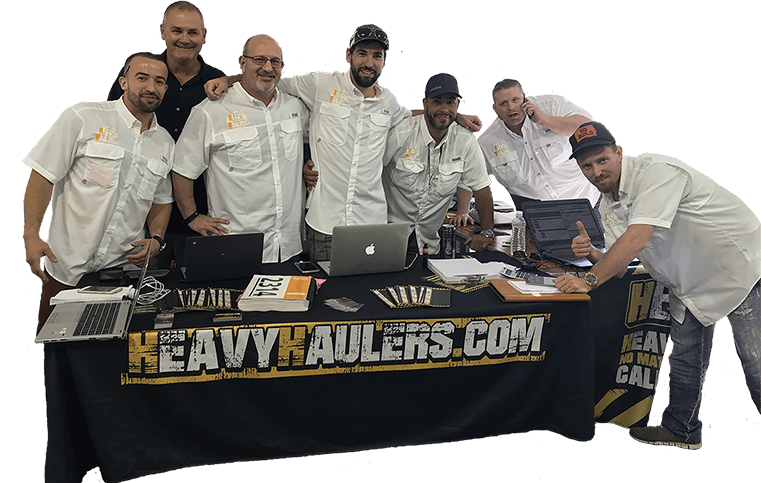 We Are Ready To Help You Haul Your Equipment!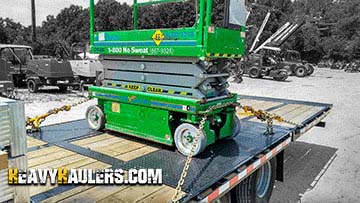 Scissor Lift Towing Services
How to Decide Towing VS Shipping
Need a Scissor Lift towing service? Heavy Haulers is North America's largest towing service provider. We provide towing services for all heavy machinery, including light, medium, and heavy-duty equipment. We have operated in the industry for more than a decade, and we have the experience, the best towing vehicles, and the best towing personnel who will ensure your Scissor Lift is in its destination right when you need it. Call us today on (800) 908-6206 and experience the best towing services ever.
Get Your Scissor Lift Transport Estimate Now!(800) 908-6206
Construction Lift Transportation Services
Scissor lifts are an important part of the construction process. Not only can they be beneficial in maneuvering materials around various locations of a construction site but they also allow workers to reach locations without the need of creating elaborate scaffolding.
There are several types of construction lifts, including bucket trucks, telescopic boom lifts, articulated boom lifts, scissor lifts, telescopic forklifts and others. Heavy Haulers has experience in transporting all types of construction lifts and can make your move an easy one!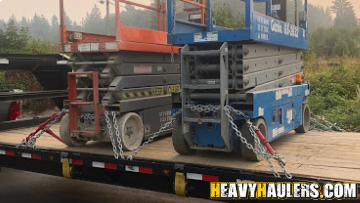 Common Equipment Heavy Haulers Transports
Trust Heavy Haulers to transport any brand of equipment you own. Most of our drivers are experienced heavy-machinery operators who can safely maneuver your loads aboard our trailers. Some of the brands we have shipped include:
Looking For Transport
With a Specific Trailer?

Max Weight: 150,000+ lbs. | Main Deck Length 29 ft.
| Well Width 8.5 ft. | Legal Height Limit 11.6 ft.

Max Weight: 48,000 lbs. | Max Length 53 ft.
| Max Width 8.5 ft. | Max Height 8.5 ft.
Max Weight: 48,000 lbs. Max Length 53 ft. |
Max Width 8.5 ft. | Max Height 11 ft.
Max Weight: 45,000 lbs. | Max Length 29 ft.
| Max Width 8.5 ft. | Max Height 11.5 ft.
Heavy Haulers Ships Across All 50 States
Alabama - Alaska - Arizona - Arkansas - California - Colorado - Connecticut - Delaware - Florida - Georgia - Hawaii - Idaho - Illinois - Indiana - Iowa - Kansas - Kentucky - Louisiana - Maine - Maryland - Massachusetts - Michigan - Minnesota - Mississippi - Missouri - Montana - Nebraska - Nevada - New Hampshire - New Jersey - New Mexico - New York - North Carolina - North Dakota - Ohio - Oklahoma - Oregon - Pennsylvania - Rhode Island - South Carolina - South Dakota - Tennessee - Texas - Utah - Vermont - Virginia - Washington - West Virginia - Wisconsin - Wyoming
Heavy Haulers Pilot Car Services
Are you looking for a reliable pilot car
for your transport?
Get Started
Get Your Scissor Lift Transport Estimate Now!(800) 908-6206