Shipping Your Motor Scraper or Pull Scraper with Heavy Haulers
Your motor scraper or pull scraper is a large, expensive piece of equipment and often isn't rated to travel along regular roads. That's where the experts at Heavy Haulers specialized equipment transportation come in. Heavy Haulers has plenty of experience shipping even the heaviest equipment overland from Canada to Mexico and everywhere in between Our professional, certified drivers load and unload your scraper, door-to-door service. We understand that in the construction business, getting your equipment to each new job site can make the difference between getting future bids – and not. Give Heavy Haulers a call at (800) 908-6206 and discover the difference!
Heavy Haulers Transports Scrapers
Motor and pull scrapers are oversized, heavy pieces of expensive machinery. Heavy Haulers properly loads your equipment on specialized trailers designed to carry your load both across highways and through busy city streets. We know that sometimes your jobs take you to remote, rugged areas, and if you don't have a professional shipper, your equipment can get bogged down. Rest assured that Heavy Haulers enjoys the challenges of getting scrapers in even the most rural areas.
Your Heavy Haulers Experience
One phone call to (800) 908-6206 gets you started. Our logistics specialists will take inventory of your equipment, including motor planers, pull scrapers, and any other construction equipment that you need to be shipped. We take care to plan your route carefully, through roads that can hold your heavy load. The paperwork that your shipment needs, from weigh station information to customs forms, is handled by our logisticians. All you need to do is watch your shipment in real time as it travels – we take care of the rest! Give Heavy Haulers a call for a no-obligation, FREE quote!
Construction Scrapers Transported by Heavy Haulers
Shipping Caterpillar 651B Scraper
This Caterpillar 651B scraper was picked up in Chandler, AZ and delivered to Pecos, TX. This oversize caterpillar scraper was 129,000 pounds, 50 feet long, 14 feet 2 inches wide and 14 feet high. This shipment did require 2 escorts, a pole truck and permits. Brian H. at Heavy Haulers was able to handle all the proper paperwork and arrange a 10 axle truck to get this load picked up. If you need an oversize load transported call Brian H. at Heavy Haulers! (954) 495-8089
Hauling Caterpillar 615C Series II Motor Scraper
Heavy Haulers recently hauled this Caterpillar 615C Series II Motor Scraper from Medley, Florida, to Berthoud, Colorado. The trip was 2,100 miles with an oversize load through eight states. Weight: 58,000 pounds. Length: 38 feet 6 inches. Width: 10 feet. Height: 11 feet 9 inches. For more details on hauling your Caterpillar motor scraper, call Brian at Heavy Haulers today at (954) 603-1344.
See what you need?
Call us for a FREE Shipping Estimate at (800) 908-6206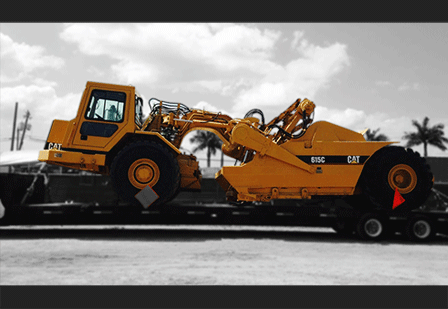 How To Ship a Construction Scraper
Heavy Haulers specializes in transporting heavy duty equipment such as construction scrapers. When transporting loads of oversized equipment, we are experts at handling the concerns that have to be addressed to get your equipment to its new location. Weight, permits, routing and scheduling these types of transports require a strong attention to detail and our logistics professionals are experienced in handling these situations!
Construction scrapers are large dimensionally and and RGN trailers are best suited to handle these types of transports. Here at Heavy Haulers we have the experience and knowledge to make sure that the correct trailer is utilized for every transport!
Common Trailer Types Available from Heavy Haulers.
Heavy Haulers specializes in hauling heavy loads such as construction equipment, oil field rigging and Super Loads. We are wideload experts! We offer an extensive range of trailer choices, including:
Max Weight: 48,000 lbs. | Max Length 53 ft. | Max Width 8.5 ft. | Max Height 11 ft.




Max Weight: 45,000 lbs. | Max Length 29 ft. | Max Width 8.5 ft. | Max Height 11.5 ft.
Max Weight: 150,000+ lbs. | Main Deck Length 29 ft. | Well Width 8.5 ft. | Legal Height Limit 11.6 ft.




Max Weight: 48,000 lbs. | Max Length 53 ft. | Max Width 8.5 ft. | Max Height 8.5 ft.
Types of Equipment Heavy Haulers has Experience Transporting
Trust Heavy Haulers to transport any brand of equipment you own. Most of our drivers are experienced heavy-machinery operators who can safely maneuver your loads aboard our trailers. Some of the brands we have shipped include:
Heavy Haulers Ships Construction Scrapers
Heavy Haulers ships construction scrapers. Speak with one of our logistics professionals to arrange efficient and affordable transportation for your wheel loader. Your representative shops for the best rates for you, dispatches your load when you're ready, and shepherds your transport to a successful conclusion. Let's begin our relationship today.
Heavy Haulers offers:
Door-to-door transport
24/7 Customer Service
Free Cancellations
Contingency Insurance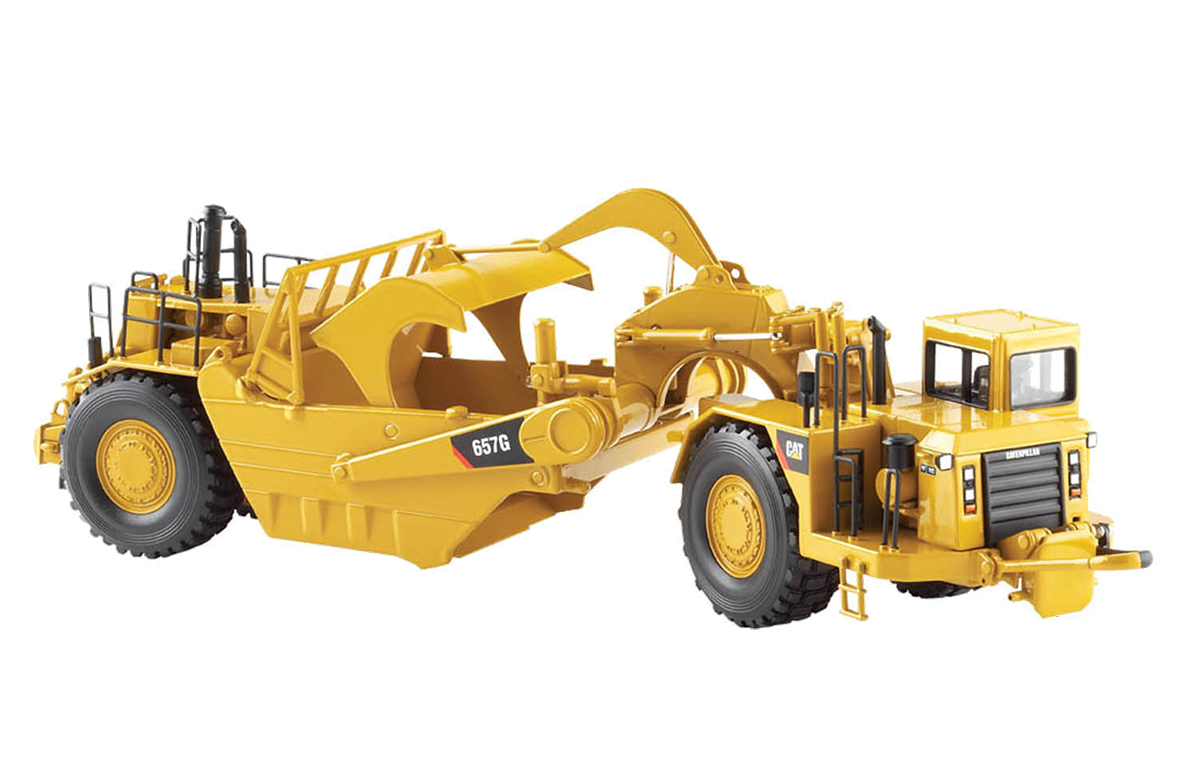 Construction Scraper Transportation Services
The dedicated team here at Heavy Haulers loves the challenge of getting an oversized piece of equipment to its destination safe and sound as well as on-time! Our years of experience in the transport industry exemplifies our abilities and skillsets!
If your constructions scraper is going from coast to coast or just a local transport, we can handle all distances. Moving all types of paving equipment, and other types of heavy hauls, is our specialty. Trust in the industry leaders, trust in Heavy Haulers!