Experienced Hydraulic Gantry Transport Haulers
We understand that hydraulic gantries are a safe, efficient way to lift and position heavy loads in environments where permanent overhead structures and traditional cranes are not an option. That's why, at the Heavy Haulers hydraulic gantry company, we have developed a range of gantry shipping services dedicated to ensuring the safe, secure hauling of a hydraulic gantry. Transporting a hydraulic gantry is easy with the professional experience of Heavy Haulers assisting you. We're the specialists when it comes to hydraulic gantry haulage, using a versatile fleet of trailers capable of shipping heavy-duty equipment of extreme dimensions.
Our drivers are certified, fully-insured, and ready to help you whenever you need it. You trust us to handle oversized hydraulic gantry shipping, even when a hydraulic gantry transport service is required at short notice. We'll source the right trucks and trailers, expedite the shipping paperwork, and connect you with a seasoned driver. Our dispatchers understand that time is of the essence when it comes to transporting a hydraulic gantry at short notice, and they're trained to find the fastest and safest route. Call now for a free shipping estimate! (800) 908-6206
Contact Our Expert Shipping Specialist's
(800) 908-6206
National and International Hydraulic Gantry Shipping
We provide national and international hydraulic gantry haulage. For more than a decade, we have worked towards delivering secure hydraulic gantry shipping solutions throughout America, Canada, and Mexico. With connections in every major U.S. city, and a vast fleet of sophisticated trucks, trailers, and cargo-loading equipment, we are excellently placed to handle hydraulic gantry shipping services for you.
A gantry is typically constructed of a combination of two or more towers that support an overhead beam or set of girders. Hydraulic gantries have hydraulic tower legs that can perform lifts, eliminating the need to rely on additional lifting devices such as a strand jack or winch system. If load movement is required, the complete gantry can travel on a gantry track to a new location, avoiding the need for disassembly. As part of our dedication to gantry shipping, we have honed our gantry handling techniques, as well as our ability to handle oversized load paperwork. Our team is expert at filling out the requisite paperwork for customs, weigh stations, and heavy-duty hydraulic gantry transport.
Common Hydraulic Gantries We Transport
In real-estate development projects, contractors use different types of construction hoists. Some lifts are specifically designed to carry materials only while others can carry supplies and people. The commonly used kinds include the following.
● Bare Cylinder
● Boom
● Telescopic
● Enerpac
● Air Technical Industries
● J&R Engineering
How to Ship a Hydraulic Gantry
Shipping a hydraulic gantry requires access to a suitable truck, trailer, and hauler. We've got everything from step decks and RGNs to flatbed trailers of all sizes that can be used to haul a hydraulic gantry. When you choose Heavy Haulers, we'll make all of the necessary arrangements for safe shipment. The first step is to contact us for a quote, detailing your shipment's origin, destination, size, weight, and the make and model if you know it. This information will help us to get you started on your hydraulic gantry shipping journey.
Common Trailer Types Available from Heavy Haulers
Heavy Haulers specializes in hauling heavy loads such as construction equipment, oil field rigging and Super Loads. We are wideload experts! We offer an extensive range of trailer choices, including:
Max Weight: 48,000 lbs. | Max Length 53 ft. | Max Width 8.5 ft. | Max Height 11 ft.




Max Weight: 45,000 lbs. | Max Length 29 ft. | Max Width 8.5 ft. | Max Height 11.5 ft.
Max Weight: 150,000+ lbs. | Main Deck Length 29 ft. | Well Width 8.5 ft. | Legal Height Limit 11.6 ft.




Max Weight: 48,000 lbs. | Max Length 53 ft. | Max Width 8.5 ft. | Max Height 8.5 ft.
HEAVYHAULERS.COM
START YOUR SHIPMENT TODAY!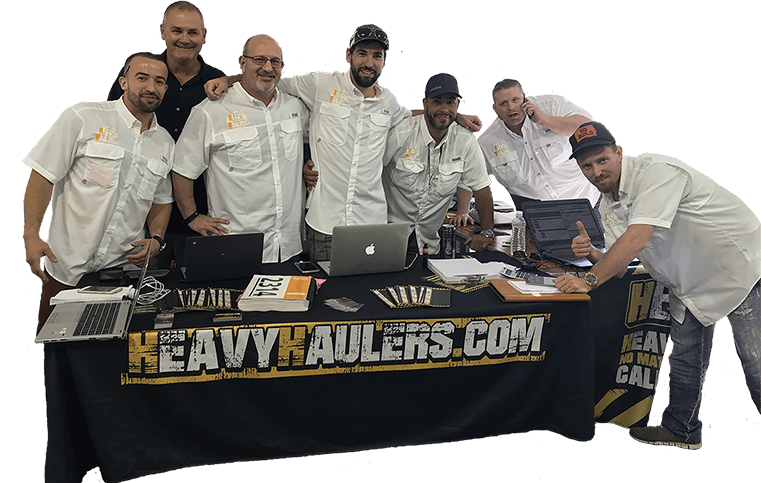 We Are Ready To Help You Haul Your Equipment!