Experience Stand-Alone Construction Hoist Transportation Services
Construction contractors understand the importance of material lifts when erecting tall buildings and other multi-leveled structures. Transporting a construction hoist to an operation site is a complicated process that requires financial resources and an understanding of logistics systems. Let Heavy Haulers handle the shipment for you so that you can deal with other critical aspects of your job. For over a decade, we've securely transported and safely delivered oversized loads such as generators, cranes, super-duty trucks, forestry forwarders, and many more. That makes us a suitable partner whom you can trust to haul your construction hoist.
We have an expert team of logistics specialists who will plan the transportation process to transport your oversized construction lift wherever you want it delivered, whether it's a project site in Texas or a receiving area in New York. We have many branches located in different states, and you can contact your local Heavy Haulers offices and get professional hauling services. Let's move your construction hoist now! (800) 908-6206
Contact Our Expert Shipping Specialist's
(800) 908-6206
Shipping a Construction Hoist Made Easy with Heavy Haulers
For a construction and building professional like you, it isn't very easy to transport a construction hoist. Heavy Haulers is here to make the process easy for you. It is our mission to pick up the load and to deliver it safely and securely to the intended destination. We'll do all the work, from planning out the route, streamlining administrative issues, and calculating motorway tolls. We look for the cheapest roads to enable you to save cash.
Also referred to as builder folklifts or man-lift, construction hoists are used to transport workers, materials, and equipment from the ground to an upper level of a structure. They use a pulley system featuring a chain or rope attached to the lift. They can be operated manually, electrically, or pneumatically, depending on the type. No matter the design of the elevator you want transporting, Heavy Haulers can guarantee efficient and timely hauling and delivery.
Common Types of Construction Hoists We Ship
In real-estate development projects, contractors use different types of construction hoists. Some lifts are specifically designed to carry materials only while others can carry supplies and people. The commonly used kinds include the following.
● Material Hoists
● Jib Boom Lifts
● People-And Material Elevators
● Pulley Wheel Hoists
How to Transport a Construction Hoist with Heavy Haulers
Your initial step to receiving our top-notch heavy-equipment transportation services is to phone us at (800) 908-6206. Our representatives will seek information about the load, and match it with the right method of transportation. Unlike other loads that can be driven onto a trailer, construction hoists require positioning by using cranes. Thanks to our experienced weight and leverage experts, your cargo will be securely loaded on the trailer to avoid shifting while it is in transit. If you require a dispatch vehicle to accompany the load, we can organize for a shipment escort to ensure the cargo reaches the destination safely. Let's get started! (800) 908-6206
Common Trailer Types Available from Heavy Haulers
Heavy Haulers specializes in hauling heavy loads such as construction equipment, oil field rigging and Super Loads. We are wideload experts! We offer an extensive range of trailer choices, including:
Max Weight: 48,000 lbs. | Max Length 53 ft. | Max Width 8.5 ft. | Max Height 11 ft.




Max Weight: 45,000 lbs. | Max Length 29 ft. | Max Width 8.5 ft. | Max Height 11.5 ft.
Max Weight: 150,000+ lbs. | Main Deck Length 29 ft. | Well Width 8.5 ft. | Legal Height Limit 11.6 ft.




Max Weight: 48,000 lbs. | Max Length 53 ft. | Max Width 8.5 ft. | Max Height 8.5 ft.
HEAVYHAULERS.COM
START YOUR SHIPMENT TODAY!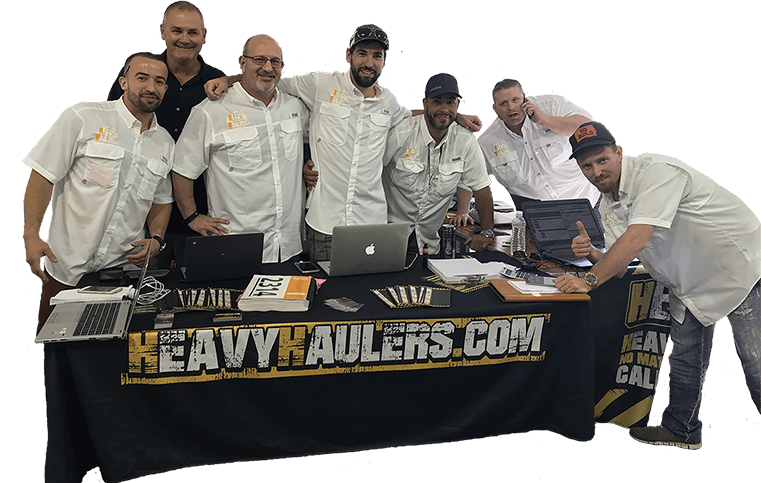 We Are Ready To Help You Haul Your Equipment!