Premium Shipping Construction Equipment Attachments
Caterpillar, Komatsu and Bobcat are some of the companies known for manufacturing various construction equipment attachments. Here at Heavy Haulers, we can haul all of the heavy machinery for you, both locally and internationally. Unlike what many people think, the process of moving the tools is complex, and it calls for a lot of expertise and dedication to guarantee safe transportation as well as delivery. Heavy Haulers is well aware of that, and we make every effort to offer nothing less!
Our top notch logistics team allows us to ship your construction equipment attachments satisfactorily by handling all the complexities involved. We identify the safest routes to use, and effectively dodge roadblocks and other inconveniences that can affect our efficient shipping process for your construction equipment attachments.
Contact Our Expert Shipping Specialist's
(800) 908-6206
Timely Construction Equipment Attachments Transport
Heavy Haulers has been moving construction equipment attachments for a decade, and we know exactly what it means to satisfy our different clients looking for the work tools' delivery services. Our drivers are not only trained and experienced, but also fast and professional. Rely on us to deliver the implements on schedule no matter the state or city you are in.
Construction equipment attachments are more popular nowadays, and people use the implements to allow specific base machines to perform many tasks excellently. Examples of the most common carriers include backhoe loaders and excavators. The construction equipment attachment you need depends on the task at hand. After obtaining the heavy machine from the market, seek the shipping help of Heavy Haulers. Call now and let's get started! (800) 908-6206
Common Types of Construction Equipment Attachments Heavy Haulers Ships
● Augers
● Buckets
● Brooms
● Trenchers
● Rippers
● Snow Plows
● Blades
● Saws
How to Ship Construction Equipment Attachments with Heavy Haulers
At Heavy Haulers, we take all our clients seriously. It is why we must move your heavy construction equipment attachments as you want us to. We have taken our time to know all the technological advancements in the transport industry, and we use the various effective and innovative techniques to deliver your shipment. As soon as we see your construction equipment attachment, and know the implement's dimensions, we will partner the tool with the best trailer or truck for the moving process.
Heavy Hauler's construction equipment attachments towing services only get better. Quality is always our priority, and our proficient shipping experts who will give you maximum attention all week are enough proof. Call us to acquire more reliable details about how we can move your construction equipment attachment at a friendly price.
Brush Grapples
Brush Grapples are versatile equipment attachments which are used with various implements; including tractors, skid steers and loaders. Most of the brush grapples that you will find on the market come with an open bottom to filter any unwanted debris. Brush grapples are also perfect for tearing into the ground.
Breakers
Auxiliary hydraulic systems are used to power breakers whose purpose is to break up concrete or rocks, making them incredibly important in construction projects. Breakers are also referred to as hoe rams, and they are commonly attached to excavators during use. There are two popular designs of breakers; boxed and side-plate.
Heavy Duty Buckets
Heavy duty buckets are built for moving materials like heavy soils and rocks. You can also use your heavy duty buckets to haul other things with high abrasion and moderate density. There are many manufacturers who make heavy duty buckets, but the brand of heavy duty buckets you choose should always be quality.
Pallet Forks
Quality pallet forks can help you to comfortably move loads that are as heavy as 4,000lbs, pick up timber and fence posts. Most people use pallet forks with various heavy machinery; including tractors, skid steers as well as loaders. The sizes of pallet forks vary, and they range from 42-60 inches.
Rake Grapples
Rake grapples are essential for picking up things like brush, rocks and even concrete. Many manufacturers of rake grapples design the rake grapples with strong jaws which close and hold stuff tightly, hence making them more effective. Rake grapples are made from materials like steel for durability as well as power.
Vibratory Rollers
Vibratory rollers come in handy when compacting course-grained soils or asphalt, and therefore have a drum that makes the process much easier. For maximum efficiency, vibratory rollers use dynamic and static forces to boost the surface's load-bearing capacity. There are different types of vibratory rollers designed to meet the needs of various projects.
Hydraulic Breakers
Hydraulic breakers are highly useful in the construction industry for demolishing rocks and concrete. Most hydraulic breakers out there are built to offer high impact energy for the tasks. A lot of hydraulic breakers come with simple, but innovative designs to increase durability and minimizes maintenance costs at the same time.
Rear Stabilizers
Rear stabilizers are long, tube-shaped metals which are also known as sway or anti-roll bars, and are a common vehicle suspension part. With rear stabilizers, cars are more stable and easier to handle, making the bars ideal for drivers who want the least issues on the road, especially when navigating corners with high speed.
Common Trailer Types Available from Heavy Haulers
Heavy Haulers specializes in hauling heavy loads such as construction equipment, oil field rigging and Super Loads. We are wideload experts! We offer an extensive range of trailer choices, including:
Max Weight: 48,000 lbs. | Max Length 53 ft. | Max Width 8.5 ft. | Max Height 11 ft.




Max Weight: 45,000 lbs. | Max Length 29 ft. | Max Width 8.5 ft. | Max Height 11.5 ft.
Max Weight: 150,000+ lbs. | Main Deck Length 29 ft. | Well Width 8.5 ft. | Legal Height Limit 11.6 ft.




Max Weight: 48,000 lbs. | Max Length 53 ft. | Max Width 8.5 ft. | Max Height 8.5 ft.
HEAVYHAULERS.COM
START YOUR SHIPMENT TODAY!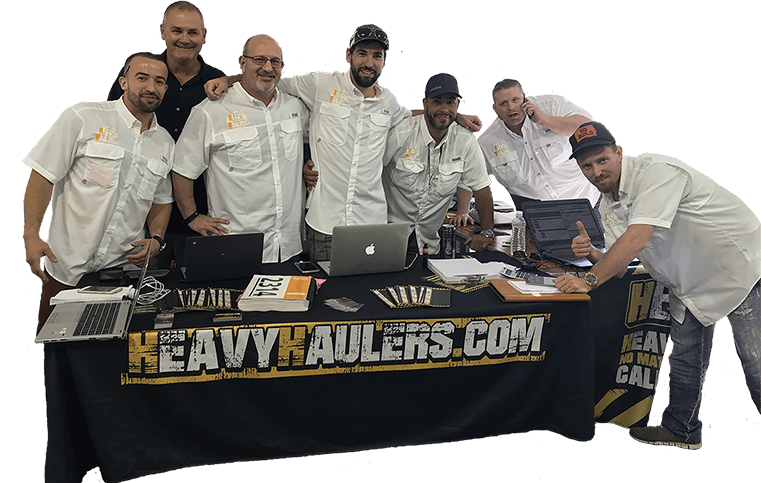 We Are Ready To Help You Haul Your Equipment!