Leading Roadheader Transportation Services
A roadheader is a massive piece of equipment with a complicated design. Some of these civil engineering machines can weigh between 25 tons to 100 tons. Therefore, shipping a roadheader is a project that is best handled by a professional freight and towing company. Heavy Haulers can safely transport the piece of machinery, regardless of length, size, weight, width, or location. We have over a decade's experience in the shipment industry. We have gathered the necessary equipment over the years, making us your go-to partner for professional transportation services.
When shipping a roadheader, an exceptional level of care needs to be given to the load. Our expert logistics personnel and industry seasoned drivers are trained to ensure we safely tow the cargo. Our company representative will handle all the planning, from plotting the cheapest routes, loading and positioning, transportation permits, and other administrative matters. You can then have peace of mind that your roadheader is in safe hands. Call now! (800) 908-6206
Contact Our Expert Shipping Specialist's
(800) 908-6206
Client-Centric Roadheader Shipping Services
A roadheader is a type of mechanical excavator used in civil engineering and mining projects. Also known as boom-type road header, this equipment features a rugged boom attached to a shaft that drills into rocks. They are hybrid machines that also feature a crawler-mounted track for easy maneuverability. With so many parts and components, it is only wise of you to task professional shippers to transport a roadheader.
Our mission is to provide safe heavy-load transportation at affordable pricing. You can contact our offices in your state, who will match the scale of the hauling project with the appropriate method of shipping. We will calculate the toll fees, gather the necessary permits, and find the cheapest and shortest motorways. It doesn't matter the distance; we have pilot cars and escort professionals who deal with any police checks and stops, ensuring the roadheader gets to you safely.
Common Types of Roadheaders We Ship
Roadheaders are categorized depending on their excavation systems. There are two main types of boom-type headers. They include:
● Transverse Excavation Headers
● Axial or In-Line Roadheaders
How to Ship a Roadheader with Heavy Haulers
Our logistics agents will collaborate with you to understand the weight, size, and dimensions of the cargo to tailor-make the services for safe transportation and delivery. A hybrid, oversized, and overweight roadheader features a massive cutter head for drilling a tunnel face and a driven unit for cutter movements. There are also front, middle, and rear shields and articulation jacks and joints. We have creative and genius logistics, leverage, and weight professionals who can disassemble the cargo, load and position each part on a suitable trailer. We'll even organize crane services to unload the shipment once it gets to its destination. Call now! (800) 908-6206
Common Trailer Types Available from Heavy Haulers
Heavy Haulers specializes in hauling heavy loads such as construction equipment, oil field rigging and Super Loads. We are wideload experts! We offer an extensive range of trailer choices, including:
Max Weight: 48,000 lbs. | Max Length 53 ft. | Max Width 8.5 ft. | Max Height 11 ft.




Max Weight: 45,000 lbs. | Max Length 29 ft. | Max Width 8.5 ft. | Max Height 11.5 ft.
Max Weight: 150,000+ lbs. | Main Deck Length 29 ft. | Well Width 8.5 ft. | Legal Height Limit 11.6 ft.




Max Weight: 48,000 lbs. | Max Length 53 ft. | Max Width 8.5 ft. | Max Height 8.5 ft.
HEAVYHAULERS.COM
START YOUR SHIPMENT TODAY!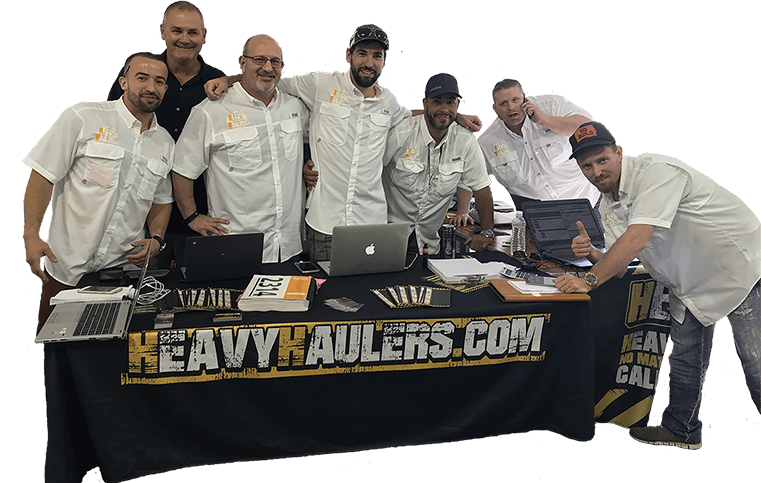 We Are Ready To Help You Haul Your Equipment!