High-Quality Surface Drills Shipping with Heavy Haulers
Hauling of heavy construction rigs is often an intricate undertaking that can pose a lot of challenges. For instance, transporting a surface drill requires proper planning and the use of suitable equipment. Heavy Haulers is a stand-alone, nationwide freight and shipping company with over ten years in the industry. We are your go-to concierge brand for quality towing services as we've gathered all the necessary machinery, tools, and technology over the years. Therefore, you can rely on our logistics experts to help you haul a surface drill, whether it is from coast to coast, door to door, or coast to an inland destination.
Our top priority is to leave you a happy client. That's the reason we promise to match the surface drill with the right method of transportation to ensure it reaches the desired location safely. Surface drill hauling starts with one call to our professional logistics team. They will find the best surface drill shipping solution to fit your needs. Give us a call now and let's get started! (800) 908-6206
Contact Our Expert Shipping Specialist's
(800) 908-6206
Transporting Surface Drills in the US and Beyond with Heavy Haulers
As an international freight and hauling company, we are here to alleviate your shipping worries for your peace of mind. We've established locations in over 50 US states, and you can call your local Heavy Haulers branch for unmatched shipping solutions. Our experienced have plied different interstate highways and can transport a surface drill to whichever destination in the United States.
Surface drilling rigs are pieces of heavy equipment used for blast-hole drilling in civil engineering projects, quarrying, and open-pit mining explorations. The drills offer excellent blast-hole quality with high fuel-efficiency. Consumers use them in various applications, including definition drilling, exploration drilling, and surface surveillance, among others. A bonded and insured freight company, Heavy Haulers maintains a strong business relationship with trusted overseas logistics agents. That said, we can ship a surface drill rig to clients in Canada and the Mexican states. Let our transport specialists help you to expand your business by planning your exports to your clients based in other countries.
Common Types of Surface Drill Rigs Heavy Haulers Ship
Construction and mining contractors use different types of surface drills. Their choice of rig mainly depends on the nature of the surface rock, and the scale of operations, etc. Here are the common types of surface drilling machines.
● Top Hammer Drills
● Down-The-Hole Drills
● Dimensional Stone Drills
● Rotary Blast-Hole Drills
How to Ship a Surface Drill Rig with Heavy Haulers
Heavy Haulers is always prepped up top undertake the shipping of a surface rig, no matter the size, height, weight, length, design, or dimension. We will examine the distance and location of the delivery. We have a wide range of trailers, including step deck and RGN types that can handle the towing project. We even have all-terrain trailers that will safely deliver the drill rig to operation sites tucked deep in the jungle with rugged terrain. Reach out to one of our logistics agents now! (800) 908-6206
Common Trailer Types Available from Heavy Haulers
Heavy Haulers specializes in hauling heavy loads such as construction equipment, oil field rigging and Super Loads. We are wideload experts! We offer an extensive range of trailer choices, including:
Max Weight: 48,000 lbs. | Max Length 53 ft. | Max Width 8.5 ft. | Max Height 11 ft.




Max Weight: 45,000 lbs. | Max Length 29 ft. | Max Width 8.5 ft. | Max Height 11.5 ft.
Max Weight: 150,000+ lbs. | Main Deck Length 29 ft. | Well Width 8.5 ft. | Legal Height Limit 11.6 ft.




Max Weight: 48,000 lbs. | Max Length 53 ft. | Max Width 8.5 ft. | Max Height 8.5 ft.
HEAVYHAULERS.COM
START YOUR SHIPMENT TODAY!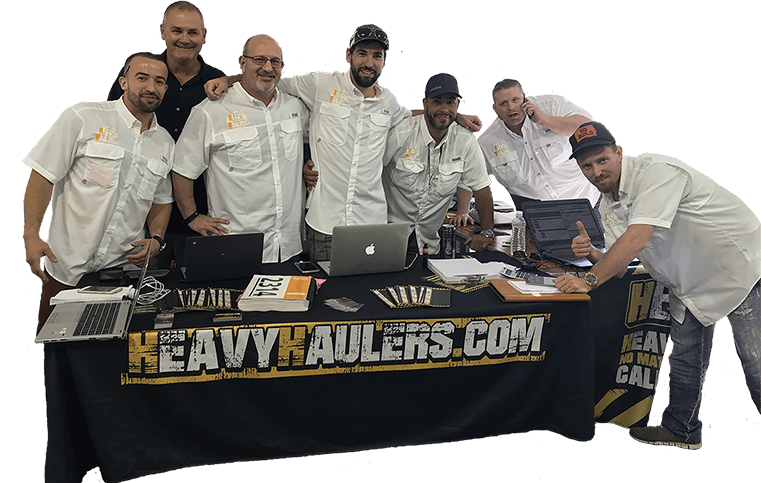 We Are Ready To Help You Haul Your Equipment!