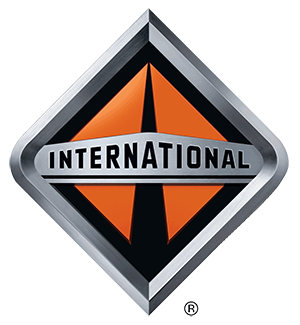 Choose Heavy Haulers to Ship Your International Semi Truck Anywhere in North America!
For those engaging in business that require the use of semi trucks, International semi trucks is a household name. They produce various types of semi trucks with various specifications that fit customer preference. International semi trucks manufacture semi trucks that have matched the size of their name. The quality of the semi trucks, their performance and robust character has made them a company to rely upon when it comes to service delivery. They also deal with spare parts that are necessary for their semi trucks in the event of a breakdown. International semi trucks offer quality and thus one can never go wrong with them.
Learn to Transport Your international Semi Truck With Our Company!
We offer transport for international semi trucks and offer our services at the convenience of the client. Dealers in such large semi trucks are busy people who have several commitments at the same time. Therefore, acquiring a new semi truck is an important engagement but so are other responsibilities. We provide a client with the convenience of letting us handle your semi truck from the premises of International semi trucks to your final preferred destination. Our clients can close the deal with International semi trucks and acquire their semi truck and leave the rest to us. We take the responsibility of mounting your semi truck on our trailers and working the logistics of delivering the semi truck to your premise. All the hustles involved after the purchase of the semi truck become our responsibility and you as the customer can focus on other issues pertaining to your business or personal life.
Recent International Trucks Shipped by Heavy Haulers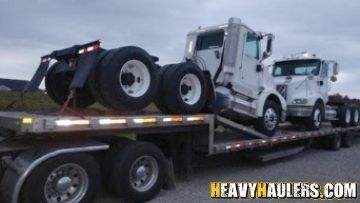 Transporting Two International 9200I Daycabs
Origin: St. Marys, OH
Destination: Fremont, NE
Specs: 2 2007 International 9200I daycabs; 22L x 8.6W x 10H; 16,000lbs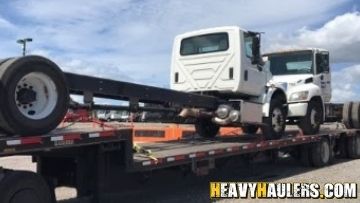 Shipping Two International 4300 Daycabs from FL to CA
Origin: Davenport, FL
Destination: Fairfield, CA
Specs: 2 2015 International 4300 single axle cabs; 53L x 8W x 9H; 26,000lbs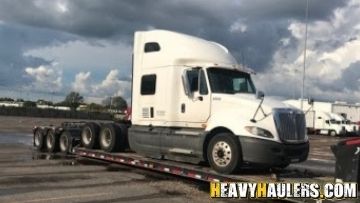 International Prostar Sleeper Truck Transport
Origin: Memphis, TN
Destination: Houston, TX
Specs: 2015 International Prostar sleeper truck; 28L x 8.6W x 12.1H; 27,500lbs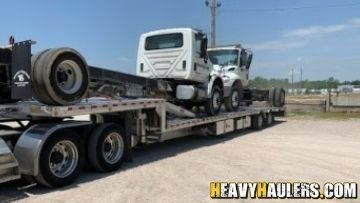 Transporting International 4300 Single Axle Cabs
Origin: Kansas City, KS
Destination: Neptune, NJ
Specs: 2 2014 Internationa single axle cabs; 53L x 8W x 9H; 26,000lbs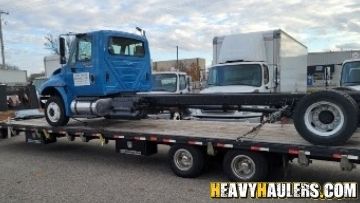 International Cab and Chassis Transport from MI to TN
Origin: Grand Rapids, MI
Destination: Covington, TN
Specs: 2013 International Cab and Chassis; 32L x 8W x 9H; 12,000lbs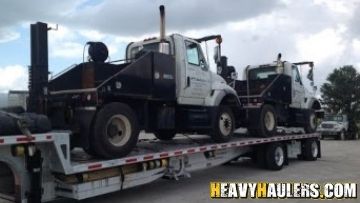 Shipping Two International 7300 Trucks on a Step Deck Trailer
Origin: Orlando, FL
Destination: Oakdale, PA
Specs: 18,000 pounds and 8 feet 6 inches tall
Experienced International Semi Truck Shipping Services in all 50 States From Heavy Haulers!
The transport business is very sensitive and any newcomers have to build a reputation over time to gain trust. Trust gained over the years is a sign that a company delivers within or above the quality promised to the customer. Quality delivery means that their customers are satisfied with their service delivery and will provide high ratings for such companies. Platforms are available to offer recommendation on a certain company and hence provide information for other customers who wish to secure such services. Our company has been around long enough to prove our worth and value addition to our clientele. Transport view offers positive and objective reviews about our company based on the experience we have and our reliability.
Heavy duty International Trucks We Commonly Transport Include:
We transport many brands of Trucks across the country and North America
Trust Heavy Haulers to transport any brand of truck you own. We are experienced in handling all types of brands and manufacturers, we have hands-on experience shipping all truck manufacturers there is on the road! Some of the truck brands we commonly ship include:
Heavy Haulers Ships Across All 50 States
Alabama - Alaska - Arizona - Arkansas - California - Colorado - Connecticut - Delaware - Florida - Georgia - Hawaii - Idaho - Illinois - Indiana - Iowa - Kansas - Kentucky - Louisiana - Maine - Maryland - Massachusetts - Michigan - Minnesota - Mississippi - Missouri - Montana - Nebraska - Nevada - New Hampshire - New Jersey - New Mexico - New York - North Carolina - North Dakota - Ohio - Oklahoma - Oregon - Pennsylvania - Rhode Island - South Carolina - South Dakota - Tennessee - Texas - Utah - Vermont - Virginia - Washington - West Virginia - Wisconsin - Wyoming
Looking For Transport
With a Specific Trailer?

Max Weight: 150,000+ lbs. | Main Deck Length 29 ft.
| Well Width 8.5 ft. | Legal Height Limit 11.6 ft.

Max Weight: 48,000 lbs. | Max Length 53 ft.
| Max Width 8.5 ft. | Max Height 8.5 ft.
Max Weight: 48,000 lbs. Max Length 53 ft. |
Max Width 8.5 ft. | Max Height 11 ft.
Max Weight: 45,000 lbs. | Max Length 29 ft.
| Max Width 8.5 ft. | Max Height 11.5 ft.
Heavy Haulers Pilot Car Services
Are you looking for a reliable pilot car
for your transport?
Get Started