Trust Heavy Haulers to Transport Bucket Wheel Excavators
If you're moving on from your current mining site and need to transport a bucket wheel excavator to your next job site, the Heavy Haulers bucket wheel excavator transport team are here to help. We've shipped bucket wheel excavators from many major manufacturers, including Sandvik, FL Smidth, and Takraf, to sites all over the United States. You can rely on us to get every aspect of your bucket wheel excavator transport journey sorted.
We can transport new, used, and refurbished bucket wheel excavators, no matter where you're based in the U.S., and we've spent more than a decade honing our heavy-duty mining equipment transport skills. Whether you're looking for someone who offers a bucket wheel excavator haulage service that can transport your excavator to and from storage, or you need to get this equipment to or from an auction site, we serve every location. Our bucket wheel excavator transport service includes planning, scheduling, loading, offloading, and secure transportation of bucket wheel excavators of all sizes. Let's get started! (800) 908-6206
Contact Our Expert Shipping Specialist's
(800) 908-6206
Effectively Delivering Bucket Wheel Excavators across the U.S.
Bucket wheel excavators are some of the largest, most cumbersome equipment used in surface mining projects across the United States, with the 14,200 ton Bagger 293 ranking as the world's largest-ever wheel excavator produced. Luckily, at Heavy Haulers, we aren't intimidated by their size or weight, and we have experts on hand that provide bucket wheel excavator shipping services when you need them most.
Bucket wheel excavators operate a continuous loop of buckets that scoop up material as the wheel turns. They act as constant digging machines in sizeable open-pit mining sites, particularly for brown coal, helping to remove thousands of tons of overburden every day. Few companies can haul the massive gears required for this heavy machinery, and some companies only have limited knowledge of how to deliver a bucket wheel excavator effectively. Our Heavy Haulers bucket wheel excavator shipping team knows the intricacies associated with heavy mining equipment transport, and will safely deliver a bucket wheel excavator for you. We're here to help! Give us a call! (800) 908-6206
Common Manufacturers of Bucket Wheel Excavators:
● Sandvik
● Tenova
● Takraf
● FAM
● FL Smidth
● Siemens
● Unex
● CCMIE
● Noen
How to Ship a Bucket Wheel Excavator
Shipping a bucket wheel excavator is a massive undertaking that typically requires the use of RGN trailers to safely transport a bucket wheel excavator to its next job site. The Heavy Haulers excavator transport team is not intimidated by the substantial size and weight of wheel excavators and can haul a bucket wheel excavator across all 50 U.S. states. Included in our comprehensive bucket wheel excavator shipping service are the necessary permits, paperwork, and escort requirements that will guarantee safe, secure bucket wheel excavator transportation. Contact us to learn more about how to ship this type of equipment, and we'll help you to prepare your rig for shipping adequately.
Common Trailer Types Available from Heavy Haulers
Heavy Haulers specializes in hauling heavy loads such as construction equipment, oil field rigging and Super Loads. We are wideload experts! We offer an extensive range of trailer choices, including:
Max Weight: 48,000 lbs. | Max Length 53 ft. | Max Width 8.5 ft. | Max Height 11 ft.




Max Weight: 45,000 lbs. | Max Length 29 ft. | Max Width 8.5 ft. | Max Height 11.5 ft.
Max Weight: 150,000+ lbs. | Main Deck Length 29 ft. | Well Width 8.5 ft. | Legal Height Limit 11.6 ft.




Max Weight: 48,000 lbs. | Max Length 53 ft. | Max Width 8.5 ft. | Max Height 8.5 ft.
HEAVYHAULERS.COM
START YOUR SHIPMENT TODAY!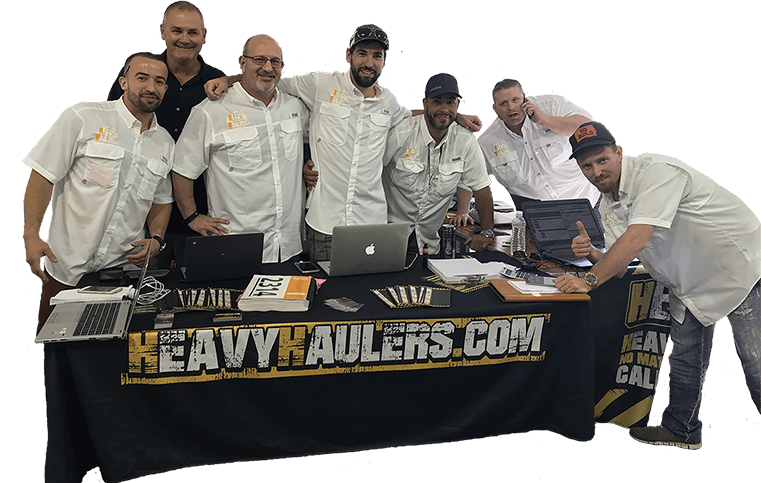 We Are Ready To Help You Haul Your Equipment!