Unparalleled Electric Rope Shovel Shipping Services
Having been in the freight and shipping industry since 2006, Heavy Haulers has grown to be a trustworthy and reliable company for industrialists across a wide range of sectors. If you're in search of a reputable shipper to haul an electric rope shovel, we are here to provide exceptionally professional transportation services. Our goal is to satisfy your needs. That's the reason we invest in trained logistics and transportation personnel who are knowledgeable and ready to provide consumer-centric towing services.
We pledge to pick and deliver the cargo in one piece. We can arrange for crane services for loading at the pick-up location and unloading after delivery. If you require cargo storage services before the shipment gets on the road, we can do that too. We've invested in warehouses to make that possible.
Contact Our Expert Shipping Specialist's
(800) 908-6206
Experience Tailor-Made Electric Rope Shovel Hauling with Heavy Haulers
The equipment features several parts and components that require the utmost carefulness during haulage. We are branched out in 50 states. You can call the local Heavy Haulers offices in your state and talk to a knowledgeable professional who will offer you the answers to any questions that you have. We will work in partnership with you to understand your unique needs to tailor our services to make the shipment as seamless and flawless as possible.
Also known as a power shovel or a stripping shovel, an electric rope shovel is a piece of machinery that features a bucket attached to a moving arm, that scoops or digs earth or particulate rock and loads it to a landing truck. The rope shovel relies on electricity for operation. Unlike other types of hydraulic excavators, a rope shovel utilized steel cables and winches to move the bucket while digging. Heavy Haulers will move your electric rope shovel to it's next project at the most affordable prices. Call now! (800) 908-6206
Common Types of Electric Rope Shovels Heavy Haulers Ship
Overload removal in mining or construction sites can be done by the use of three different types of shovels. They include:
● Stripping Shovels
● Loading/Quarry Shovels
● Hydraulic Power Shovels
How to Ship an Electric Rope Shovel with Heavy Haulers
Move an electric rope shovel with Heavy Haulers today by contacting the company today. We will work competently to make sure the cargo is properly loaded onto a trailer and hauled safely to the intended delivery point. The shovel features different parts: plant-mounted revolving deck and a front boom-type crane to support the bucket arm. Balancing the equipment on a towing trailer is a challenge. However, Heavy Haulers has experienced cargo-handling, weight, and leverage professionals who will securely position the machinery in readiness for transportation. We back up our exceptional logistics and transportation services by providing contingency secondary insurance for the cargo during loading and unloading. That said, you can worry about other aspects of your business, knowing the transportation of your electric rope shovel is in safe hands. Call now for a free shipping estimate! (800) 908-6206
Common Trailer Types Available from Heavy Haulers
Heavy Haulers specializes in hauling heavy loads such as construction equipment, oil field rigging and Super Loads. We are wideload experts! We offer an extensive range of trailer choices, including:
Max Weight: 48,000 lbs. | Max Length 53 ft. | Max Width 8.5 ft. | Max Height 11 ft.




Max Weight: 45,000 lbs. | Max Length 29 ft. | Max Width 8.5 ft. | Max Height 11.5 ft.
Max Weight: 150,000+ lbs. | Main Deck Length 29 ft. | Well Width 8.5 ft. | Legal Height Limit 11.6 ft.




Max Weight: 48,000 lbs. | Max Length 53 ft. | Max Width 8.5 ft. | Max Height 8.5 ft.
HEAVYHAULERS.COM
START YOUR SHIPMENT TODAY!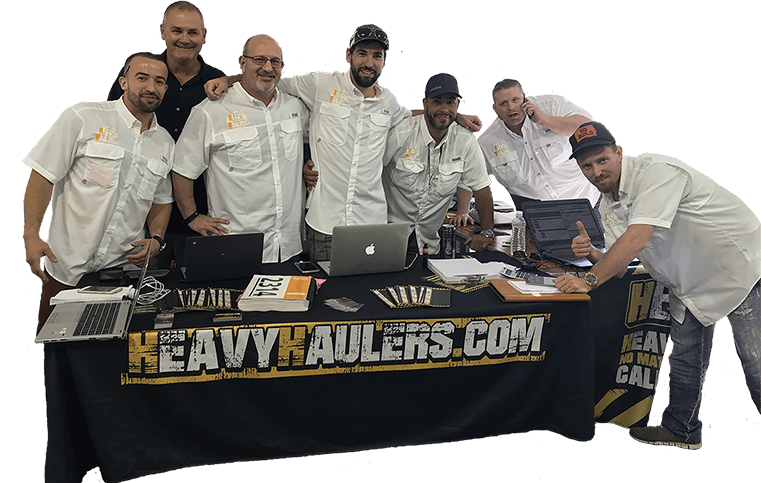 We Are Ready To Help You Haul Your Equipment!