Shipping Continuous Miners Anywhere in the United States and Overseas
Heavy Haulers ships continuous miners anywhere in the United States and overseas. For U.S. continuous miner transport, we obtain the permits, paperwork, and even provide load assistance. With over a decade of oversize load hauling experience, we understand how important the details are. When shipping a continuous miner, we adhere to all safety standards and regulations. Your dedicated logistics agent will take care of everything, and be available from dispatch to delivery to answer any questions you may have.
For international continuous miner transport, Heavy Haulers has a dedicated division to get your heavy machinery delivered safely. We offer port-to-port international transport solutions to get your continuous miner where it needs to be. For overseas hauling, we gather the customs paperwork and permits, making the transport process simple for you. At Heavy Haulers we believe that every client deserves the most quality shipping solution available. Let's transport your continuous miner today! Call now! (800) 908-6206
Contact Our Expert Shipping Specialist's
(800) 908-6206
Quality Continuous Miner Transport Clients Rely On
A continuous miner is an important piece of of heavy machinery that accounts for about 45% of underground coal production. Using conveyors, it transports removed coal from the seam. By cutting coal and soft minerals in a continuous process, it eliminates the need for drilling and blasting. Continuous miners can weight up to about 90 tons, which makes it a heavy hauling job you need experts for. Heavy Haulers mission is to provide quality continuous miner shipping services, making sure that your machinery is picked up on time, and delivered safely.
Heavy Haulers is licensed, bonded, and insured for continuous miner transport. We ship heavy mining machinery with ease. Our expert logistics agents recruit the best driver, trailer, and equipment to haul your continuous miner. Whether you need a short continuous miner transport to a new job site, or need to ship it overseas, we have the top solutions to get it done right. Heavy Haulers is your one-stop shipping company. Call now for a free transport estimate! (800) 908-6206
Common Continuous Miner Manufacturers We Transport
● Sandvik
● Famur
● JoyGlobal
● Lee Norse
● NHG
How to Ship a Continuous Miner with Heavy Haulers
To ship a continuous miner, it's best to call Heavy Haulers. We have the training, experience, and tools to transport your continuous miner safely. Make sure to have the make, model, and dimensions of the continuous miner ready for your logistics agent. That way, Heavy Haulers can determine the best trailer and safety precautions to take when hauling your machinery. We utilize the most experienced driver to ship your continuous miner wherever you need it. Call Heavy Haulers now and let's get your continuous miner on the road! (800) 908-6206
Heavy Haulers Ships Across All 50 States
Alabama - Alaska - Arizona - Arkansas - California - Colorado - Connecticut - Delaware - Florida - Georgia - Hawaii - Idaho - Illinois - Indiana - Iowa - Kansas - Kentucky - Louisiana - Maine - Maryland - Massachusetts - Michigan - Minnesota - Mississippi - Missouri - Montana - Nebraska - Nevada - New Hampshire - New Jersey - New Mexico - New York - North Carolina - North Dakota - Ohio - Oklahoma - Oregon - Pennsylvania - Rhode Island - South Carolina - South Dakota - Tennessee - Texas - Utah - Vermont - Virginia - Washington - West Virginia - Wisconsin - Wyoming
Looking For Transport
With a Specific Trailer?

Max Weight: 150,000+ lbs. | Main Deck Length 29 ft.
| Well Width 8.5 ft. | Legal Height Limit 11.6 ft.

Max Weight: 48,000 lbs. | Max Length 53 ft.
| Max Width 8.5 ft. | Max Height 8.5 ft.
Max Weight: 48,000 lbs. Max Length 53 ft. |
Max Width 8.5 ft. | Max Height 11 ft.
Max Weight: 45,000 lbs. | Max Length 29 ft.
| Max Width 8.5 ft. | Max Height 11.5 ft.
Heavy Haulers Pilot Car Services
Are you looking for a reliable pilot car
for your transport?
Get Started
HEAVYHAULERS.COM
START YOUR SHIPMENT TODAY!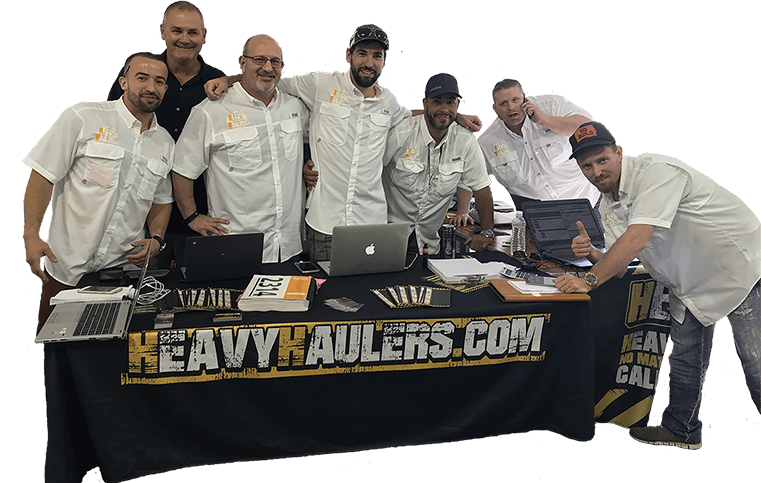 We Are Ready To Help You Haul Your Equipment!