Reliable Shipping of New & Used Mining Roof Supports
Whether you're looking to ship new equipment or transport refurbished mining roof support equipment to a new site, we can assist you in relocating your mining support equipment. Mining roof support transport provided by the Heavy Haulers team protects new, used, and refurbished mining roof support equipment during all stages of the delivery process. We reliably transport to and from active mines and mineral plants throughout the U.S., serving every state with dependable, professional mining roof support shipping.
We're a mining roof support transport company that puts safety first – whether it's a new or used piece of mining equipment, we'll treat it with respect. We can haul mining roof support equipment used in steep-seam mining, conventional sublevel caving, and longwall mining applications. Our mining roof support delivery services are provided by haulers that you can rely on to provide on-time delivery of your mining roof supports.
Contact Our Expert Shipping Specialist's
(800) 908-6206
Tailored Mining Roof Support Shipping Solutions
Heavy Haulers mining roof support delivery solutions are designed to provide you with greater flexibility and efficiency when you need to deliver mining roof supports to a new location. Our mining roof support delivery service can be fully customized to meet your requirements, taking into account your budget, scheduling requirements, shipping origin, and destination. We can arrange for expedited mining roof support delivery, load tracked shipments, and coordinate every aspect of mining roof support haulage, including obtaining permits, pilot cars, and planning the safest transport route.
We can accommodate a wide variety of mining equipment, from mining roof supports to conveyors, and excavating machinery. Mining roof supports are often hydraulic equipment weighing over 100 tonnes, with widths of up to 2m and height up to 8m, that need specialized trailers to safely support their weight during transport. Our mining roof support transport service includes the use of extended, multi-axle trailers that can safely transport mining roof support equipment of all sizes. Call now for a free shipping estimate! (800) 908-6206
Common Types of Mining Roof Supports:
● Caterpillar Roof Support
● Komatsu Joy Powered Roof Support
● Strata Worldwide Rocprop
● Strata Worldwide Propsetter
● Omni 127 Mining Support
How to Ship a Mining Roof Support
Because mining roof supports are large and considered oversized, wide loads, they require special shipping services. Our logistics team will guide you through the mining roof support shipping process, providing advice on how to prepare for transportation. Mining roof supports may require crane loading, and we'll determine the best loading and offloading techniques based on size and weight. At Heavy Haulers, we take the hassle out of your mining roof support shipping experience, by offering customizable, comprehensive transport options. Speak to our representatives, and we'll provide you with a quote to get you started. (800) 908-6206
Common Trailer Types Available from Heavy Haulers
Heavy Haulers specializes in hauling heavy loads such as construction equipment, oil field rigging and Super Loads. We are wideload experts! We offer an extensive range of trailer choices, including:
Max Weight: 48,000 lbs. | Max Length 53 ft. | Max Width 8.5 ft. | Max Height 11 ft.




Max Weight: 45,000 lbs. | Max Length 29 ft. | Max Width 8.5 ft. | Max Height 11.5 ft.
Max Weight: 150,000+ lbs. | Main Deck Length 29 ft. | Well Width 8.5 ft. | Legal Height Limit 11.6 ft.




Max Weight: 48,000 lbs. | Max Length 53 ft. | Max Width 8.5 ft. | Max Height 8.5 ft.
HEAVYHAULERS.COM
START YOUR SHIPMENT TODAY!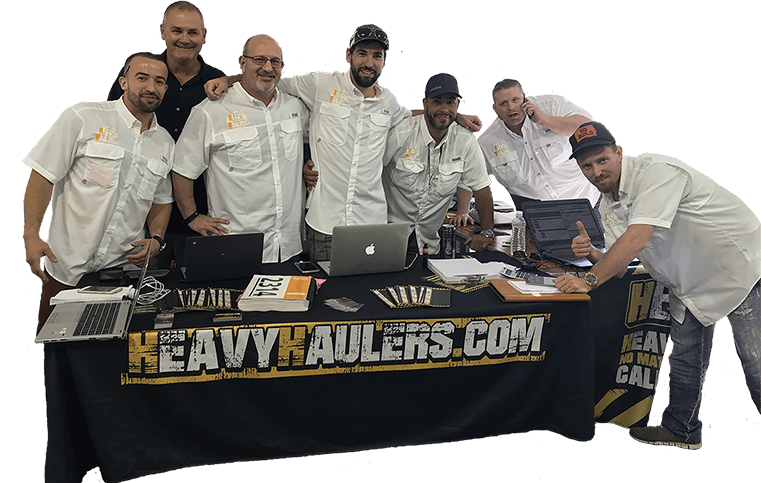 We Are Ready To Help You Haul Your Equipment!