Top Quality Ore Transport Solutions
Shipping metal ore from a mining site to a forgery or manufacturing area requires proper planning. You can trust Heavy Haulers to offer efficient and cost-effective ore transport services. We feel proud when our clients are satisfied. Our goal is to safely ship your bulk cargo to the intended delivery area within the agreed-upon time. Our professional logistics crew will be in the freight-generating area on time to pick up the shipment.
We invest in an expert team of transporters. It comprises licensed and insured drivers who have shipped bulky goods and equipment in all types of roads. Hence, they know what to do and how to drive in various weather conditions to ensure the ore reaches the desired destination in one piece. Call now!(800) 908-6206
Contact Our Expert Shipping Specialist's
(800) 908-6206
Shipping Ore Domestically and Overseas
Whether you are planning on moving copper, lead, manganese, or iron ore, we are here to handle the consignment to whichever destination in the continental US. Heavy Haulers is branched out in every state, and every location has knowledgeable logistics crews that understand how to handle such big shipments across different states. We know how to maintain legal weight to ensure efficient and smooth transportation.
Our dedicated international team knows the ins and outs of exporting ore. We make sure all the paperwork is taken care of so you have a great transport experience. Heavy Haulers provides everything from load assistance to pilot cars, so you have a one-stop transport company. We provide the best ore shipping solutions to fit your needs. Let's get started! (800) 908-6206
How to Ship Ore with Heavy Haulers
Discover our superior ore transportation services by getting in touch with one of transport specialists! We'll ask you a few questions such as the weight of cargo, its origin, destinations, or other individual needs you have. Our logistics professionals will use project-specific equipment to load the freight on a flatbed trailer system. We will then acquire the necessary permits as required by different states. We will then match the shipment with an experienced driver for efficient, safe, and time delivery of your metal ore to the specified location. Get your free shipping quote now! (800) 908-6206
Iron
One of the essential minerals on the planet, iron is a rock found in sedimentary rocks. It naturally occurs as chemical compounds that consist of iron and oxygen, compacted over time in marine and freshwater environments. Raw iron is used in the production of steel and iron products, from automobiles and steel beams to paper clips and cutlery.
Manganese
Manganese is a silver metal that occurs as a constituent element in various compounds that include manganite, purpurite, rhodochrosite, among others. Pure manganese is used in different industrial processes. Examples include steel-making, depolarizers in battery manufacture, bleaching products, textiles, and metal alloys.
Lead
Lead ore is a natural metal that commonly exists in the form of lead sulfide. It is found in crystal form, preserved to create cubic cleavages. Also referred to as Galena, lead ore is a raw material used in the production of silver products, ceramic glaze, radio receivers, and plumbing systems.
Gold
Gold is one of the most popular mineral ores, known for its high value and worth. In its natural form, it contains traces of silver, copper, or iron. To obtain pure gold, the ore is disintegrated and subjected to various chemical processes. Gold is used in jewelry, dentistry, mobile phones, money/finance, and electronics.
Looking For Transport
With a Specific Trailer?

Max Weight: 150,000+ lbs. | Main Deck Length 29 ft.
| Well Width 8.5 ft. | Legal Height Limit 11.6 ft.

Max Weight: 48,000 lbs. | Max Length 53 ft.
| Max Width 8.5 ft. | Max Height 8.5 ft.
Max Weight: 48,000 lbs. Max Length 53 ft. |
Max Width 8.5 ft. | Max Height 11 ft.
Max Weight: 45,000 lbs. | Max Length 29 ft.
| Max Width 8.5 ft. | Max Height 11.5 ft.
HEAVYHAULERS.COM
START YOUR SHIPMENT TODAY!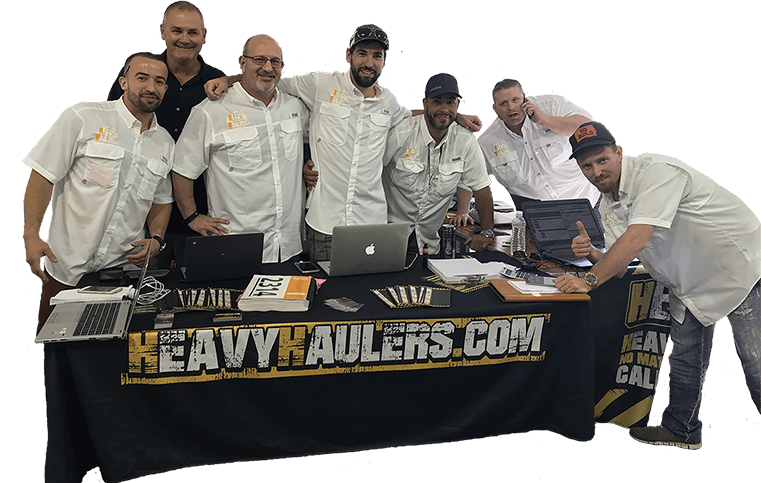 We Are Ready To Help You Haul Your Equipment!
Common Equipment Heavy Haulers Transports
Trust Heavy Haulers to transport any brand of equipment you own. Most of our drivers are experienced heavy-machinery operators who can safely maneuver your loads aboard our trailers. Some of the brands we have shipped include:
See what you need?
Call us for a FREE Shipping Estimate at (800) 908-6206