Secure Shotcrete Transportation with Heavy Haulers
Heavy Haulers' shotcrete shipping services are provided by professional haulers that have honed their strength in heavy hauling over several years. We're a shotcrete vehicle shipping company with more than a decade of experience handling a variety of shotcrete shipping requests, from innercity haulage to overseas transport. We make sure that when moving shotcrete machinery from one location to another, the load is secured correctly. We arrange loading and offloading assistance, and can also provide a range of protective padding and steel banding to secure your shipment.
Our enclosed Heavy Haulers shotcrete vehicle transport service can protect your shotcrete machine from the elements, as well as offer additional security for your expensive equipment. Load tracking services are available so that you can track the progress of your transport request, and plan accordingly for when the shipment will arrive onsite.
Contact Our Expert Shipping Specialist's
(800) 908-6206
Appropriate Heavy Haulers Shotcrete Shipping Options
Shotcrete wet- and dry-mix machines are specialized machinery or vehicles used to reinforce a wall or slope during mining and tunnelling. When moving them from one location to another, the chosen shotcrete machinery shipping company must understand how to secure the load to ensure no shifting or damage in transit. As part of our shotcrete transport service, we assign only the most qualified shotcrete haulage professionals to handle your shotcrete transport service request.
Shotcrete, or sprayed concrete, is concrete that's pneumatically projected at high velocity onto a surface. The construction technique was first used in 1914. Still, it has a wide variety of applications today, including mining support to create sprayed concrete walls and ceilings as part of the new tunnel creation process. Shotcrete can also be used to repair existing tunnels, retaining walls, and concrete slopes. Shotcrete machines can be used in small mining applications, as well as medium to large tunnel sections and galleries. At Heavy Haulers, we have specialized trailers and experienced haulers that can help you to haul a shotcrete machine, regardless of its size and weight. Call now! (800) 908-6206
Common Types of Shotcrete Machine Shipped:
● Maxon Maxcretes
● Maxon Transmixers
● Bulk Shotcrete Carrier and Applicator
● Kubota 520 Robotic Shotcrete Unit
How to Ship a Shotcrete Machine or Vehicle with Heavy Haulers
Before we transport a shotcrete machine for you, we'll comprehensively assess your shotcrete transport. We take into account its size and weight and source the appropriate trucks and trailers to handle your shotcrete shipping request. We match your shotcrete shipment with local, professional haulers that are familiar with your transport route. Our shotcrete shipping transport services are door-to-door, so you won't need to worry about getting your shotcrete machine to a central location. We'll arrive onsite with the necessary equipment to secure your shotcrete, and we'll safely transport it for you. Book online or contact us to get a quote.
Common Trailer Types Available from Heavy Haulers
Heavy Haulers specializes in hauling heavy loads such as construction equipment, oil field rigging and Super Loads. We are wideload experts! We offer an extensive range of trailer choices, including:
Max Weight: 48,000 lbs. | Max Length 53 ft. | Max Width 8.5 ft. | Max Height 11 ft.




Max Weight: 45,000 lbs. | Max Length 29 ft. | Max Width 8.5 ft. | Max Height 11.5 ft.
Max Weight: 150,000+ lbs. | Main Deck Length 29 ft. | Well Width 8.5 ft. | Legal Height Limit 11.6 ft.




Max Weight: 48,000 lbs. | Max Length 53 ft. | Max Width 8.5 ft. | Max Height 8.5 ft.
HEAVYHAULERS.COM
START YOUR SHIPMENT TODAY!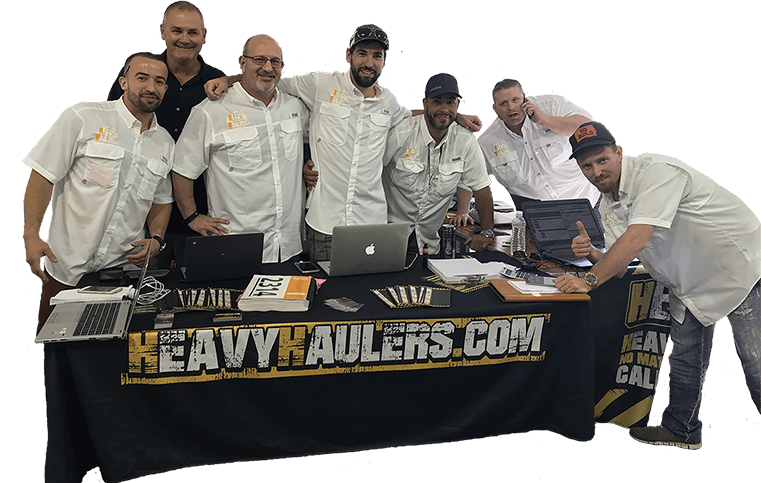 We Are Ready To Help You Haul Your Equipment!