Heavy Haulers Roadheader Transport Service
The Heavy Haulers roadheader shipping team is here to assist you by transporting a roadheader, and associated mining equipment, anywhere it is required in the United States, Canada, or Mexico. Our roadheader delivery service will deliver a roadheader safely, securely, and on time. We know that a delay in your roadheader transport request can have a knock-on effect on your mining profitability. That's why we provide a dedicated roadheader haulage service by logistics professionals who can source the most suitable trailers, plan the safest, and quickest route, and get your roadheader delivery on the road as soon as possible.
At Heavy Haulers, we have a versatile shipping fleet, so even the largest roadheader can be transported by our roadheader shipping company. All of the dispatchers, drivers, and equipment loaders assigned to our roadheader transport service are insured, bonded, certified, and licensed to deliver a roadheader. We choose only experienced haulers, backed, and tracked by our professional logistics managers. Call now! (800) 908-6206
Contact Our Expert Shipping Specialist's
(800) 908-6206
Flexible Roadheader Shipping Services with Heavy Haulers
The Heavy Haulers roadheader transport service encompasses everything from route planning and scheduling to loading and securing roadheaders on specialized trailers as part of our door-to-door roadheader shipping service. We've got more than a decade of experience handling roadheader hauling. We know which permits and paperwork are required for safe passage, and we can arrange to haul a roadheader promptly through our vast nationwide network.
Roadheaders are valuable mining machinery used to help excavate many tunnels across North America. They consist of a boom-mounted cutting head, loading device that often includes a conveyor mechanism, and a crawler track to move the machine across the current rock face. Often working in soft to medium-hard ground conditions, roadheaders are rugged, heavy-duty pieces of equipment that can be customized with attachments to increase their flexibility. At Heavy Haulers, we understand the need for flexibility; that's why we offer a fully customizable range of roadheader shipping services.
Common Types of Roadheader:
● Antraquip Roadheader
● KAMY EBZ Series Roadheader
● Sandvik Roadheader
● Shaft Boring Roadheader
● Terex ITC Roadheader
● Dosco LH1300 Roadheader
● Dosco MK2 Roadheader
How to Ship a Roadheader
Shipping a roadheader doesn't need to be a complex operation that you have to organize in addition to your daily duties on the job site. Let us handle the intricacies of roadheader transportation, and we'll take care of everything that you need. We begin by assessing the dimensions of your roadheader and recommending suitable delivery options. Once booked, we'll attend your job site with everything that's needed to transport your expensive mining equipment carefully. Contact us to get started. (800) 908-6206
Common Trailer Types Available from Heavy Haulers
Heavy Haulers specializes in hauling heavy loads such as construction equipment, oil field rigging and Super Loads. We are wideload experts! We offer an extensive range of trailer choices, including:
Max Weight: 48,000 lbs. | Max Length 53 ft. | Max Width 8.5 ft. | Max Height 11 ft.




Max Weight: 45,000 lbs. | Max Length 29 ft. | Max Width 8.5 ft. | Max Height 11.5 ft.
Max Weight: 150,000+ lbs. | Main Deck Length 29 ft. | Well Width 8.5 ft. | Legal Height Limit 11.6 ft.




Max Weight: 48,000 lbs. | Max Length 53 ft. | Max Width 8.5 ft. | Max Height 8.5 ft.
HEAVYHAULERS.COM
START YOUR SHIPMENT TODAY!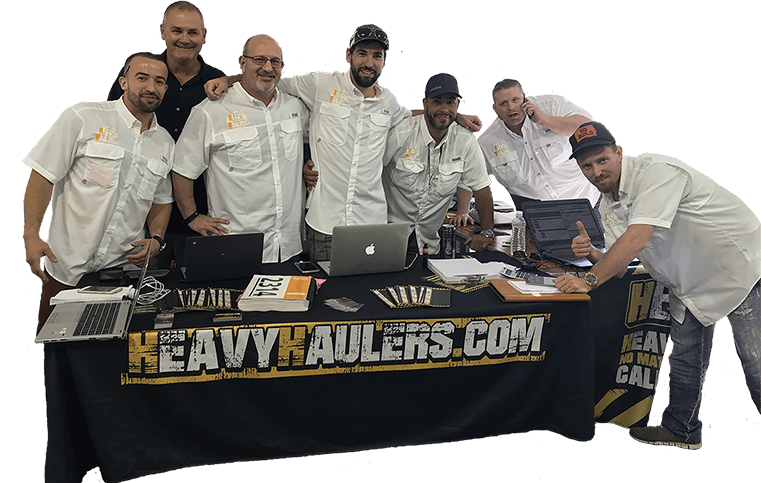 We Are Ready To Help You Haul Your Equipment!