Heavy Haulers: Your Professional Coal Shipping Company
Advancements in technology and innovative solutions have removed barriers that once curtailed the transportation of traditional bulk cargo, such as coal. Heavy Haulers leverages these emerging trends to offer reliable and expert coal shipping services. We operate within the continental US, with branches in over 50 states. Hence you can count on our professional logistics team to ship your coal, whether it is in bulk powder or lumps.
The Heavy Haulers' fraternity is passionate about heavy and oversized cargo. That's why we take it as an implicit mandate to ensure that your bulk goods reach you safely and in the same condition that we picked it. Therefore, we always search for business-driven systems and skilled workforce to match the shipments of big consignments. We've enjoyed a low personnel turnover. Each of our company staff boasts years of experience in the shipment industry, and with combined effort, we provide our clients with superior coal transport. Let's get started! (800) 908-6206
Contact Our Expert Shipping Specialist's
(800) 908-6206
Timely and Affordable Coal Shipping
Coal is a natural hard rock that is used as fossil fuel. It is a carbon-rich mineral that is found in stratified sedimentary rocks formed over millions of years. Coal can be transported as a powder or in lumps. The former is used in powering power plants while lump coal is generally used in ceramic treatments and steel-making. Heavy Haulers understand the importance of coal to your operations; that's why we promise to complete the shipment in time. Our logistics and transportation crew will be ready at the pick-up site at the time we agree, and we will map out the shortest path so that your cargo does not stay on the road for a long time.
We aim to provide unmatched coal transport solutions without hurting your finances unnecessarily. We will accurately calculate the estimate, depending on the weight of the load and the distance. Our integrity is one of our core values, and we are ready to demonstrate that to you. Our quotes feature a thorough breakdown of the budget so that you understand how every penny is spent. Call now! (800) 908-6206
Types of Coal We Transport
● Anthracite coal
● Bituminous coal
How to Ship Coal with Heavy Haulers
The transportation of coal requires proper planning and Heavy Haulers is well-prepped for the work. Your aggregate and powder coal will be loaded into an open-top container using a bucket-arm excavator and transported to your desired destination. Our logistics personnel have a knack for selecting an experienced driver to carry the bulky load. They are accustomed to long-distance haulage of heavy cargo. Therefore, we guarantee that your bulk shipment will reach you in time and the same quantity and condition as we loaded it.Call now! (800) 908-6206
Looking For Transport
With a Specific Trailer?

Max Weight: 150,000+ lbs. | Main Deck Length 29 ft.
| Well Width 8.5 ft. | Legal Height Limit 11.6 ft.

Max Weight: 48,000 lbs. | Max Length 53 ft.
| Max Width 8.5 ft. | Max Height 8.5 ft.
Max Weight: 48,000 lbs. Max Length 53 ft. |
Max Width 8.5 ft. | Max Height 11 ft.
Max Weight: 45,000 lbs. | Max Length 29 ft.
| Max Width 8.5 ft. | Max Height 11.5 ft.
HEAVYHAULERS.COM
START YOUR SHIPMENT TODAY!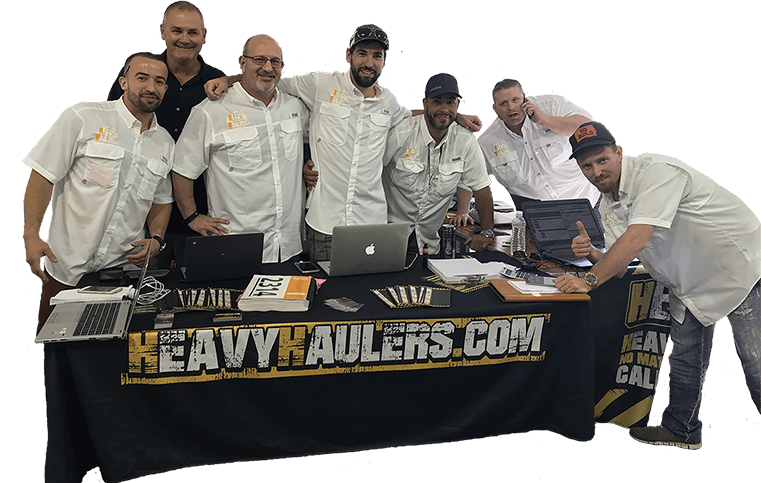 We Are Ready To Help You Haul Your Equipment!
Common Equipment Heavy Haulers Transports
Trust Heavy Haulers to transport any brand of equipment you own. Most of our drivers are experienced heavy-machinery operators who can safely maneuver your loads aboard our trailers. Some of the brands we have shipped include:
See what you need?
Call us for a FREE Shipping Estimate at (800) 908-6206