Professional Freight Services for Shipping Underground Mining Loader
Heavy Haulers is a trusted professional shipping company that specializes in oversized and overweight equipment transportation. You can task us with the role of shipping your underground mining loader, whether it is a piece of newly rolled-out machinery destined for your company offices or a pre-used loader that you need transporting to a mining site. For over ten years, Heavy Haulers has been a shipper of choice for clients across the US, Canada, and Mexico. Throughout these years, we've strived to create innovative transport solutions and test new market-trends to improve how logistics is done within the industry.
Why choose us? The company has managed to haul a plethora of heavy-equipment successfully, up to distances of over 2,000 miles. Our competent team comprises experienced, knowledgeable, and friendly logistics staff and trucking drivers who work in collaboration to let you experience shipment services at another level.
Contact Our Expert Shipping Specialist's
(800) 908-6206
Quality Underground Mining Loader Transport with Heavy Haulers
Some of the common types of mining loaders have a gross mass of up to 60 tons. With Heavy Haulers, no shipment project is impossible. Our experts are ready to evaluate the load and its dimensions to match it with a trailer that can capably haul an underground mining loader through smooth city motorways and the rugged tracks within your operation site. We also have a fleet of state-of-the-art trucks with enough towing power to pull the load.
Underground mining loaders are heavy-duty machinery used in loading fragmented rocks or mines onto a conveyor or mine cars for transportation to a dumping area. The loading is made possible through a front, compact loader that scoops and lifts the overload earth or rock boulders. They are designed to provide improved safety, reliability, and productivity during underground mining works or tunneling operations.
Common Types of Underground Mining Loaders Heavy Haulers Ship
Underground miners work with different types of rocks and scales of operations. To suit their specific underground excavation needs, they can choose one of the following types of underground mining loaders.
● Longwall Cutters
● Longwall Mining Roof Supports
● Longwall Coal Shearers
How to Ship an Underground Mining Loader with Heavy Haulers
To experience our industry-leading haulage services, contact our offices within your state. We will plan out the pick-up procedures, transportation, and unloading during deliveries. We are equipped with loading cranes, drifts, and ramps. Therefore, we can position and secure the cargo onto a suitable trailer for safe transportation. By choosing Heavy Haulers, you can take part in the hauling process. We offer clients load tracking systems, thanks to our updated radio and satellite transmission channels. Our support staff can keep in touch with the trucking driver for updates about the delivery. Subsequently, you can contact our help-desk for feedback about the in-transit cargo. All these solutions are created for your peace of mind.
Common Trailer Types Available from Heavy Haulers
Heavy Haulers specializes in hauling heavy loads such as construction equipment, oil field rigging and Super Loads. We are wideload experts! We offer an extensive range of trailer choices, including:
Max Weight: 48,000 lbs. | Max Length 53 ft. | Max Width 8.5 ft. | Max Height 11 ft.




Max Weight: 45,000 lbs. | Max Length 29 ft. | Max Width 8.5 ft. | Max Height 11.5 ft.
Max Weight: 150,000+ lbs. | Main Deck Length 29 ft. | Well Width 8.5 ft. | Legal Height Limit 11.6 ft.




Max Weight: 48,000 lbs. | Max Length 53 ft. | Max Width 8.5 ft. | Max Height 8.5 ft.
HEAVYHAULERS.COM
START YOUR SHIPMENT TODAY!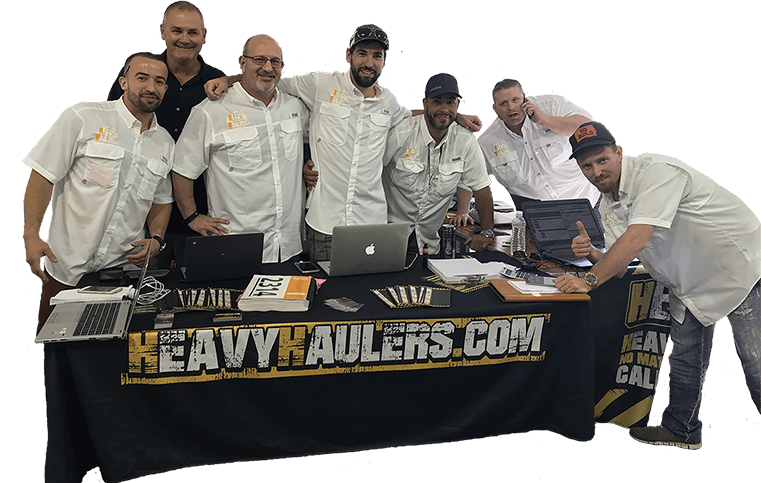 We Are Ready To Help You Haul Your Equipment!