Haul Your Wash Plant with The Most Trusted Shipping Company
The sophistication and fragility of a wash plant cannot be overemphasized. If you are looking for a suitable method to move your wash machine across the state or from one state to another. Look no further, we are here for such needs. The functionality of a wash plant requires explicit maintenance and utmost safety precautions. At Heavy Haulers, we pride in years of expertise in the shipping of heavy equipment all over North America, Canada, and Mexico, using our modern trucking units that guarantee efficiency and quality. And most importantly, that leaves your wash plants intact throughout the entire hauling process.
Companies all over the world have trusted us with hauling their machinery across the states and countries. We have delighted in being the top-rated hauling companies and most recommended in the region. Positive reviews from hundreds of our happy clients have placed us at desirable positions with returning and new customers who require us to haul their machines locally or across the borders.
Contact Our Expert Shipping Specialist's
(800) 908-6206
Start Shipping Your Wash Plant with Expert Truckers
Whether you want to ship your wash plant domestically or internationally, our company is always available to transport your wash plant to avoid any inconveniences and damages to your equipment. Our shipping technology, transporting units, and operators are unrivaled in the market, making the process easy and manageable without additional fees.
A wash plant is a piece of crucial equipment in waste management for crushing operations. It transforms by-products of the crushing operations to valuable sand used in diverse processes. The by-products undergo a recycling and washing process to produce useful substances. At Heavy Haulers, we offer a direct and steadfast process that lets you contact us and get the hauling planned to suit your convenience. From scrubbers to pumps to hydrophones and dewatering screens, our group of expert drivers are vastly knowledgeable when it comes to loading and transporting wash plants and can always guarantee 100% customer satisfaction.
Common Types of Wash Plants Heavy Haulers Transport
● 30 Tph Gold Washplant Igr3000
● Spiral Sand Washing Plant Manufactured By Luoyang Longzhong Heavy Machinery Co., Ltd
● Gold Washing Machine Gold Trommel Wash Plant Made By Jiangxi Hengchang Mining Machinery Manufacturing Co, Ltd.
● 9 Brushes Tunnel New Car Washing Plant
How to Ship a Wash Plant with Heavy Haulers.
At Heavy Haulers, no machine is too big or too heavy for us to handle. After contacting us and explaining your needs in hauling a wash plant or a number of them, our team then progresses with the hauling process to deliver your wash plants at the requested destination within the specified timelines. The logistics are regularly evaluated, ensuring that each process is according to plans, and timely communication is made in every turn of the way—this will give you peace of mind in knowing your equipment is on its way, and everything is going as expected.
Looking For Transport
With a Specific Trailer?

Max Weight: 150,000+ lbs. | Main Deck Length 29 ft.
| Well Width 8.5 ft. | Legal Height Limit 11.6 ft.

Max Weight: 48,000 lbs. | Max Length 53 ft.
| Max Width 8.5 ft. | Max Height 8.5 ft.
Max Weight: 48,000 lbs. Max Length 53 ft. |
Max Width 8.5 ft. | Max Height 11 ft.
Max Weight: 45,000 lbs. | Max Length 29 ft.
| Max Width 8.5 ft. | Max Height 11.5 ft.
HEAVYHAULERS.COM
START YOUR SHIPMENT TODAY!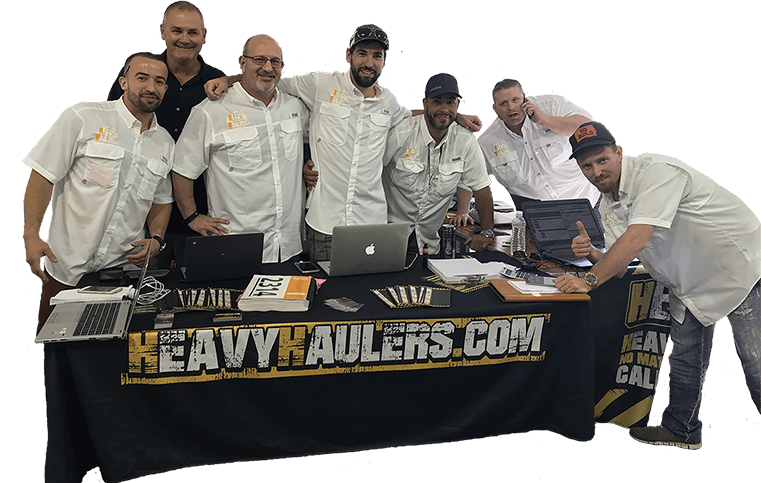 We Are Ready To Help You Haul Your Equipment!
Common Equipment Heavy Haulers Transports
Trust Heavy Haulers to transport any brand of equipment you own. Most of our drivers are experienced heavy-machinery operators who can safely maneuver your loads aboard our trailers. Some of the brands we have shipped include:
See what you need?
Call us for a FREE Shipping Estimate at (800) 908-6206