Experience The Best Wash Trommel Shipping Services with Heavy Haulers.
At Heavy Haulers, we have the most competent and knowledgeable team at every level, starting from the support staff to the technical team. Our employees love working in the company, and we look forward to interacting with you. If you want to ship a wash trommel, all we need to start planning for the wash tommel shipment is the details on the type of wash trommel you need, and we will plan all the logistics of shipping it. We frequently ship wash trommel for our clients, and we have an in-depth understanding of everything to do with its shipping.
Heavy Haulers is a company that asks and listens to you. We make sure your needs are met from the time you express your interest in shipping your wash trommel with us to the time that we deliver it. Despite the fact that we have been in the shipping industry for several years now, we do not assume that we know what you want. We are always listening to you because we are interested in meeting your expectations. Let's get started! (800) 908-6206.
Contact Our Expert Shipping Specialist's
(800) 908-6206
Heavy Haulers Real-Time Tracking and Safe Wash Trommel Shipping
A constant update on where your wash trommel is during transit gives you peace of mind to concentrate on other important issues. At Heavy Haulers, we provide all the details of your shipment and update you on exactly how far the package is from your preferred delivery location. You can access all this information from the comfort of your home using a computer or smartphone. We are confident of our delivery system and have; as a result, employing the best technology for easy and instant updates throughout our shipping process.
A wash trommel is an equipment used for cleaning and sizing ore. One of the most common applications of the trommel is in gold mines, where it is used to recover gold during mining operations. A wash trommel is efficient, easy to set up, and can handle a range of materials, among other advantages. At Heavy Haulers, we have the best fleet to transport your wash trommel. We are constantly updating our old fleet with modern models that are versatile, equipped with better safety features, and have large towing capacity. Call now! (800) 908-6206
Common Types of Wash Trommel Heavy Haulers Ships
We are your specialists in trucking all types and sizes of wash trammel. Below are a few of them.
How to Haul Wash Trommel with Heavy Haulers
Heavy Haulers' shipping services are second to none. We are the experts in transporting wash trommel in the whole of North America, Mexico, and Canada. Our exceptional shipping services have seen us tremendously grow in the industry and expand our customer base. We are always on time to pick and drop your wash trommel using the most advanced technology in the world. All you need to do is call one of our agents to make the shipping arrangements
Common Trailer Types Available from Heavy Haulers
Heavy Haulers specializes in hauling heavy loads such as construction equipment, oil field rigging and Super Loads. We are wideload experts! We offer an extensive range of trailer choices, including:
Max Weight: 48,000 lbs. | Max Length 53 ft. | Max Width 8.5 ft. | Max Height 11 ft.




Max Weight: 45,000 lbs. | Max Length 29 ft. | Max Width 8.5 ft. | Max Height 11.5 ft.
Max Weight: 150,000+ lbs. | Main Deck Length 29 ft. | Well Width 8.5 ft. | Legal Height Limit 11.6 ft.




Max Weight: 48,000 lbs. | Max Length 53 ft. | Max Width 8.5 ft. | Max Height 8.5 ft.
HEAVYHAULERS.COM
START YOUR SHIPMENT TODAY!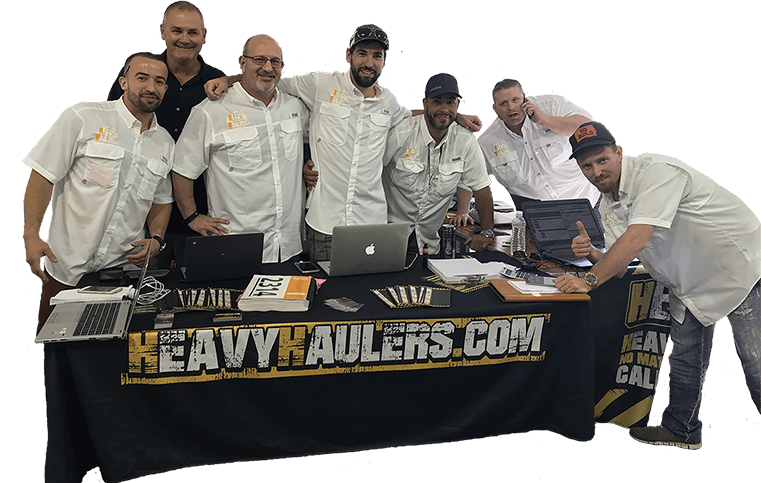 We Are Ready To Help You Haul Your Equipment!
See what you need?
Call us for a FREE Shipping Estimate at (800) 908-6206