Affordable Hydrogen Generator Transport
It is important for everyone in the logistics industry to have an affordable option when it comes to shipping a hydrogen generator. Hydrogen generators have become a popular energy source because of their ability to generate energy quickly. Hydrogen is an element that burns quickly, allowing people to burn their fuel in an efficient manner. Hydrogen generators can significantly reduce the emissions of toxic gases and unburned fuel. Those who use high-quality hydrogen generators might even find that the missions are odorless.
Because hydrogen generators have become so popular over the past few years, there are many who are looking to take advantage of them. In order for hydrogen generators to be cost-effective, they need to be delivered in an affordable manner. Some of the costs that need to be factored into the delivery of a hydrogen generator include the safety precautions, the distance, and the cost of fuel. Fortunately, there are ways for people to have their hydrogen generators delivered to them safely, securely, and on-time. Call now for a free shipping estimate!
Contact Our Expert Shipping Specialist's
(800) 908-6206
On Time Hydrogen Generator Delivery
For those who might not know, a hydrogen generator is an energy source that uses a proton-exchange membrane to turn water into pure hydrogen gas. Hydrogen gas burns in a clean, odorless manner. The idea of a hydrogen generator was first developed for use by the National Aeronautics and Space Administration (NASA) for its rockets and shuttles; however, it is now used extensively throughout research labs and industrial companies. Hydrogen occupies the first slot on the periodic table and is one of the most powerful, and abundant, energy sources around. Hydrogen generators are way to take advantage of this!
Those who work with hydrogen generators know that this energy source is time-sensitive. Hydrogen is a powerful energy source; however, it can also be short-lived. Therefore, it is important for everyone to invest in a hydrogen generator delivery service that will show up on-time every time. This will make sure that everyone gets the most out of their generators. That is where Heavy Haulers can be helpful. At Heavy Haulers, we operate a reliable towing, shipping, and transport service that will ensure you get your hydrogen generator on-time. We have a highly trained logistics service that will gather all of the necessary information to ensure you get your hydrogen generator as quickly as possible.
How to Ship a Hydrogen Generator with Heavy Haulers
Heavy Haulers is one of the leading options when it comes to shipping a hydrogen generator. Hydrogen fuel cells are among the most powerful sources of energy in the world; however, they are also among the most vulnerable. At Heavy Haulers, we know how to transport these critical energy generators quickly and safely. We have towing services and truck drivers all over North America who can ship hydrogen generators from port to port, door to door, or even ground to port. To learn more about how we can help you haul your generators, please call us today! We look forward to working with you! (800) 908-6206
We transport many brands of Generators across the country and North America
Trust Heavy Haulers to transport any brand of trailer you own. We are experienced in handling all types of brands and manufacturers, we have hands-on experience shipping all trailer manufacturers there is on the road! Some of the trailer brands we commonly ship include:
Common Trailer Types Available from Heavy Haulers
Heavy Haulers specializes in hauling heavy loads such as construction equipment, oil field rigging and Super Loads. We are wideload experts! We offer an extensive range of trailer choices, including:
Max Weight: 48,000 lbs. | Max Length 53 ft. | Max Width 8.5 ft. | Max Height 11 ft.




Max Weight: 45,000 lbs. | Max Length 29 ft. | Max Width 8.5 ft. | Max Height 11.5 ft.
Max Weight: 150,000+ lbs. | Main Deck Length 29 ft. | Well Width 8.5 ft. | Legal Height Limit 11.6 ft.




Max Weight: 48,000 lbs. | Max Length 53 ft. | Max Width 8.5 ft. | Max Height 8.5 ft.
HEAVYHAULERS.COM
START YOUR SHIPMENT TODAY!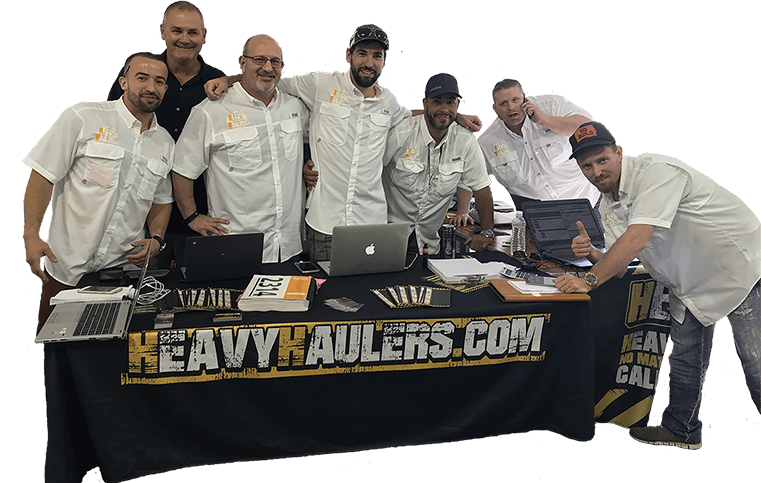 We Are Ready To Help You Haul Your Equipment!