Industry's Leading Flatbed Trucking Company
Heavy Haulers is a flatbed trucking company with more than a decade of experience in hauling heavy machinery and equipment. Our flatbed trucking services are suitable for almost every industry and our years of experience mean we can safely and efficiently transport heavy loads in all 50 states, Canada, and Mexico. We combine the best equipment and professional experience to provide unrivaled flatbed trucking transport and we are industry leaders in transporting on a flatbed truck. Our flatbed trucking equipment includes RGNs, double drops, and step decks.
We are on hand to handle any size load and we specialize in wide-load flatbed trucking and oversize flatbed trucking. If your loads do not fit on a standard-sized trailer then Heavy Haulers can help you. If you think you could benefit from our expert services call us today on (800) 908-6206.
Contact Our Expert Shipping Specialist's
(800) 908-6206
Hassle-Free Flatbed Trucking Services
Transporting a heavy load across the country, or even locally, can seem like a daunting task but Heavy Haulers flatbed trucking drivers have the experience and knowledge to make shipping on a flatbed truck simple and hassle-free. Each of our drivers is fully licensed, insured, bonded, and has professional experience in all aspects of flatbed trucking transport. We can also deal with all of the associated paperwork such as permits, customs paperwork, and forms at weigh stations so that you don't have to, making us the industry leading flatbed trucking company.
Our trip planners will plan the easiest and most efficient route for your heavy load prior to the journey. The route that your Heavy Hauler driver chooses will ensure that every road is safe and can accommodate an oversize or wide-load flatbed truck. Detailed trip planning is essential in heavy haul flatbed trucking as it ensures the truck can make it to your destination with no damage to your load. If necessary, we can also provide private escorts and pilot cars to assist our drivers during the journey. To discuss your options and receive a free shipping quote give us a call. (800) 908-6206
• Cranes
• Mining Equipment
• Steel Beams
• Lumber
• Generators
• Forklift Transport
• Bulldozer Hauling
• Construction Tractors
• Wheel Loaders
• Agricultural Equipment
Flatbed Trucking Regulations
The securement of cargo on flatbed trucks is accomplished using tie-downs that prevent the equipment from moving during transportation. Flatbed trucking regulations dictate the type of tiedown and the number of devices that must be used depending on the shape and size of the load. Federal laws require a minimum of one tide-down per 10ft of cargo and chains and chocks to be used for heavy cargo. It is also a regulation that tie-downs be evenly distributed across the cargo.
Every state has different rules and regulations related to oversize flatbed trucking loads and particularly heavy loads sometimes require a pilot car. Heavy Haulers understand the complex flatbed trucking laws and regulations in every state, so when you choose Heavy Haulers you can rest assured we leave no room for errors when shipping your load.
Common Trailer Types Available from Heavy Haulers
Heavy Haulers specializes in hauling heavy loads such as construction equipment, oil field rigging and Super Loads. We are wideload experts! We offer an extensive range of trailer choices, including:
Max Weight: 48,000 lbs. | Max Length 53 ft. | Max Width 8.5 ft. | Max Height 11 ft.




Max Weight: 45,000 lbs. | Max Length 29 ft. | Max Width 8.5 ft. | Max Height 11.5 ft.
Max Weight: 150,000+ lbs. | Main Deck Length 29 ft. | Well Width 8.5 ft. | Legal Height Limit 11.6 ft.




Max Weight: 48,000 lbs. | Max Length 53 ft. | Max Width 8.5 ft. | Max Height 8.5 ft.
We transport many brands of Trucks across the country and North America
Trust Heavy Haulers to transport any brand of truck you own. We are experienced in handling all types of brands and manufacturers, we have hands-on experience shipping all truck manufacturers there is on the road! Some of the truck brands we commonly ship include:
HEAVYHAULERS.COM
START YOUR SHIPMENT TODAY!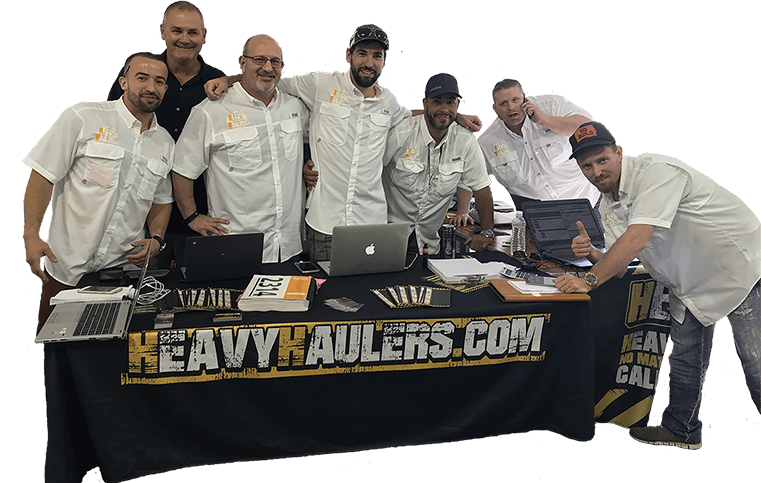 We Are Ready To Help You Haul Your Equipment!
See what you need?
Call us for a FREE Shipping Estimate at (800) 908-6206