Long Haul Trucking in the US, Canada, and Mexico
Whether you're looking for heavy haul trucking to deliver your goods from one side of Arizona to the other, transport between West Virginia and California, or even to cross borders into Canada and Mexico, Heavy Haulers has more than 10 years of experience navigating the intricacies of long haul trucking between all 50 U.S. States, Canada, and Mexico.
Our extensive range of long haul trucking equipment means we can offer a vast range of long haul trucking services, from transporting a furnace 120 miles in Alabama to shipping an aircraft frame from Utah to Florida. We don't just stop there either; wherever your end destination is in Mexico or Canada, we can make it our priority to transport there too
Contact Our Expert Shipping Specialist's
(800) 908-6206
Quality and Comprehensive Long Haul Trucking
We know that careful storage and transport of items are essential to your business, and we have the tools, know-how, and dedication to deliver your goods carefully and on time.
Even if your cargo requires specialist equipment, such as a gooseneck trailer, escorts, and pilot cars, Heavy Haulers can obtain and coordinate the entire project, including all permits. If there's intricate maneuvering required before long freight hauling, rest assured we can match your requirements to an experienced long freight hauler within the Heavy Haulers team. Not only do we take the utmost care to safely and securely undertake cross country and long distance trucking, but our team of logistics professionals can also be trusted to plot your cheapest route, and we provide load tracking if required. We have service agents available 7 days a week. Call us anytime between 7am through 10pm EST to get a quote, status update, or more information about our long haul trucking services. (800) 908-6206
• Forklifts
• Rock Trucks
• Construction Equipment
• Cranes
• Wheel Loaders
• School Buses
• Furnaces
• Aircraft Frames
• Mobile Homes
• Oversized Haulage
• Overwidth Haulage
• Overheight Haulage
• Overlength Haulage
Long Haul Trucking Regulations
Hauling freight across the country is no simple task that you should trust to just anyone. At Heavy Haulers, we are familiar with individual state and national requirements that affect cross country trucking, as well as the regulations in both Mexico and Canada that may affect the long hauling trucking services you require.
We are familiar with all safety regulations and weight restrictions to ensure your long haul equipment reaches its end destination in the safest of hands and the best condition. We know the driver regulations, and we safeguard our drivers, so we're all arriving safely, not just on schedule. At Heavy Haulers, we specialize in shipping construction equipment and heavy machinery, but also know the freight requirements for transporting other heavy loads. Let your heavy load be Heavy Haulers' burden and get in touch today.
Common Trailer Types Available from Heavy Haulers
Heavy Haulers specializes in hauling heavy loads such as construction equipment, oil field rigging and Super Loads. We are wideload experts! We offer an extensive range of trailer choices, including:
Max Weight: 48,000 lbs. | Max Length 53 ft. | Max Width 8.5 ft. | Max Height 11 ft.




Max Weight: 45,000 lbs. | Max Length 29 ft. | Max Width 8.5 ft. | Max Height 11.5 ft.
Max Weight: 150,000+ lbs. | Main Deck Length 29 ft. | Well Width 8.5 ft. | Legal Height Limit 11.6 ft.




Max Weight: 48,000 lbs. | Max Length 53 ft. | Max Width 8.5 ft. | Max Height 8.5 ft.
We transport many brands of Trucks across the country and North America
Trust Heavy Haulers to transport any brand of truck you own. We are experienced in handling all types of brands and manufacturers, we have hands-on experience shipping all truck manufacturers there is on the road! Some of the truck brands we commonly ship include:
HEAVYHAULERS.COM
START YOUR SHIPMENT TODAY!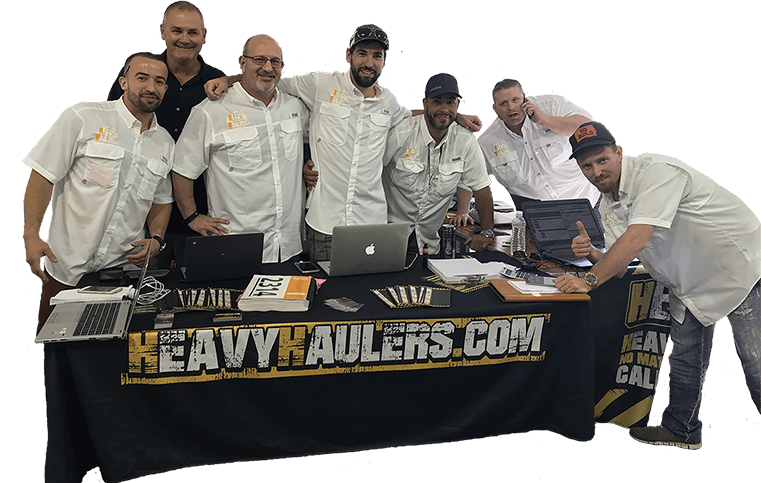 We Are Ready To Help You Haul Your Equipment!
See what you need?
Call us for a FREE Shipping Estimate at (800) 908-6206