Nationwide and Overseas Fencing Materials Transport Services
Whether you've chosen to have a wrought iron or steel fence, shipping it to the intended destination requires expertise, hauling equipment, and an experienced team of logistics and truckers. For this reason, you need to partner with Heavy Haulers, a well-equipped international shipping company staffed with trustworthy professionals. We are a reputable shipping company in the US with over ten years of excellence in shipping fencing equipment throughout the country and other destinations, such as Canada and Mexico. Additionally, we can advocate with freight forwarders on your behalf to import or export your cargo.
Heavy Haulers ranks among the few shipping companies with liability insurance worth over 200 million dollars. That means that we are dedicated to ensuring that your cargo reaches your desired receiving area in the same condition in which it was loaded at the pick-up point. Furthermore, we only task our heavy equipment consignments to insured trucking drivers who're seasoned in the industry and understand the DOT rules in each state. We also have a contingency insurance cover to supplement our drivers' insurance. We understand how valuable and important your fencing is to you, and we promise to transport it with the utmost attention to detail. Call for a free shipping estimate! (800) 908-6206
Contact Our Expert Shipping Specialist's
(800) 908-6206
Safe Fencing Material Shipping and On Time Delivery
Fencing transport is not something you see on the road every day, but we are passionate and enthusiastic about transporting such cargo on a timely basis. Every state has its own travel-time restrictions, and a lot goes into the logistics preparations to ensure we deliver your fencing on time. That includes retrieving the required transport permit from the authorities about two months prior to the hauling date. We'll also ensure we are at the pick-up location in time, fully equipped with the necessary rigs and equipment to load, transport, and deliver the cargo in time. Call now! (800) 908-6206
Common Types of Fencing We Ship
There're many types of fencing you can choose for your property. You can take advantage of our experience in the industry to ship the one you choose.
● Vinyl Fence
● Wrought Iron Fence
● Chain Link Fence
● Bamboo Fence
● Steel/Aluminum Fence
● Wood Fence
● Farm Fence
● Electric Fence
● PVC Fence
How to Ship Fencing with Heavy Haulers
Before transporting your fence, Heavy Haulers will first require details about the origin destination, cargo weight and material, and receiving destination. We have capable forklifts and equipment operators who work together with leverage specialists to ensure safe loading and proper positioning. Considering the dimensions of fencing, we will lay them horizontally on a flatbed trailer and secure them with sturdy tie-down straps. Once your cargo is secured, we'll choose an insured and experienced driver to take over transportation. We'll notify once the shipment gets on the road, complete with all the details, including name and contact information, as well as the tracking number. Let's get started! Call now! (800) 908-6206
HEAVYHAULERS.COM
START YOUR SHIPMENT TODAY!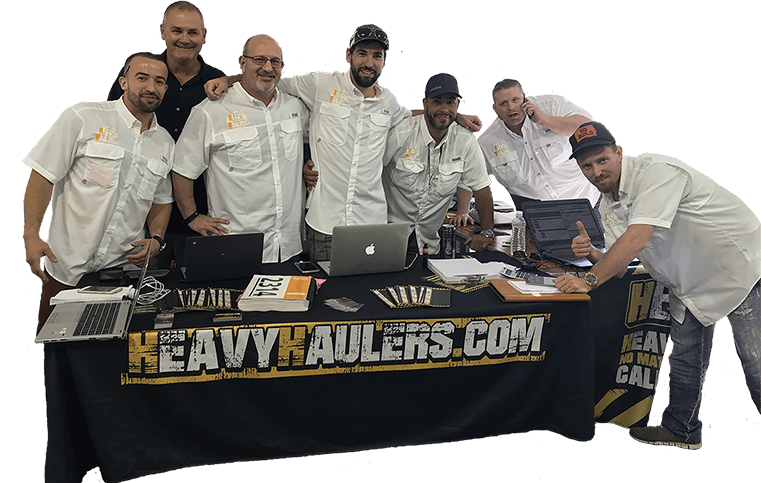 We Are Ready To Help You Haul Your Equipment!
Heavy Haulers Ships Across All 50 States
Alabama - Alaska - Arizona - Arkansas - California - Colorado - Connecticut - Delaware - Florida - Georgia - Hawaii - Idaho - Illinois - Indiana - Iowa - Kansas - Kentucky - Louisiana - Maine - Maryland - Massachusetts - Michigan - Minnesota - Mississippi - Missouri - Montana - Nebraska - Nevada - New Hampshire - New Jersey - New Mexico - New York - North Carolina - North Dakota - Ohio - Oklahoma - Oregon - Pennsylvania - Rhode Island - South Carolina - South Dakota - Tennessee - Texas - Utah - Vermont - Virginia - Washington - West Virginia - Wisconsin - Wyoming
Looking For Transport
With a Specific Trailer?

Max Weight: 150,000+ lbs. | Main Deck Length 29 ft.
| Well Width 8.5 ft. | Legal Height Limit 11.6 ft.

Max Weight: 48,000 lbs. | Max Length 53 ft.
| Max Width 8.5 ft. | Max Height 8.5 ft.
Max Weight: 48,000 lbs. Max Length 53 ft. |
Max Width 8.5 ft. | Max Height 11 ft.
Max Weight: 45,000 lbs. | Max Length 29 ft.
| Max Width 8.5 ft. | Max Height 11.5 ft.
Heavy Haulers Pilot Car Services
Are you looking for a reliable pilot car
for your transport?
Get Started
See what you need?
Call us for a FREE Shipping Estimate at (800) 908-6206