Reliable Utility Pole Transport Services
Heavy Haulers reliably transports utility poles across the United States and overseas. We offer complete utility pole transport for wood poles, aluminum poles, concrete pilings, telephone poles, and more. Your shipping specialist will walk you through the entire transportation process. At Heavy Haulers we take care of every detail for you. We provide cranes for load assistance and get all the necessary permits. The driver, truck, and trailer are hand-picked to make sure they have the experience and proper equipment for utility pole transport.
With over a decade of experience, Heavy Haulers has transported utility poles across the country. Port-to-port overseas shipping is also available. The route is pre-planned to make sure your utility poles have the safest shipping path possible. We transport new poles or haul away old poles. We are licensed, bonded, and insured so you can have confidence in your utility pole shipping experience. At Heavy Haulers we offer the most reliable shipping and transport services in the industry. Call now for a free shipping estimate! (800) 908-6206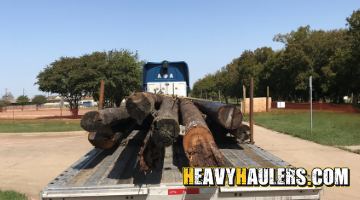 Contact Our Expert
Shipping Specialist's
(800) 908-6206
Shipping Utility Poles Safely and Delivering On Time
Utility poles usually exceed the legal load limits, making them oversize freight. That's why we hand-pick the driver, making sure they have the proper experience for transport. Once the utility poles are loaded and strapped down, we double check to make sure everything is properly secured. Every detail is double checked to ensure the safety of your utility pole freight. Whether you're transporting poles across town, across the country, or overseas, Heavy Haulers is here to get it done right.
Utility poles come in a variety of types to accommodate their many uses. Whether you're hauling concrete pilings, telephone poles, or wooden poles, we'll get the job done right. Heavy Haulers is dedicated to safe transport for out team and your cargo. We pay attention to detail for a quality transport and on time delivery. Let's get your utility poles on the road! Call now! (800) 908-6206
Common Types of Poles Heavy Haulers Ships
● Telephone Pole Shipping
● Aluminum Pole Transport
● Miscellaneous Pole Transport
● Lightning Pole Transport
● Wood Pole Hauling
● Street Pole Transport
● Distribution Pole Hauling
● CCTV Pole Shipping
See More of Our Recent Pole Shipments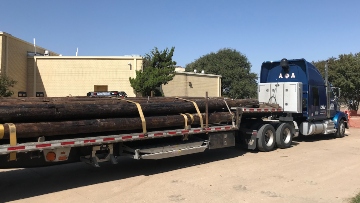 Transporting 30 Utility Poles
Shipping From: Red Oak, TX

Transporting To: Twentynine Palms, CA

Specs: 30 utility poles; 48L x 6W x 4H; 32,000lbs

Transport Specialist: Travis S.
(813) 492-8263
How to Ship Utility Poles with Heavy Haulers
To ship utility poles safely, you need a hauling company you can rely on. That's where Heavy Haulers comes in. Our experience and dedication to quality transport makes us stand out. Your shipping specialist will inform you of the best trailer type for your pole cargo. We provide transparency during the hauling process and your specialist will be available from the first call to final delivery. Shipping poles with Heavy Haulers is a top quality experience. Let's get started! (800) 908-6206
Common Utility Poles Heavy Haulers Transports
General Utility Poles
Poles are long, slender, cylindrical and tapering pieces made of either wood, polymers, concrete, metal, or recycled plastics. Poles are used for various purposes like supporting tents, telephone wires, among others. Examples of frequently used poles include telephone poles, mast poles, and pole vault.
Telephone Poles
A telephone pole is one of the applications of poles. Telephone poles are used to carry telephone wires high above the ground. They are treated with preservatives to keep away fungi, insects, and any other unfriendly conditions that can threaten their lifespan. Pole can be out of any tree that is deemed fit.
Aluminum Poles
Aluminum poles are majorly used for street and highway lighting. These poles are preferable poles because they have a long lifespan that can even go beyond 50 years. Aluminum poles are also lightweight, good looking, recyclable, and even corrosion-resistant, which makes them ideal for the harsh outdoor conditions.
Posts
A post is a solid material that is usually cylindrical or square and of a considerable length. Posts are generally shorter than poles, and they support more weight. Examples of posts include mail posts and vertical wood support pieces that are typically used in building, commonly referred to as columns.
Wood Poles
Wood poles are commonly used for building and fencing. Treated wood poles are used to support various utilities such as transmission lines, fiber optic cables, overhead power lines, and street lights. Depending on the application, wood poles bring forth telephone poles, power poles, hydro poles, and various other poles.
See what you need?
Call us for a FREE Shipping Estimate at (800) 908-6206
Looking For Transport
With a Specific Trailer?

Max Weight: 150,000+ lbs. | Main Deck Length 29 ft.
| Well Width 8.5 ft. | Legal Height Limit 11.6 ft.

Max Weight: 48,000 lbs. | Max Length 53 ft.
| Max Width 8.5 ft. | Max Height 8.5 ft.
Max Weight: 48,000 lbs. Max Length 53 ft. |
Max Width 8.5 ft. | Max Height 11 ft.
Max Weight: 45,000 lbs. | Max Length 29 ft.
| Max Width 8.5 ft. | Max Height 11.5 ft.
Heavy Haulers Pilot Car Services
Are you looking for a reliable pilot car
for your transport?
Get Started
HEAVYHAULERS.COM
START YOUR SHIPMENT TODAY!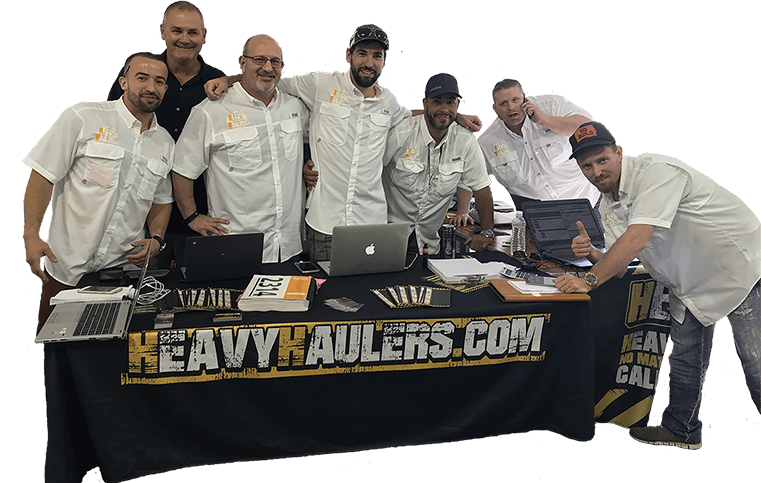 We Are Ready To Help You Haul Your Equipment!
See what you need?
Call us for a FREE Shipping Estimate at (800) 908-6206
Common Equipment Heavy Haulers Transports
Trust Heavy Haulers to transport any brand of equipment you own. Most of our drivers are experienced heavy-machinery operators who can safely maneuver your loads aboard our trailers. Some of the brands we have shipped include:
See what you need?
Call us for a FREE Shipping Estimate at (800) 908-6206