Discover Quality Straw Bale Shipping with Heavy Haulers
Not all companies that claim to offer a full range of shipping services include straw bale transportation. However, Heavy Haulers is not just any other trucking company. We specialize in the shipment of all shapes and sizes of straw bales, whether you intend to use them as fuel, livestock fodder, basket making, or "brown" construction works.
At Heavy Haulers, we offer quality straw shipping across the US, Canada, and Mexico. We do that by adhering to safe trucking practices and rendering top-tier workmanship. All our company representatives in all branches across the US are trained and knowledgeable in logistics protocols. They will listen to your individual needs and tailor the solutions to ensure customer satisfaction. On top of that, Heavy Haulers has a large inventory of state-of-the-art equipment, which gives us full control of the service quality. No consignment is too unique for us to handle, as we have the resources necessary to ship the cargo securely. Let's get started! (800) 908-6206
Contact Our Expert Shipping Specialist's
(800) 908-6206
Handling Your Straw Shipping Needs with Efficiency
As the name suggests, a straw bale is a cuboid-shaped box constructed using dried cereal stalks left after the chaff has been removed. The bale is constructed and bundled up using a tough string. Think of it as the haystacks used as stable bedding and feeding horses.
To maintain the straw bales' structural integrity during transportation, you need to partner with a shipper who has the know-how of such projects. Our rigs will be at the pick-up site, as noted on the quote. We will use the necessary equipment to quickly load the cargo to set it on the road as soon as possible. We promise to take care of the freight to ensure that it reaches the delivery site safely and on time. That's especially important because we limit the downtime of your business pursuits, helping resume your operations in a jiffy. Call now! (800) 908-6206
Common Types of Straw Bales We Haul
● Wheat-Straw Bales
● Alfalfa Bales
●Buckwheat Bales
● Hay Bales
How to Transport Straw Bales with Heavy Haulers
People transport hay bales of various quantities. We will load and arrange small stacks on a relatively smaller step deck trailer [48-foot]. For large square straw bales of between 700 – 725 pounds and 900-pound round bales, we'll use an extended trailer of [53 feet] for each. Bales are relatively easy to handle in terms of weight. We will organize the necessary workforce needed to load the cargo on the trailer. Fortunately, we have leverage and weight specialists who will ensure that the cargo is well secured on the trailer. Let's get started! (800) 908-6206
Looking For Transport
With a Specific Trailer?

Max Weight: 150,000+ lbs. | Main Deck Length 29 ft.
| Well Width 8.5 ft. | Legal Height Limit 11.6 ft.

Max Weight: 48,000 lbs. | Max Length 53 ft.
| Max Width 8.5 ft. | Max Height 8.5 ft.
Max Weight: 48,000 lbs. Max Length 53 ft. |
Max Width 8.5 ft. | Max Height 11 ft.
Max Weight: 45,000 lbs. | Max Length 29 ft.
| Max Width 8.5 ft. | Max Height 11.5 ft.
HEAVYHAULERS.COM
START YOUR SHIPMENT TODAY!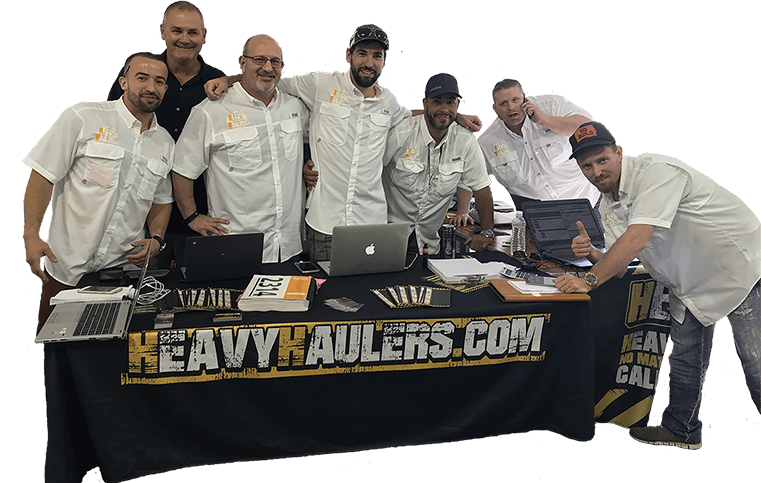 We Are Ready To Help You Haul Your Equipment!
Common Equipment Heavy Haulers Transports
Trust Heavy Haulers to transport any brand of equipment you own. Most of our drivers are experienced heavy-machinery operators who can safely maneuver your loads aboard our trailers. Some of the brands we have shipped include:
See what you need?
Call us for a FREE Shipping Estimate at (800) 908-6206