Domestic and International Concrete Block Shipping Company
Construction has become a booming business across all our states. As such, concrete block and cinder block transport is required in construction is an essential service to all builders and construction companies. Heavy Haulers are well equipped with what it takes to make moving of concrete blocks from the source to the construction sites an easy and timely hauling process. Whether its residential building houses or commercial houses, our drivers ensure proper logistics to deliver the cinder blocks at the site; thus, at no point will the construction stall due to delays in material delivery.
Shipping concrete blocks requires extreme caution to ensure each piece is delivered without any damage whatsoever. At Heavy Haulers, we have continually supported businesses by efficiently delivering cinder blocks, which enable construction to be completed as planned. Different construction companies have formed a strong partnership with us, owing to our extreme expertise in shipping concrete blocks to their clients.
Contact Our Expert Shipping Specialist's
(800) 908-6206
Confidence in Cinder Block Transport Solutions
Working with talented people and using advanced equipment and technology nurtures a company's reputation. At Heavy Haulers, we are blessed with a team of talented and committed experts. We have also invested in state-of-the-art hauling and transporting concrete blocks. When those two are combined with our superior ways of doing our job, we remain unmatched to other companies. Our exceptional drivers have mastered the art of walking with our clients in every step of the transportation process, ensuring timely updates and communication with the clients when shipping cinder blocks. We delight in encouraging feedbacks from new and returning clients who make us proud of what we do.
Concrete blocks are popular in construction. They are used when building concrete block structures such as walls or fences. Concrete blocks, also known as cinder blocks are available in different types according to the structure required. At Heavy Haulers, we pride in working with seasoned truckers and talented logisticians who make shipping oversize equipment such as concrete blocks a smooth and flawless process. Call now! (800) 908-6206
Common Types of Concrete Blocks We Ship
● Hollow Concrete Blocks
● Aerated Autoclaved Concrete Block
● Solid Concrete Blocks
● Concrete Bricks
● Paving Blocks
● Lintel Blocks
● Concrete Stretcher Block
How to Ship Concrete Blocks with Heavy Hauler
Transporting Concrete Blocks to your site becomes easy and efficient with Heavy Haulers. You are only required to contact us, tell us how we can help and allow our team to do what they are known to do best—make you smile when you receive your cinder blocks safely and in time. Let's get started! (800) 908-6206
Looking For Transport
With a Specific Trailer?

Max Weight: 150,000+ lbs. | Main Deck Length 29 ft.
| Well Width 8.5 ft. | Legal Height Limit 11.6 ft.

Max Weight: 48,000 lbs. | Max Length 53 ft.
| Max Width 8.5 ft. | Max Height 8.5 ft.
Max Weight: 48,000 lbs. Max Length 53 ft. |
Max Width 8.5 ft. | Max Height 11 ft.
Max Weight: 45,000 lbs. | Max Length 29 ft.
| Max Width 8.5 ft. | Max Height 11.5 ft.
HEAVYHAULERS.COM
START YOUR SHIPMENT TODAY!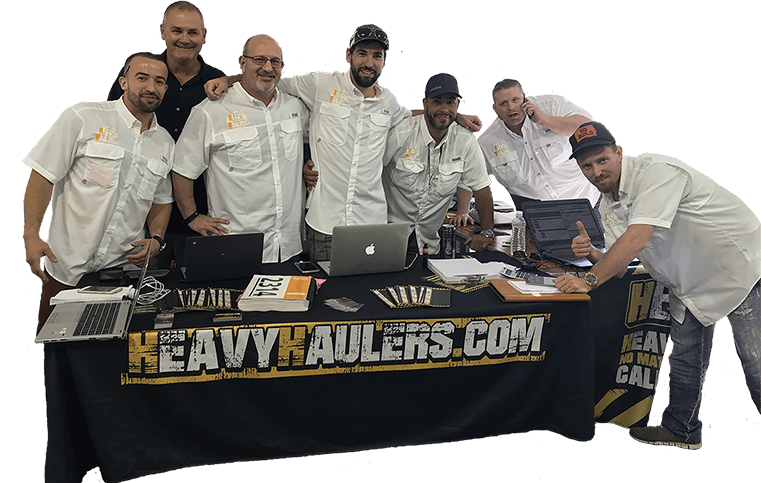 We Are Ready To Help You Haul Your Equipment!
Common Equipment Heavy Haulers Transports
Trust Heavy Haulers to transport any brand of equipment you own. Most of our drivers are experienced heavy-machinery operators who can safely maneuver your loads aboard our trailers. Some of the brands we have shipped include:
See what you need?
Call us for a FREE Shipping Estimate at (800) 908-6206