Hassle-Free Barrels Shipping Solutions
Transporting barrels can be a nerve-wracking and daunting process without the right professional input. Lucky for you, we as Heavy Haulers are at your disposal. We are founded on a core purpose to ease up the process involved in transporting your barrels to make it trouble-free and smooth. When you entrust us with your shipping need, you will feel confident that your barrels are in safe hands.
For over ten years now, we remain unchallenged in providing top-notch barrels transporting services. Our drivers' team has maintained the highest standard of excellence in offering outstanding shipping solutions to our clients. They are trained, experienced, and suited to transport your load of barrels through all kinds of roads and terrains. Better yet, they deliver them in perfect shape. Let's get started! (800) 908-6206
Contact Our Expert Shipping Specialist's
(800) 908-6206
Professional Barrels Transport and Hauling
If you are hunting for a logistics company for barrels transport, the chances are that you have a long line of options at your disposal. However, not every towing company is qualified and up to the task. To that end, trusting Heavy Haulers for your barrels towing needs guarantees you timeliness, safety, and the ultimate professionalism. We are reliable in transporting your barrels within the delegated timeline to avoid any inconveniences.
A barrel is a hollow cylindrical container that bulges from the middle. It is made of wooden staves bounded together with metal hooves. Barrels come in numerous types, primarily based on their use. Mostly, barrels hold and transport alcoholic beverages and, in the process, play a significant role in enhancing their maturation, taste, and flavor. There are specific barrels for wine, spirit, and beer. Let's get started! (800) 908-6206
Common Barrels Types Heavy Haulers Tow
Some barrels are essential in conserving or hauling corrosive chemicals, edible materials, and even oil. At heavy Haulers, we oversee the successful and safe hauling of a wide array of barrels, including:
● Wine barrels
● Plastic drums
● Traffic barrels
● Casks
● Wooden barrels
● Whiskey barrels
● Kegs
How to Ship Barrels with Heavy Haulers
At Heavy Haulers, our shipping capabilities are not limited to specific shapes, sizes, and weights of barrels. If you are looking to haul your barrels with affordability and great convenience, Heavy Haulers is here for you. We will listen to your shipping needs and challenges and then offer you reliable shipping advice and feasible towing methods. Whether you need to move your barrels across the states or even internationally, Heavy Haulers will acquire all the permits you require beforehand. We pay attention to every detail and ensure that we safely ship your barrels at the right time and to the correct destinations. Contact Heavy haulers with your hauling inquiries and a no-obligation quote.Call now! (800) 908-6206
Wine Barrels
Wine barrels impart the sweet vanilla taste and spice the flavor notes of wine as it ages. Since long ago, these barrels have been used during wine aging to attain its signature tastes. Oak barrels are mostly preferred over steel barrels since they enhance the wine's aroma, flavor, and richness.
Plastic Tanks
There is a wide array of substances to store and hauled in a plastic tank ranging from edibles to corrosive materials. Metal, unlike plastic drums, are easily corroded by such materials as nitric acid. A plastic barrel is most convenient in transporting corrosives and keeping the container and chemical intact.
Traffic Barrels
Traffic barrels enhance security, especially in the overwhelming traffic of people or motorists. These barrels are particularly crucial during road construction operations to signify an impassable road. Additionally, transporting traffic barrels to the road accident sites is essential in diverting traffic. These types of barrels also indicate accident-prone roads motorists should avoid.
Casks
Besides shipping various alcoholic beverages, casks also enhance their aging and maturation for a balanced, smooth drink that bursts with flavor. Casks come in multiple sizes, which also affects their development and the depths of the drinks savor. Most people prefer small casks to larger ones as they facilitate an accelerated maturation.
Wooden Barrels
Traditional wooden barrels hold beverages such as whiskey, wine, and scotch as they mature. However, these barrels also hold other possessions, including honey, meat, fish, gun powder, and nails. Thanks to their rounded form, wooden barrels can be rolled from a location to another making their shipping easy and affordable.
Whiskey Barrels
The longer spirit beverages stay in the whiskey barrels, the better they become. Holding and shipping spirit beverages in a whiskey barrel facilitate the absorption of tannins and vanillin from the oak wood. Consequently, the whiskey attains an authentic and unique color and flavor and, eventually, a smooth, exciting appeal.
Kegs
A keg is a barrel made of stainless steel and with a valve fixed at one end to facilitate the storage and dispensation of beer and other carbonated beverages. Kegs have been previously made of numerous materials, including wood. However, kegs made of stainless still are the most common in this era.
Looking For Transport
With a Specific Trailer?

Max Weight: 150,000+ lbs. | Main Deck Length 29 ft.
| Well Width 8.5 ft. | Legal Height Limit 11.6 ft.

Max Weight: 48,000 lbs. | Max Length 53 ft.
| Max Width 8.5 ft. | Max Height 8.5 ft.
Max Weight: 48,000 lbs. Max Length 53 ft. |
Max Width 8.5 ft. | Max Height 11 ft.
Max Weight: 45,000 lbs. | Max Length 29 ft.
| Max Width 8.5 ft. | Max Height 11.5 ft.
HEAVYHAULERS.COM
START YOUR SHIPMENT TODAY!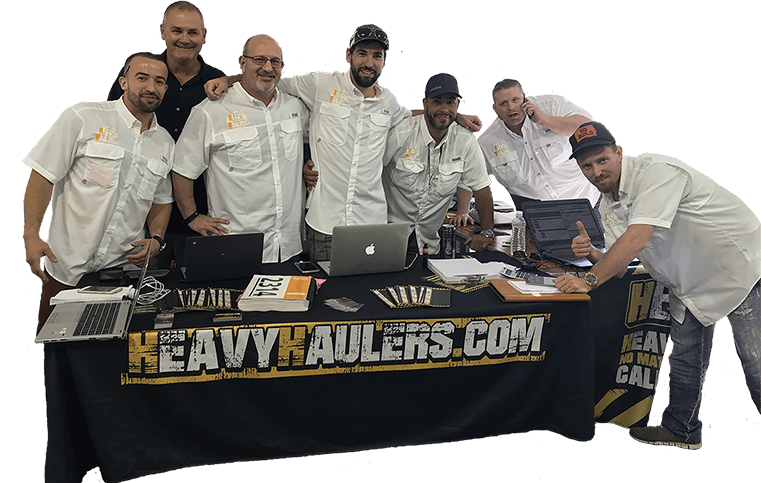 We Are Ready To Help You Haul Your Equipment!
Common Equipment Heavy Haulers Transports
Trust Heavy Haulers to transport any brand of equipment you own. Most of our drivers are experienced heavy-machinery operators who can safely maneuver your loads aboard our trailers. Some of the brands we have shipped include:
See what you need?
Call us for a FREE Shipping Estimate at (800) 908-6206