On-Time Shipping of Concrete Slabs with Heavy Haulers
The demand for concrete slabs in the nation and across the globe continues to rise as the need for business and residential buildings both in the cities and rural areas surges. Here at Heavy Haulers, we focus on moving different heavy materials like concrete slabs. With more than ten years of experience under our belt, no slab is too large or weighty for us to ship, and no distance is too long for our trucks and experienced transport experts to reach.
At Heavy Haulers, your needs will always come first. That is why we intend to move your concrete slab as you want us to. As soon as you call us, our transport experts will listen to your requests and instructions, and follow each of them to the letter. All our services are insured, and quality, and you should never have any qualms about placing your shipment in our hands. If you are running late and you urgently need concrete slabs at the construction site, our on-time shipping services are just tailored for you. Let's get started. (800) 908-6206
Contact Our Expert Shipping Specialist's
(800) 908-6206
Expedited Concrete Slab Delivery with Heavy Haulers
At Heavy Haulers, we have professional concrete slab movers who will ship yours within the shortest time possible whenever you need the materials. We have been in the industry for a long time, and have managed to build an excellent reputation for our superior quality hauling services. We've worked very hard to make Heavy Haulers the world's most respected heavy equipment hauling brand, try our expedited services today to experience the difference.
A concrete slab is an essential structural element in construction. Building professionals use concrete slabs for flat surfaces like ceilings and floors. A concrete slab can either be ground bearing or suspended. Suspended concrete slabs are commonly used in multiple-story buildings, while ground-bearing slabs are used as part of the foundations. Pre-cast concrete slabs, beam and block slabs, and hollow-core slabs are the most common slab designs. Whenever you need to haul a concrete slab, seek the help of experts.
Common Types of Concrete Slabs Heavy Haulers Transport
● One-Way Slabs
● Waffle Slabs
● Flat Slabs
● Composite Slabs
● Waffle Raft Slabs
● Two-Way Slabs
● Hollow Core Slabs
● Bubble Deck Slabs
● Flat Plates
● Patio Slabs
How to Move a Concrete Slab with Heavy Haulers
A call to one member of the incredible Heavy Haulers' logistics team can help you access our quality concrete slab moving services. We will set the date and time for the shipping depending on your requirements, and do all the necessary paperwork to facilitate fast and safe delivery. To facilitate the fast delivery of your concrete slab, we will identify the best routes to use for the shipping process. We will always keep you updated on every decision we make regarding the transportation of your concrete slabs. Call now! (800) 908-6206
Looking For Transport
With a Specific Trailer?

Max Weight: 150,000+ lbs. | Main Deck Length 29 ft.
| Well Width 8.5 ft. | Legal Height Limit 11.6 ft.

Max Weight: 48,000 lbs. | Max Length 53 ft.
| Max Width 8.5 ft. | Max Height 8.5 ft.
Max Weight: 48,000 lbs. Max Length 53 ft. |
Max Width 8.5 ft. | Max Height 11 ft.
Max Weight: 45,000 lbs. | Max Length 29 ft.
| Max Width 8.5 ft. | Max Height 11.5 ft.
HEAVYHAULERS.COM
START YOUR SHIPMENT TODAY!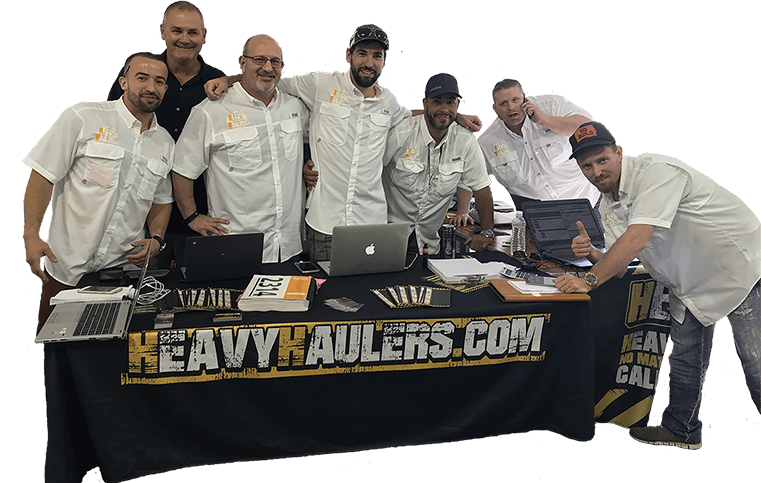 We Are Ready To Help You Haul Your Equipment!
See what you need?
Call us for a FREE Shipping Estimate at (800) 908-6206