Effective, Expert Roof Trusses Hauling Services with Heavy Haulers
Heavy Haulers, a leading company in the transport industry, intends to ship your roof trusses with maximum convenience. Allow us to do it at any time of the week since our experts are available from Sunday to Sunday. Once you pick a day that is ideal for you, we will create an efficient plan to make sure that the hauling process goes smoothly.
With Heavy Haulers' insurance, your cargo will be protected throughout the entire delivery process. To see to it that the roof trusses are safe even after delivery, we will help with professional unloading to your desired storage space. Call now! (800) 908-6206
Contact Our Expert Shipping Specialist's
(800) 908-6206
Local and International Roof Trusses Transporting with Heavy Haulers
Regardless of your location in the United States, Canada, or Mexico, Heavy Haulers can move your roof trusses with ease. We have experts in all the states, and we even move shipments across borders at your request.
Roof trusses are structural frameworks that are built to support roofs. There are various types available, and the one you choose depends on the types of buildings you have and your individual preferences.
Common Types of Roof Trusses Heavy Haulers Moves
● Raised Tie Truss
● Gable Truss
● Hip Truss
● Gambrel Truss
● Flat Truss
● Raised Heel Truss
● North Light Roof Truss
● Attic Truss
● Scissor Truss
● Queen Post Truss
● Fink Truss
● Mono Pitch Truss
How to Ship Roof Trusses with Heavy Haulers
Call (800) 908-6206 to let Heavy Haulers know whenever you need to move roof trusses to any part of North America, Canada, and Mexico. To ensure that your shipment doesn't fall apart or damaged while we ship it, we use advanced handling equipment and trailers that best fit the size and weight of the roof truss. Additionally, we assign the task to our professionals who have a lot of experience in transporting roof trusses.
Our drivers on the road will keep in touch with our team of logistics to make tracking your cargo easy, and you can contact us when you need the location details of your roof trusses. On our way, we will call you to notify you about our arrival time. Once we arrive at your construction site, we will call you immediately and even help you unload the roof truss safely.
Common Roof Trusses Heavy Haulers Transports
Gable Trusses
Gable trusses are roof-framing systems that support the roofing material by distributing the weight to its ends. Gable trusses is the most basic roofing structure that features vertical planes and slanting planes on both sides that meet at a midpoint. Dropped gables, transitional, Dutch hip, and Boston Hips are some common design examples.
Hip Truss
A hip truss is a roof frame with both sides sloping gently toward the walls. Such a truss design doesn't feature any vertical gables. Hence, a structure acquires a hipped roof shape. Hip trusses can also be used to create a flat section between sloping sides, especially when achieving the overall height may be a problem.
Scissor Roof Truss
Scissor roof truss features bottom members that cross one another to connect to the angled chords on the sides at an intermediate point. A cross-section view of a scissors roof truss shows the bottom chords forming an X-shaped design, just like a scissors appears.
Attic Truss
Attic truss, also referred to as "room in roof trusses," this structural roofing design comes complete with a floor to offer an additional living space. An advantage of using an attic truss design is that you don't have to change the architectural integrity of a building design to extend roof ceiling space.
Mono Truss
Mono means single. Therefore, mono truss is a type of roof truss that has only one roofing surface. It forms a right-angled triangle. Mono trusses are commonly used to achieve multi-leveled roof lines but can also be excellent options for an existing building. The design of a mono truss is aesthetic and allows more natural light into the room.
North light Roof Truss
North light roof trusses are designed with an extended sloping side that faces the north or north-east to optimize natural light. North light roof trusses are traditionally purposed for industrial-grade workshops. Within the frame are potions that run perpendicular to the angled chords to offer bigger, column-free, triangular spaces.
Flat Truss
A flat truss is a steel or wooded roof frame with straight bottom chords that form triangular shapes with the cross beams and ceiling posts. Flat trusses are tightly connected using sturdy purlins to reinforce the framing system. They are used in buildings such as warehouses and hangars, etc.
Gambrell truss
This kind of truss is characterized by two sloping sides on both sides of the peak. It is a type of frame that works to efficiently transfer the weight of the load to the walls of the building. Most barns, sheds, hangars, and Colonial-era homes feature this type of roof truss.
See what you need?
Call us for a FREE Shipping Estimate at (800) 908-6206
Looking For Transport
With a Specific Trailer?

Max Weight: 150,000+ lbs. | Main Deck Length 29 ft.
| Well Width 8.5 ft. | Legal Height Limit 11.6 ft.

Max Weight: 48,000 lbs. | Max Length 53 ft.
| Max Width 8.5 ft. | Max Height 8.5 ft.
Max Weight: 48,000 lbs. Max Length 53 ft. |
Max Width 8.5 ft. | Max Height 11 ft.
Max Weight: 45,000 lbs. | Max Length 29 ft.
| Max Width 8.5 ft. | Max Height 11.5 ft.
HEAVYHAULERS.COM
START YOUR SHIPMENT TODAY!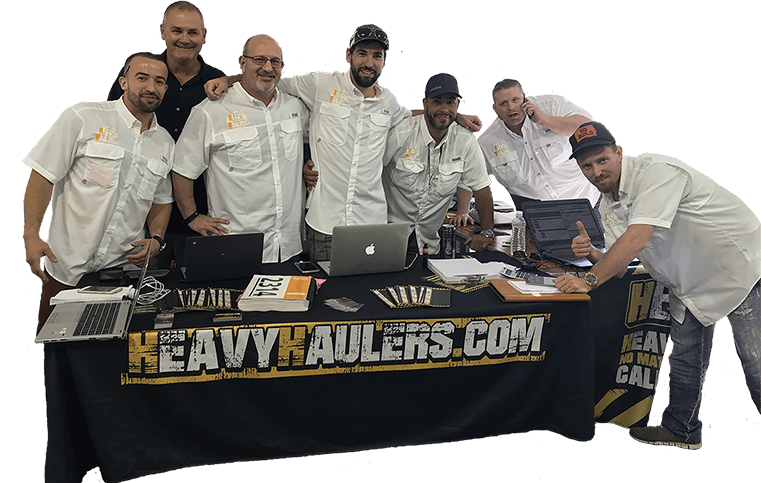 We Are Ready To Help You Haul Your Equipment!
See what you need?
Call us for a FREE Shipping Estimate at (800) 908-6206