Incomparable Stone Materials Shipping with Heavy Haulers
Delayed shipping of stone materials to a construction site can interfere with the construction activities' smooth running. To eliminate such cases, you should choose a reputable logistics company such as Heavy Haulers to transport your stone materials within the agreed timeline. When working with Heavy Haulers, you are guaranteed timely, reliable, and convenient transport and delivery to the right destinations.
Are there special considerations while towing your stone materials? Do not fret. At Heavy Haulers, we pay attention to your directives and requirements to ensure that your load is transported and delivered safely. We intend to make your shipping process as hassle-free as possible. On this ground, we will do all the heavy lifting as you relax and await the confirmation of the safe and timely towing and delivery of your stone materials. Let's get started! (800) 908-6206
Contact Our Expert Shipping Specialist's
(800) 908-6206
Efficient Stone Materials Towing with Heavy Haulers
At Heavy Haulers, distance does not intimidate us. We efficiently transport stone materials even to the most remote states of America and across the borders and into Mexico and Canada. Heavy Haulers have invested in state-of-the-art towing equipment and professional drivers, trained and experienced in offering top-notch towing services to our clients. They are experienced in shipping stone materials through the most challenging roads and routes to the most interior construction sites.
Stone materials are sustainable and essential components used in construction works, including large engineering projects such as road and bridge construction. Stone materials are varied in uses and applicability. While some stone materials are used as principal ingredients in foundation works, others are used during the building of the wall, and yet others are efficient in paving slabs. The applicability of various stone materials also varies with their strength and durability. Call now! (800) 908-6206
Common Stone Material Heavy Haulers Transports
At heavy Haulers, we transport a wide range of stone material encompassing:
● Flagstone
● Limestone
● Granite
● Marble
● Crushed stone
● Slate
● Sandstone
● Firepit stones
How to Ship Your Stone Material with Heavy Haulers
At Heavy Haulers, customer satisfaction is our greatest commitment. If you have a load of stone materials, you need to haul to the construction sites, no matter the location, we are the shipping gurus. We will offer you shipping advice and information, and if you allow us, we will haul your stone materials with the utmost professionalism and expertise. Heavy Haulers are committed to building long-term relationships with our clients. As such, we will do all it takes to keep you satisfied and pleased with our shipping services. Call now! (800) 908-6206
Concrete Pavers
Concrete pavers are formed by combining cement and aggregate stone or gravel. It is a paving structure formed by a vibration process meant to mix two materials that have different densities. Color can be added to the mix to add an attractive character to it, before being molded into various shapes and sizes.
Flagstones
A flagstone represents any sedimentary flat stone split and cut into distinct shapes and laid into patterns on the floor. Most homeowners use flagstones to convey the beauty and authenticity of their outdoor space. If you are looking for the best ways to spice up your landscape, try laying out flagstones into unique patterns.
Limestone
Limestone is a highly valued constituent in construction as a building material. Limestone is strong, durable, and weather-resistant, making it an optimal choice when selecting construction materials. It is also essential in construction of heavy-duty facilities such as roads and bridges. Besides, limestone is a cost-effective substitute for solid stone
Granite
Granite has become more prevalent in the construction and finishing of buildings. It is water-resistant, durable, and visually appealing, making it a top choice for kitchen surfaces and floors. There is no hard work in attaining and retaining the shine as granite is naturally shiny. It is also durable, stain, and heat resistant.
Marble
Marble is the most heat resistant natural stone material. With a little spending power, marble is your top choice for the most durable, unique, and elegant flooring and interior decoration. Cleaning and maintaining a spectacular look in your interior surfaces is easy with marble than any other stone material.
Crushed Stone
Crushed stone is an essential component of cement and lime. It is also a requirement at various building and construction levels, particularly in road construction and maintenance. Crushed stone is naturally coarse. Thus, it is a safe option for homeowners and building contractors aiming for backyards or driveways with top
Slate
Slate is another building material in the spotlight from its beauty and durability. Slate is an excellent roofing and cladding constituent cupped with weather-resistant features that set it aside from other materials. For architectures and homeowners who value environmental stability, slate is one of the most environmentally friendly architectural materials.
Sandstone
Sandstone has been a popular building and paving constituent since back in time. As a building material, sandstone is robust, durable, and resistant to weathering, thus more preferred as foundation stones and stone walls. Sandstone flooring and finishes are easy to clean and maintain, therefore overly proffered for interior design.
Firepit Stones
Fire pits offer incredible warmth and comfort during the cold, chilly seasons. With the right fire pit stones for construction, a firepit is also an elegant complement to your backyard. Fire and heat resistant firepit stones are the ideal choices for constructing the inner walls of a fireplace.
Looking For Transport
With a Specific Trailer?

Max Weight: 150,000+ lbs. | Main Deck Length 29 ft.
| Well Width 8.5 ft. | Legal Height Limit 11.6 ft.

Max Weight: 48,000 lbs. | Max Length 53 ft.
| Max Width 8.5 ft. | Max Height 8.5 ft.
Max Weight: 48,000 lbs. Max Length 53 ft. |
Max Width 8.5 ft. | Max Height 11 ft.
Max Weight: 45,000 lbs. | Max Length 29 ft.
| Max Width 8.5 ft. | Max Height 11.5 ft.
HEAVYHAULERS.COM
START YOUR SHIPMENT TODAY!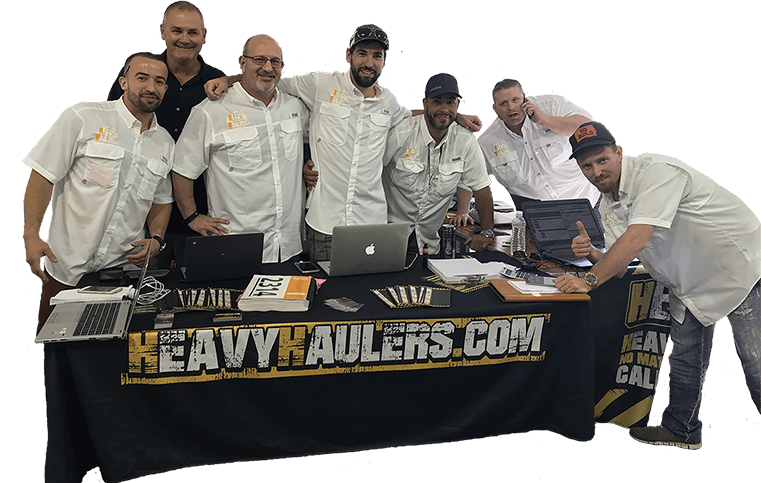 We Are Ready To Help You Haul Your Equipment!
Common Equipment Heavy Haulers Transports
Trust Heavy Haulers to transport any brand of equipment you own. Most of our drivers are experienced heavy-machinery operators who can safely maneuver your loads aboard our trailers. Some of the brands we have shipped include:
See what you need?
Call us for a FREE Shipping Estimate at (800) 908-6206