Exceptional Fiberglass Transport Solutions
Moving heavy pieces of fiberglass products is not the same as moving lumber or boxed cargo. Shipping such freight requires you to partner with qualified and well-equipped heavy equipment transporters. We understand why you are here. Lucky for you, we are a trustworthy and reliable shipping company that specializes in transporting overweight cargo and oversized loads. We have provided unparalleled, consumer-centric, and cost-effective transport solutions for over a decade. Hence, you can be sure that skilled professionals will handle your fiberglass goods because we have continually developed innovative shipping solutions with every hauling encounter we have undertaken.
Heavy Haulers is an authority freight-transport company that guarantees your cargo will reach the intended destination in time and safely. We are a licensed, bonded, and insured long-distance haulage firm. Our insurance policy is meant to offer sufficient compensation in case your cargo gets damaged or stolen while on transit. Besides, all drivers we choose for your fiberglass transport are insured. If that coverage is insufficient to cater to your losses, we back that up with a contingency cargo insurance. Hence, we are dedicated to ensuring that your goods reach you in one piece. Call now! (800) 908-6206
Contact Our Expert Shipping Specialist's
(800) 908-6206
Safety- and Security-First Fiberglass Hauling Solutions
Heavy Haulers has high regard for your cargo's safety and everyone else in the loading and offloading site. We understand that exposure to fiberglass can lead to various health problems; not to mention the hazards that lurk around these works. Therefore, we invest in technologically-updated equipment; operated by trained technicians who adhere to industry standards and codes when handling the cargo.
Furthermore, we have experienced weight and leverage professionals who know exactly what to do when positioning your fiberglass goods, whether it a swimming pool or roofing material. They will work together with the loading crew to secure the cargo on the trailer using tie-down straps to ensure the load doesn't get damaged in-transit due to adverse road conditions. Let's get started! (800) 908-6206
Types of Fiberglass We Ship
Fiberglass is manufactured using a combination of various raw materials and glass fibers. The variability in materials gives different kinds of fiberglass varied properties. The common types include:
● A-glass
● C-glass
● E-glass
● S-glass
● AE-glass
● D-glass
● Advantex glass fiber
● ECR glass
● AR glass
● R-glass
● T-glass
● M-glass
● S2 glass
● Z-glass fiber
How to Transport Fiberglass with Heavy Haulers
Fiberglass pools, roofing materials, and windows, etc., come in a wide range of shapes and sizes. Successful shipping starts with the use of project-specific equipment. In the loading and unloading sites, our technicians will use cranes and chains to hoist the cargo on the trailer. Once positioned in place, we use quality tie-down straps to secure the load on the trailer floor. Later, we will couple the trailer with a capable cab, driven by an industry-seasoned driver for timely and safe delivery. Call now! (800) 908-6206
Looking For Transport
With a Specific Trailer?

Max Weight: 150,000+ lbs. | Main Deck Length 29 ft.
| Well Width 8.5 ft. | Legal Height Limit 11.6 ft.

Max Weight: 48,000 lbs. | Max Length 53 ft.
| Max Width 8.5 ft. | Max Height 8.5 ft.
Max Weight: 48,000 lbs. Max Length 53 ft. |
Max Width 8.5 ft. | Max Height 11 ft.
Max Weight: 45,000 lbs. | Max Length 29 ft.
| Max Width 8.5 ft. | Max Height 11.5 ft.
HEAVYHAULERS.COM
START YOUR SHIPMENT TODAY!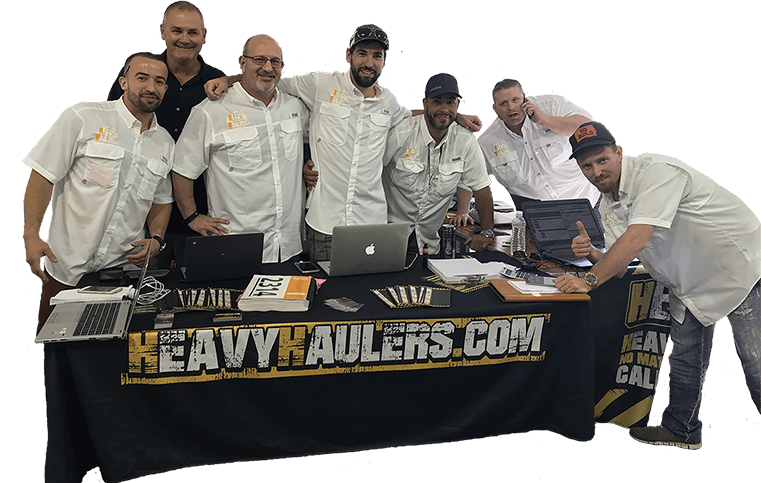 We Are Ready To Help You Haul Your Equipment!
Common Equipment Heavy Haulers Transports
Trust Heavy Haulers to transport any brand of equipment you own. Most of our drivers are experienced heavy-machinery operators who can safely maneuver your loads aboard our trailers. Some of the brands we have shipped include:
See what you need?
Call us for a FREE Shipping Estimate at (800) 908-6206