Shipping Metal Building with The Experts
Metal building transport requires ardent expertise and knowledge of the products and processes. At Heavy Haulers, we ship metal buildings across States following efficient and safe procedures. Our strict adherence to safety and standardized operating procedures has granted the company a competitive edge across the shipping industry. We have shipped metal buildings across North American, Mexico, and Canada to different job sites with relative ease throughout our years of operation. Heavy Haulers have advanced handling equipment and tractors that allow reliable and speedy hauling of metal buildings.
We work with licensed drivers with immense expertise in the transportation of metal buildings. For instance, when the buildings require refabricated metal sheets and structures, our drivers have transported such material before. With the knowledge from previous gigs, the drivers will know the best way to handle the materials in every step of the hauling process. This way, our clients enjoy superior trucking services with friendly experts. Let's get started! (800) 908-6206
Contact Our Expert Shipping Specialist's
(800) 908-6206
Get a Quote and Ship Your Metal Building with Us.
Our experts are present in all the states from Tennessee to Oregon or Nevada to Vermont. We ship your metallic building to the destination of your choice. We not only pride in unrivaled expertise but also affordable quotes for our services. You can go to our website to view our competitive prices and allow us to have the shipping done while you invest more time into your business.
Metal buildings are steel structures with easy installations that can be used for residential or commercial purposes as an alternative to the traditional buildings. They are also durable compared to conventional construction materials. Since most of the structures come in the same size, weight, and shape, transporting them is relatively easy. With seasoned drivers and state-of-the-art hauling equipment, we are an ideal partner to your business and residential metal building shipping needs.
Common Types of Metal Buildings Heavy Haulers Ship
● Metal Units for Barns
● Garages Refabricated Structures
● Metal Buildings for Workshops
● Storage Units Metal Buildings
How to Ship Metal Buildings with Heavy Haulers
Shipping Metal buildings may seem like a complicated affair. However, at Heavy Haulers, we simplify everything to ensure that our clients become our long-term partners. Our pricing, optimizing routes, acquiring permits, and handling all paperwork put our clients' interest first. After calling us and making the necessary arrangements with our logistic teams, all you need to do is sit back, rest easy, and use our tracking software to follow our flawless delivery of your metal buildings to your desired location. Let's get started! (800) 908-6206
Looking For Transport
With a Specific Trailer?

Max Weight: 150,000+ lbs. | Main Deck Length 29 ft.
| Well Width 8.5 ft. | Legal Height Limit 11.6 ft.

Max Weight: 48,000 lbs. | Max Length 53 ft.
| Max Width 8.5 ft. | Max Height 8.5 ft.
Max Weight: 48,000 lbs. Max Length 53 ft. |
Max Width 8.5 ft. | Max Height 11 ft.
Max Weight: 45,000 lbs. | Max Length 29 ft.
| Max Width 8.5 ft. | Max Height 11.5 ft.
HEAVYHAULERS.COM
START YOUR SHIPMENT TODAY!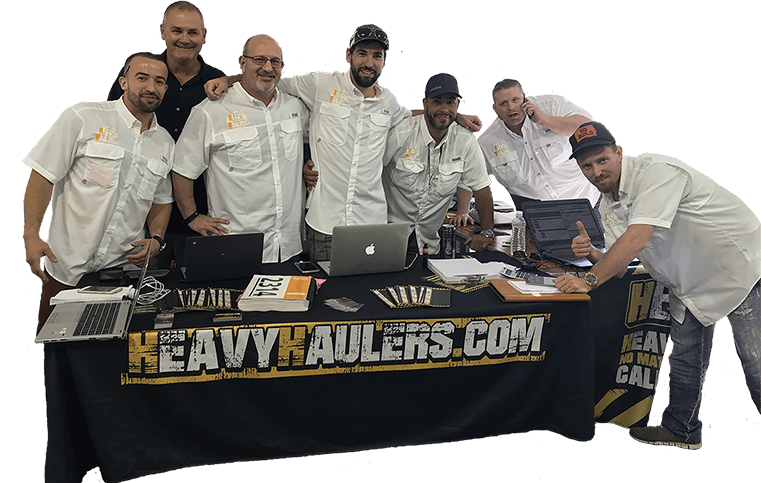 We Are Ready To Help You Haul Your Equipment!
Common Equipment Heavy Haulers Transports
Trust Heavy Haulers to transport any brand of equipment you own. Most of our drivers are experienced heavy-machinery operators who can safely maneuver your loads aboard our trailers. Some of the brands we have shipped include:
See what you need?
Call us for a FREE Shipping Estimate at (800) 908-6206