Nationwide Carnival Game Trailer Transport
If you operate a carnival game trailer in a theme park or are a part of a moving circus, one of the significant challenges is to ship your trailer safely to your next event venue. Whether you manage one or multiple trailers, Heavy Hauler is your trustworthy shipping company with the capability and equipment to safely transport your carnival game trailer.
Heavy Haulers boasts of being one of the leading, nationally acclaimed heavy hauling companies. Thanks to our nationwide network of shipping services, we've been helping clients ship heavy loads throughout the United States. We have branches in over 50 states in the country as well as Canada and Mexico. That means we're an authoritative hauling company, and you can rely on us to choose the best transport solutions for your trailer.
Contact Our Expert Shipping Specialist's
(800) 908-6206
Extensive Safety Protocols for Carnival Trailer Hauling
A carnival game trailer is customized with various games that event-goers can indulge in as part of their carnival enjoyment. It can fit 12-15 players at a time, allowing them to compete against each other for added fun. Transporting a money-generating trailer like that requires high adherence to safety protocols. That's precisely what we do. We use state-of-the-art rigs equipment, and safety gear to ensure your cargo's and our transport crew's safety.
Moreover, we are a licensed, bonded, and insured heavy trucking company, so you're cushioned from any financial implications in case of cargo theft, loss, damage, or accident. Each driver we partner with is insured, which mandates them to transport your cargo with safety in mind.
How to Ship a Carnival Game Trailer with Heavy Haulers
A typical carnival trailer measures about 30 ft. in length and 15 ft. in width and height. We safely transport trailers of such dimensions on a step-deck trailer, although it will require our agents' ingenuity and creativity to maintain a legal load. Our leverage and weight experts will use cranes to lift and position the carnival trailer and then tie it down using study synthetic straps and chains. Once everything is in check, we'll task a seasoned and insured driver to transport the cargo, of course, with close communications with our logistics crew.
Looking For Transport
With a Specific Trailer?

Max Weight: 150,000+ lbs. | Main Deck Length 29 ft.
| Well Width 8.5 ft. | Legal Height Limit 11.6 ft.

Max Weight: 48,000 lbs. | Max Length 53 ft.
| Max Width 8.5 ft. | Max Height 8.5 ft.
Max Weight: 48,000 lbs. Max Length 53 ft. |
Max Width 8.5 ft. | Max Height 11 ft.
Max Weight: 45,000 lbs. | Max Length 29 ft.
| Max Width 8.5 ft. | Max Height 11.5 ft.
HEAVYHAULERS.COM
START YOUR SHIPMENT TODAY!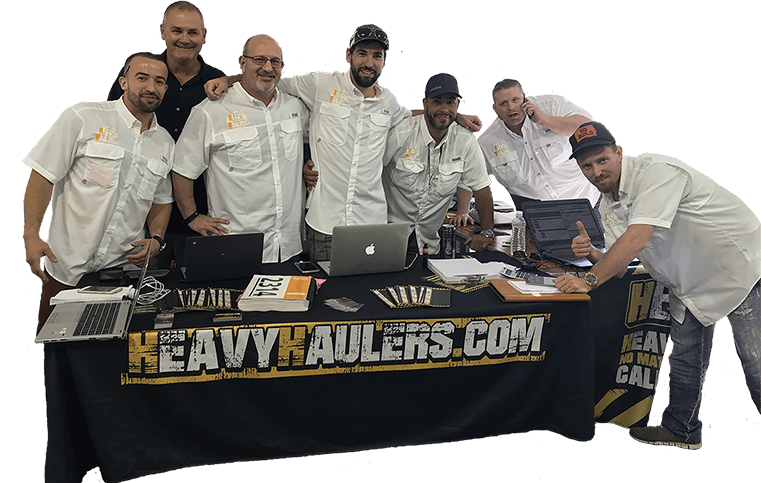 We Are Ready To Help You Haul Your Equipment!
Common Mobile Home and Office Manufacturers We Transport
Abtech - American Homestar - Art Gallery Trailer Transport - Blue Homes - Champion Home Builders - Clayton Homes - Custom Modular Direct - Design Space - Express Modular - FCP - Icon Legacy - Method Homes - Nationwide Homes - Par-Kut International - Starrco
See what you need?
Call us for a FREE Shipping Estimate at (800) 908-6206