Dedicated Mobile DJ Trailer Hauling Solutions
Entertainers prefer mobile DJ trailers because of their movability. However, hauling a DJ trailer from one event to another is a major hurdle, and that's where Heavy Haulers comes into play. We're ready to ship your trailer with the utmost professionalism, ensuring that the trailer, and all its internal equipment and connections, reach your preferred receiving site in the same condition we picked it up.
Providing client-focused heavy hauling services is one thing that gives us a competitive edge. Once you contact us, we will assign a dedicated agent to handle your shipment. They'll assess your mobile DJ trailer and find a suitable transportation option. We also ensure that the agent you start working with will be the same agent you'll deal with throughout the shipping process, from pick-up to delivery. Call for a mobile DJ trailer transport rate now! (800) 908-6206
Contact Our Expert Shipping Specialist's
(800) 908-6206
Hauling Your Mobile DJ Trailer with High Adherence to Compliance Standards
As the name suggests, a mobile DJ trailer is a movable, custom trailer used by DJs on various entertainment gigs. Once an event is over, they pack and store the equipment in the trailer for easy moving. At Heavy Haulers, we provide shipping services within the confines of DOT compliance standards. Even with a relatively wider trailer, we can securely position it on a trailer system without going against any traffic laws.
We are branched out in over 50 states in the United States, Canada, and Mexico. Each state has its own DOT rules governing heavy trucking, and that's why we staff every state office with logistics agents who're knowledgeable about rules and regulations. We maintain a well-coordinated logistics network in North and Central America, enabling us to transport your cargo across state borders seamlessly. Let's get your mobile DJ trailer hauled today! (800) 908-6206
How to Ship a Mobile DJ Trailer with Heavy Haulers
Mobile DJ trailers come in different sizes, some measuring a length of 15-30 ft. However, they measure a maximum height and width of 8.5 ft., which means we can easily transport them on flatbed trailers. Nonetheless, we'll first ensure that any detachable equipment is removed and all wiring connections secured before loading it on our trailer. We have capable cranes to lift and position the load, and afterward, secure it using sturdy tie-down chains. An industry-seasoned driver will then take over the transportation to the destination of your choosing.
Looking For Transport
With a Specific Trailer?

Max Weight: 150,000+ lbs. | Main Deck Length 29 ft.
| Well Width 8.5 ft. | Legal Height Limit 11.6 ft.

Max Weight: 48,000 lbs. | Max Length 53 ft.
| Max Width 8.5 ft. | Max Height 8.5 ft.
Max Weight: 48,000 lbs. Max Length 53 ft. |
Max Width 8.5 ft. | Max Height 11 ft.
Max Weight: 45,000 lbs. | Max Length 29 ft.
| Max Width 8.5 ft. | Max Height 11.5 ft.
HEAVYHAULERS.COM
START YOUR SHIPMENT TODAY!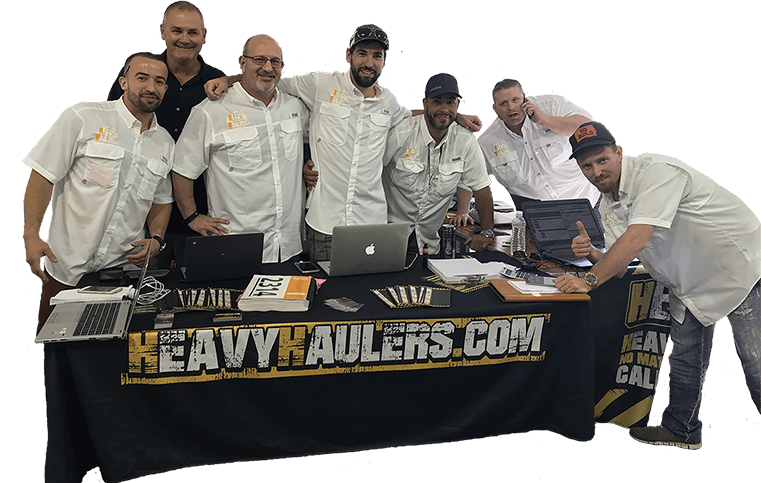 We Are Ready To Help You Haul Your Equipment!
Common Mobile Home and Office Manufacturers We Transport
Abtech - American Homestar - Art Gallery Trailer Transport - Blue Homes - Champion Home Builders - Clayton Homes - Custom Modular Direct - Design Space - Express Modular - FCP - Icon Legacy - Method Homes - Nationwide Homes - Par-Kut International - Starrco
Common Equipment Heavy Haulers Transports
Trust Heavy Haulers to transport any brand of equipment you own. Most of our drivers are experienced heavy-machinery operators who can safely maneuver your loads aboard our trailers. Some of the brands we have shipped include:
See what you need?
Call us for a FREE Shipping Estimate at (800) 908-6206