Client-Focused and Insured Mobile Casino Trailer Transport
A mobile casino trailer is a money-generating rig that you move around. There comes a time when you need to ship it across town or state, and that's when you need quality shipping solutions from a reputable company. Heavy Haulers is your trusted heavy hauler with over ten years of experience in the industry. What began as a home-office hauling company is today a recognized trademark brand, and we are happy to serve to offer unmatched mobile casino trailer shipping.
Heavy Haulers relishes the business you bring to us. We always put the client at the core of everything we do to satisfy all your shipping needs. Do you have any special requests? We can customize our hauling solutions to suit your expectations. Get your mobile casino transport quote today! (800) 908-6206
Contact Our Expert Shipping Specialist's
(800) 908-6206
Shipping Mobile Casino Trailer with Safety in Mind
Unlike a brick-n-mortar casino, a mobile casino trailer lets you move the casino from one place to another because it's built on wheels. Transporting equipment like that requires high adherence to safety protocols. Heavy Haulers has high safety measures to safeguard your cargo, and our transport crews are safe. We'll inspect the brakes, communication lines, and other equipment to ensure they are working correctly. All members of our staff have access to safety gear. As a result, the cargo moves seamlessly to its destination.
Although we transport heavy equipment, we do it efficiently. We wouldn't want to ruin your plans by delivering the load late. We prevent that by reporting at the pick-up point in time, equipped with all the necessary equipment and rigs. That allows us to start t journey early and deliver the cargo on time. Call to ship your mobile casino trailer today! (800) 908-6206
How to Ship a Mobile Casino Trailer with Heavy Haulers
Mobile casino trailers come in all sorts of sizes. If your mobile casino measures less than 8.5 ft. in width and height, we'll transport it on a standard flatbed trailer. Larger trailers measuring 11 ft. and 8.5 ft. in height and width are transported in a step-deck trailer to maintain a legal height.
Looking For Transport
With a Specific Trailer?

Max Weight: 150,000+ lbs. | Main Deck Length 29 ft.
| Well Width 8.5 ft. | Legal Height Limit 11.6 ft.

Max Weight: 48,000 lbs. | Max Length 53 ft.
| Max Width 8.5 ft. | Max Height 8.5 ft.
Max Weight: 48,000 lbs. Max Length 53 ft. |
Max Width 8.5 ft. | Max Height 11 ft.
Max Weight: 45,000 lbs. | Max Length 29 ft.
| Max Width 8.5 ft. | Max Height 11.5 ft.
HEAVYHAULERS.COM
START YOUR SHIPMENT TODAY!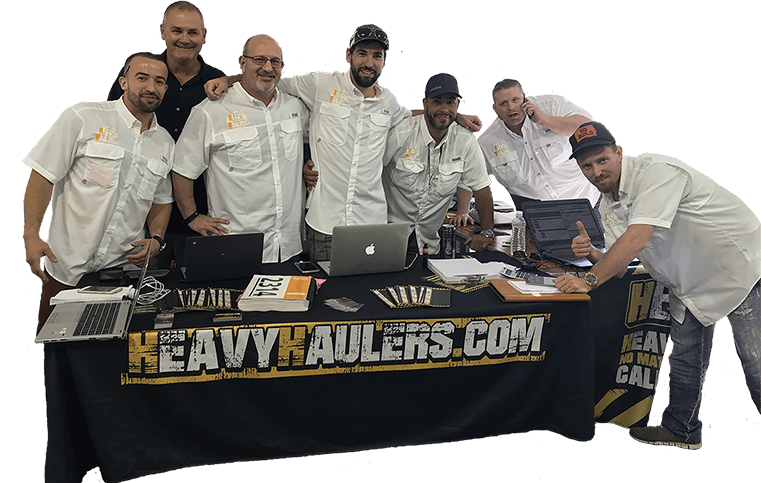 We Are Ready To Help You Haul Your Equipment!
Common Mobile Home and Office Manufacturers We Transport
Abtech - American Homestar - Art Gallery Trailer Transport - Blue Homes - Champion Home Builders - Clayton Homes - Custom Modular Direct - Design Space - Express Modular - FCP - Icon Legacy - Method Homes - Nationwide Homes - Par-Kut International - Starrco
Common Equipment Heavy Haulers Transports
Trust Heavy Haulers to transport any brand of equipment you own. Most of our drivers are experienced heavy-machinery operators who can safely maneuver your loads aboard our trailers. Some of the brands we have shipped include:
See what you need?
Call us for a FREE Shipping Estimate at (800) 908-6206