Client-Focused Mobile Display Trailer Hauling Solutions
Do you plan to ship your mobile display trailer to a trade fair across the city or a marketing project in another city? Heavy Haulers is here to ensure your mobile display trailer reaches your intended destination effectively and timely. We are a leading, nationwide-acclaimed hauling company with the capability of shipping out-of-the-norm loads and superloads. Therefore, you can mandate us to move your display trailer safely.
An upside to working with Heavy Haulers is that you get personalized shipping services. We are committed to all your needs and special requests. That's we'll first listen to your needs and expectations to customize our heavy-freight shipping services for you. Furthermore, we provide dedicated logistics to specifically plan and execute your shipment for maximum customer satisfaction. Get your mobile display trailer transport now! (800) 908-6206
Contact Our Expert Shipping Specialist's
(800) 908-6206
Efficient and Dependable Mobile Display Trailer Transport Solutions
There's nothing as disappointing as hiring a shipping company only to have your load delivered later than you expected. Why experience all that trouble when you can partner with Heavy Haulers and experience efficient services. We promise to arrive at the pick-up site on time, ready with all the equipment, trailer, and loading machines. We'll adhere to the shipping timeline during transportation so that your cargo reaches your chose delivery location in time.
Our services are steeped in high-technology communication protocols, not only in-house but also to our clients. Therefore, you contact us any time of the day for inquiries about your in-transit mobile display trailer or answers about the shipment. We do that to ensure you're at peace from start to finish. Get your mobile display trailer shipping rate today! (800) 908-6206
How to Ship a Mobile Display Trailer with Heavy Haulers
We work hard to provide our clients with a hassle-free experience when you haul a mobile display trailer with us. You only need to contact us and speak to one of our logistics agent agents. Tell us about your load's dimensions, the pick-up location, and the delivery area. We'll then coordinate plan the shipment. That involves route surveys, obtaining permits, finding a suitable trailer system, among others. Once we have everything in place, we'll dispatch the rigs and loading equipment to the pick-up location, where our weight and leverage professionals will hoist and position the display trailer on the trailer system. Once secured, we'll transport it to your destination.
Looking For Transport
With a Specific Trailer?

Max Weight: 150,000+ lbs. | Main Deck Length 29 ft.
| Well Width 8.5 ft. | Legal Height Limit 11.6 ft.

Max Weight: 48,000 lbs. | Max Length 53 ft.
| Max Width 8.5 ft. | Max Height 8.5 ft.
Max Weight: 48,000 lbs. Max Length 53 ft. |
Max Width 8.5 ft. | Max Height 11 ft.
Max Weight: 45,000 lbs. | Max Length 29 ft.
| Max Width 8.5 ft. | Max Height 11.5 ft.
HEAVYHAULERS.COM
START YOUR SHIPMENT TODAY!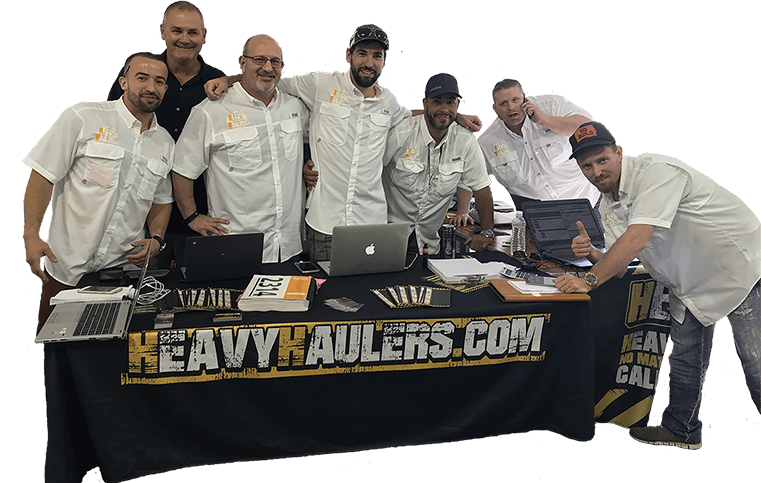 We Are Ready To Help You Haul Your Equipment!
Common Mobile Home and Office Manufacturers We Transport
Abtech - American Homestar - Art Gallery Trailer Transport - Blue Homes - Champion Home Builders - Clayton Homes - Custom Modular Direct - Design Space - Express Modular - FCP - Icon Legacy - Method Homes - Nationwide Homes - Par-Kut International - Starrco
Common Equipment Heavy Haulers Transports
Trust Heavy Haulers to transport any brand of equipment you own. Most of our drivers are experienced heavy-machinery operators who can safely maneuver your loads aboard our trailers. Some of the brands we have shipped include:
See what you need?
Call us for a FREE Shipping Estimate at (800) 908-6206