Trusted Mobile Business Trailer Hauling Solutions
Your mobile business trailer is a valuable asset to you. Transporting it to another destination can be challenging, especially if you don't know where to start. You can hedge your bet on its safe shipping by leveraging Heavy Haulers' unparalleled and trusted hauling services. We've been in the heavy-freight hauling sector for over 12 years. With such industrial experience, you can be sure that we'll transport your mobile business trailer efficiently and safely.
While many hauling companies solicit upfront costs from clients, Heavy Haulers operates differently. We don't ask for upfront payments. Neither do we lowball our solutions to match a small budget. That's not in our DNA. Once you contact us and tell us your cargo details, we'll immediately draw a transparent quote, select the right trailer system, and a seasoned trucking driver who can professionally haul the load to your chosen receiving area. Get your business trailer transport quote today! (800) 908-6206
Contact Our Expert Shipping Specialist's
(800) 908-6206
Client-Focused and Timely Mobile Business Trailer Transport
A mobile business trailer is a customized container on wheels used for business. It can be a barbershop, food vending trailer, boutique store, phone repair shop, among others. We understand what your business trailer means to you, and we'll ship it with the same level of care you'd give it. Every service we render is centered on the client. We will assign a dedicated logistics agent who'll focus solely on shipping your trailer with our unmatched hauling solutions.
Not only are we passionate about heavy equipment, such as mobile business trailers, but we also love it when we expedite the cargo efficiently. We achieve that by confining ourselves to the timeline indicated in the quote. That compels us to arrive at the pick-up site on time to prepare and load your mobile business trailer. That enables us to travel and deliver it within the time we agreed. Call now for a shipping rate today! (800) 908-6206
How to Ship a Mobile Business Trailer with Heavy Haulers
Many mobile business trailers measure between 7-8 ft. in width and height and a length of 16-20 ft., although they might be longer. A mobile trailer of such dimension is typically hauled on a standard flatbed trailer. However, we'll empty any loose items or equipment inside the trailer and then secure it using strong chains and synthetic tie-down straps. Afterward, an insured, trained, and experienced driver will take over the transportation to your intended delivery area.
Looking For Transport
With a Specific Trailer?

Max Weight: 150,000+ lbs. | Main Deck Length 29 ft.
| Well Width 8.5 ft. | Legal Height Limit 11.6 ft.

Max Weight: 48,000 lbs. | Max Length 53 ft.
| Max Width 8.5 ft. | Max Height 8.5 ft.
Max Weight: 48,000 lbs. Max Length 53 ft. |
Max Width 8.5 ft. | Max Height 11 ft.
Max Weight: 45,000 lbs. | Max Length 29 ft.
| Max Width 8.5 ft. | Max Height 11.5 ft.
HEAVYHAULERS.COM
START YOUR SHIPMENT TODAY!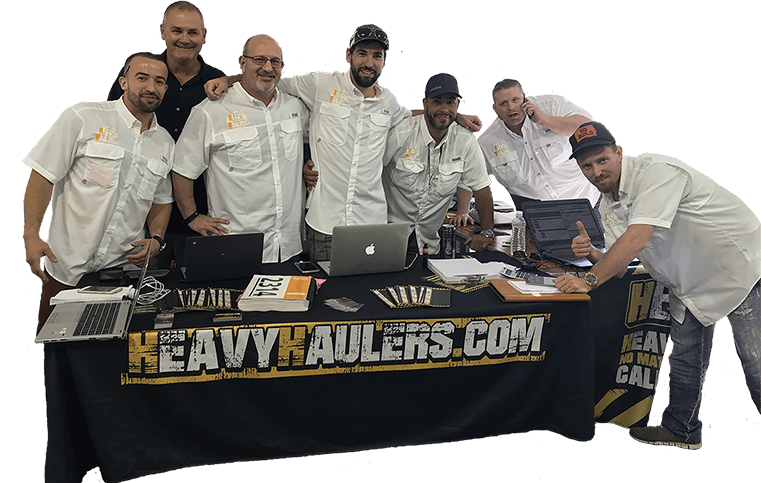 We Are Ready To Help You Haul Your Equipment!
Common Mobile Home and Office Manufacturers We Transport
Abtech - American Homestar - Art Gallery Trailer Transport - Blue Homes - Champion Home Builders - Clayton Homes - Custom Modular Direct - Design Space - Express Modular - FCP - Icon Legacy - Method Homes - Nationwide Homes - Par-Kut International - Starrco
Common Equipment Heavy Haulers Transports
Trust Heavy Haulers to transport any brand of equipment you own. Most of our drivers are experienced heavy-machinery operators who can safely maneuver your loads aboard our trailers. Some of the brands we have shipped include:
See what you need?
Call us for a FREE Shipping Estimate at (800) 908-6206