Let Heavy Haulers Transport Your Modular Homes and Houses Where They Needs to Be!
We are well experienced in trnasportation for Modular Homes. Our drivers have adequate skills and are competent to handle your equipment safely. We concentrate more on your happiness and satisfaction, and that is why we work with a team of specialists who will move your Modular home to any state in the United States, Canada or Mexico. Our trailers are efficient to load and offload your modular homes safely. Come to us and we'll make your logistics simple.
Before You Buy a Modular Home: Learn to Transport it
Modular home concept reduces construction time by half; you enter into your home faster and even cut the costs of acquiring a home. On average in one week, you're done with construction and the home is ready to be occupied. The site-built home takes many weeks to build and are quite expensive, let Heavy Haulers relieve more cost by transporting it safely without any extra expenses involved with working with a novice company to move your modular home.
Modular homes are customized to customer specifications, and you can be sure that they are of high-quality standards. They are well insulated thus are energy efficient and the finishes are finely done; this is because there is a very high specification on finishes and insulation for modular homes. Modular homes are ideal for young couples starting out, retirement homes and holiday homes. They can be relocated from one place to another.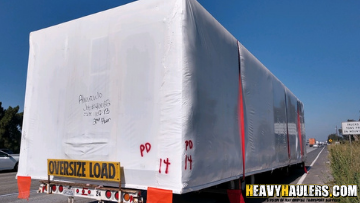 Contact Our Expert Shipping Specialist's
(800) 908-6206
Heavy Hauler Can Move Any Sized Modular Home Locally or Across The Country
Heavy Haulers is licensed, bonded and insured to operate in all 50 states of the United States, Canada and Mexico. We specialize in transporting heavy construction equipment including modular homes,containers and trailers, and have been operating for over 10 years. We are conversant with state and federal freight requirements, and we will ensure that your modular home meets all freight requirements.
We have enough capacity to attend to all your needs. We have cranes, forklifts and enough trucks to ensure that your modular home is delivered within the agreed timelines, we do so by ensuring that the modular home arrives at the construction site safely and in time.
We also have a team of logistic experts who will help you determine the best truck/hitch option for your modular; they will then calculate the freight charges inclusive of the toll charges through the selected route at no charge for your cost and planning. Further, they will calculate the insurance charges for your modular and advise you on the best insurance option.
We have seven branches in the United States; each of these has an experienced coordinator that will ensure that your queries and requests are attended to effectively. You can also reach us on email at dispatch@Heavyhaulers.com or call us at (800)908-6206 from 7am through 10 pm EST, 7 days a week. We also have licensed drivers in all states and cities to pick and deliver your modular home.
We have a team of support staff with excellent communication and problem-solving skills. They will track, monitor and update you on the movement of your modular from pick up to destination.
HEAVYHAULERS.COM
START YOUR SHIPMENT TODAY!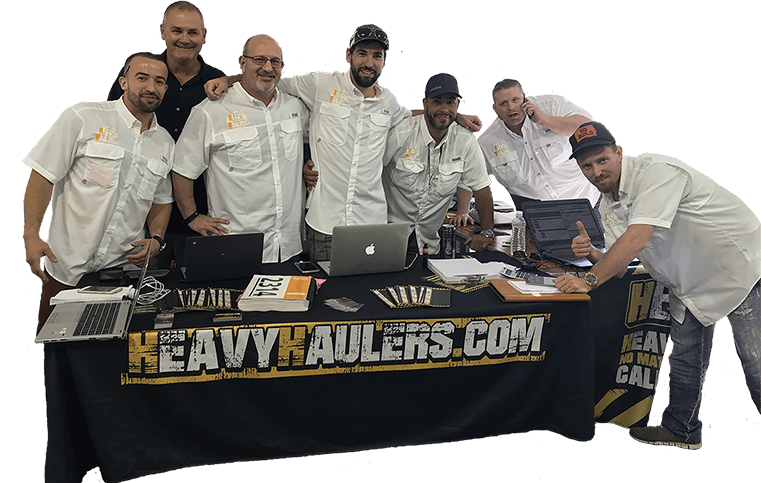 We Are Ready To Help You Haul Your Equipment!
Loading/Unloading, and Escort Services by Heavy Haulers For All Modular Home Moves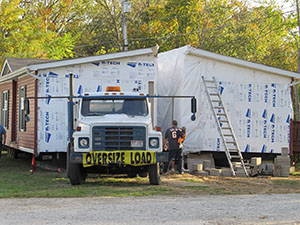 We offer pilot cars and escort cars for oversized modular homes. Our drivers are highly experienced to navigate traffic to ensure that your modular home arrives at the site safely. We have sufficient machinery to professionally load and unload safely on our truck. We offer other services related to break-down and set-up if needed.
How Much Does it Cost To Ship a Modular Home With Heavy Haulers?
Our pricing is transparent and negotiable. Our quote and invoice are itemized to give you a better view of what you are paying for. We do not undercut prices from other service providers. Our teams of logistics experts are able to provide you with a quote of your chosen path for your future planning without any obligation on your side; you will be obliged to the terms of delivery upon signing an agreement with us to deliver your modular home to your specified location.
At Heavy Haulers, we're dedicated to quality service, and we have been tested and found reliable and trustworthy. We have succeeded in this business due to our continued flexibility, increased capacity, a set of experienced logistics professionals and above all our focus to meeting customer needs satisfactorily and at a reasonable cost.
We invite you to entrust us to relocate your modular home if you intend to change your place of residence and we assure you that we will deliver it in the same condition. If you intend to own a home, consider buying a modular home and allow us to transport it for you to your specific location, we won't let you down!
Common Mobile Home and Office Manufacturers We Transport
Abtech - American Homestar - Blue Homes - Champion Home Builders - Clayton Homes - Custom Modular Direct - Design Space - Express Modular - FCP - Icon Legacy - Method Homes - Nationwide Homes - Par-Kut International - Starrco
Looking For Transport
With a Specific Trailer?

Max Weight: 150,000+ lbs. | Main Deck Length 29 ft.
| Well Width 8.5 ft. | Legal Height Limit 11.6 ft.

Max Weight: 48,000 lbs. | Max Length 53 ft.
| Max Width 8.5 ft. | Max Height 8.5 ft.
Max Weight: 48,000 lbs. Max Length 53 ft. |
Max Width 8.5 ft. | Max Height 11 ft.
Max Weight: 45,000 lbs. | Max Length 29 ft.
| Max Width 8.5 ft. | Max Height 11.5 ft.
We Can Ship Your Equipment Anywhere in the
US, Canada, and Mexico
Heavy Haulers Pilot Car Services
Are you looking for a reliable pilot car
for your transport?
Get Started