Trustworthy Nationwide Mobile Kitchen trailer Hauling Services
If you own a mobile kitchen trailer, moving it can be challenging when you don't have the required power cab and trailer. Heavy Haulers can help you haul the truck to any destination you desire, whether it's a move within the city or to another country. We are a nationally renowned heavy-freight shipping company with over 12 years in the industry. We've demonstrated an undying commitment to offering quality and dependable mobile kitchen shipping solutions throughout the years.
At Heavy Haulers, we properly plan every shipment project we undertake with a Plan B in mind. A contingency plan helps us to deal with any unforeseen circumstances that may delay your shipment. You also won't have to look for costly emergency transportation because your load got stuck along the way, which saves you money. Get your mobile kitchen trailer transport quote now! (800) 908-6206
Contact Our Expert Shipping Specialist's
(800) 908-6206
Dedicated and Timely Mobile Kitchen Trailer Transport Services
A mobile kitchen trailer is a movable custom-made trailer that allows people to cook and sell foods and beverages to consumers at various locations based on demand. Heavy Haulers the value of your kitchen trailer, and that's why we are dedicated to providing client-focused transport services for your kitchen trailer. We do that by providing a dedicated and knowledgeable logistics expert who'll work with you from start to finish. They'll plan the shipment, find a suitable trailer system, and coordinate with the transport team to ensure your food truck safely reaches your desired delivery area.
We work efficiently in a bid to deliver loads on time. Once we detail the project timeline, we'll start preparing. That involves obtaining the legal transport permits and ensuring we get the necessary equipment and rigs to the loading area in time. Our drivers are time-conscious, and they'll ensure they deliver the load on the agreed-upon time. Get your mobile kitchen trailer shipping quote now! (800) 908-6206
How to Ship a Mobile Kitchen Trailer with Heavy Haulers
Heavy Haulers provides you with a hassle-free means of hiring our mobile kitchen transport solutions. Once you contact us, we'll assign a qualified and experienced logistics expert to handle your concerns. They'll require details about the load, such as the dimensions, place of origin, and delivery location. Afterward, we'll look for a capable trailer and power cab for use in shipping.
Looking For Transport
With a Specific Trailer?

Max Weight: 150,000+ lbs. | Main Deck Length 29 ft.
| Well Width 8.5 ft. | Legal Height Limit 11.6 ft.

Max Weight: 48,000 lbs. | Max Length 53 ft.
| Max Width 8.5 ft. | Max Height 8.5 ft.
Max Weight: 48,000 lbs. Max Length 53 ft. |
Max Width 8.5 ft. | Max Height 11 ft.
Max Weight: 45,000 lbs. | Max Length 29 ft.
| Max Width 8.5 ft. | Max Height 11.5 ft.
HEAVYHAULERS.COM
START YOUR SHIPMENT TODAY!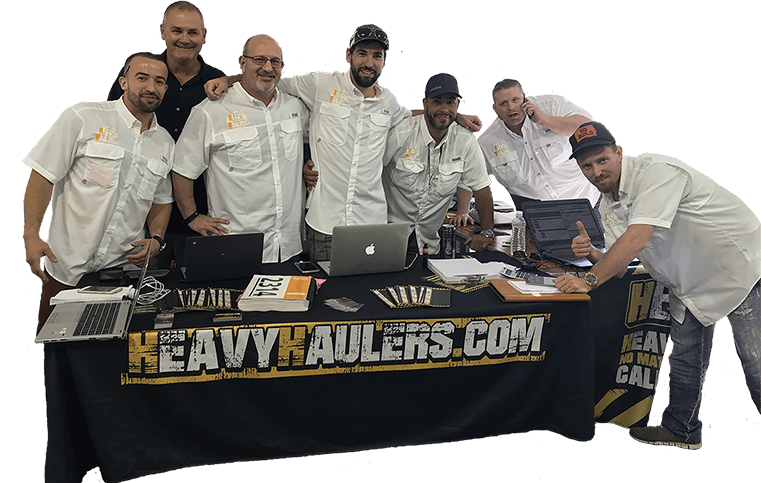 We Are Ready To Help You Haul Your Equipment!
Common Mobile Home and Office Manufacturers We Transport
Abtech - American Homestar - Art Gallery Trailer Transport - Blue Homes - Champion Home Builders - Clayton Homes - Custom Modular Direct - Design Space - Express Modular - FCP - Icon Legacy - Method Homes - Nationwide Homes - Par-Kut International - Starrco
Common Equipment Heavy Haulers Transports
Trust Heavy Haulers to transport any brand of equipment you own. Most of our drivers are experienced heavy-machinery operators who can safely maneuver your loads aboard our trailers. Some of the brands we have shipped include:
See what you need?
Call us for a FREE Shipping Estimate at (800) 908-6206