Top-Tier Mobile Woodshop Trailer Shipping Services
If you own a mobile woodshop trailer and need to transport it, then you've come to the right place. Heavy Haulers is your trusted and nationally recognized shipping company with the capability of shipping your mobile woodshop trailer to whichever destination you want within the United States, Canada, and Mexico. We have an office in each state, and you can take advantage of our professionalism and experience to ship your load safely.
Many heavy hauling companies claim to provide high-quality services, yet they lack the equipment to handle such large loads. At Heavy Haulers, we boast over 90,000 available carriers, and you can be sure that we'll find the right transport option for your custom woodshop trailer. Combine that with our close attention to details, and you can rest knowing that your trailer will reach your destination in one piece. Get your mobile woodshop trailer transport rate today! (800) 908-6206
Contact Our Expert Shipping Specialist's
(800) 908-6206
Efficient, Door-to-Door Mobile Woodshop Trailer Transport
A mobile woodshop trailer is a customized trailer where timber products and furniture are made. We'd love to keep your business going but ensuring we transport your mobile woodshop trailer efficiently. We promise to arrive at the pickup location within the agreed-upon time, enabling us to travel and deliver it on time.
We not only excel in efficient heavy hauling, but we also offer door-to-door deliveries. You won't have to worry about your load getting stuck halfway through the journey. Neither will you have to hassle for secondary shipping solutions. Heavy Haulers is the industry-leading mobile woodshop trailer transport company. Get your shipping rate today! (800) 908-6206
How to Ship a Mobile Woodshop Trailer
At Heavy Haulers, we ship mobile woodshop trailers on flatbed trailers because they feature the same dimensions as a standard container, although they vary in length. We have experienced weight and balance professionals who will use capable cranes to load and position the woodshop on a trailer system. We'll secure the load using tie-down straps and chains and then call upon an experienced, insured, and licensed driver to haul it to your desired location. Get your transport rate now! (800) 908-6206
Looking For Transport
With a Specific Trailer?

Max Weight: 150,000+ lbs. | Main Deck Length 29 ft.
| Well Width 8.5 ft. | Legal Height Limit 11.6 ft.

Max Weight: 48,000 lbs. | Max Length 53 ft.
| Max Width 8.5 ft. | Max Height 8.5 ft.
Max Weight: 48,000 lbs. Max Length 53 ft. |
Max Width 8.5 ft. | Max Height 11 ft.
Max Weight: 45,000 lbs. | Max Length 29 ft.
| Max Width 8.5 ft. | Max Height 11.5 ft.
HEAVYHAULERS.COM
START YOUR SHIPMENT TODAY!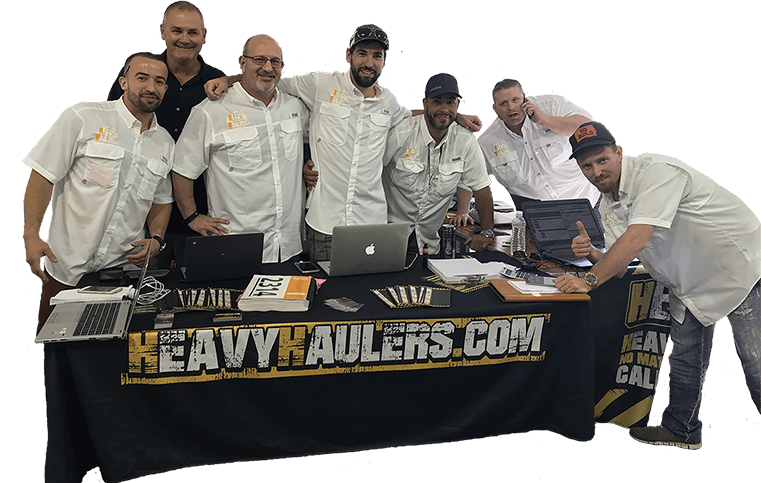 We Are Ready To Help You Haul Your Equipment!
Common Mobile Home and Office Manufacturers We Transport
Abtech - American Homestar - Art Gallery Trailer Transport - Blue Homes - Champion Home Builders - Clayton Homes - Custom Modular Direct - Design Space - Express Modular - FCP - Icon Legacy - Method Homes - Nationwide Homes - Par-Kut International - Starrco
Common Equipment Heavy Haulers Transports
Trust Heavy Haulers to transport any brand of equipment you own. Most of our drivers are experienced heavy-machinery operators who can safely maneuver your loads aboard our trailers. Some of the brands we have shipped include:
See what you need?
Call us for a FREE Shipping Estimate at (800) 908-6206